Brookhaven hosts third annual True Stories event celebrating journalism.
By Mira Scott
Contributing Writer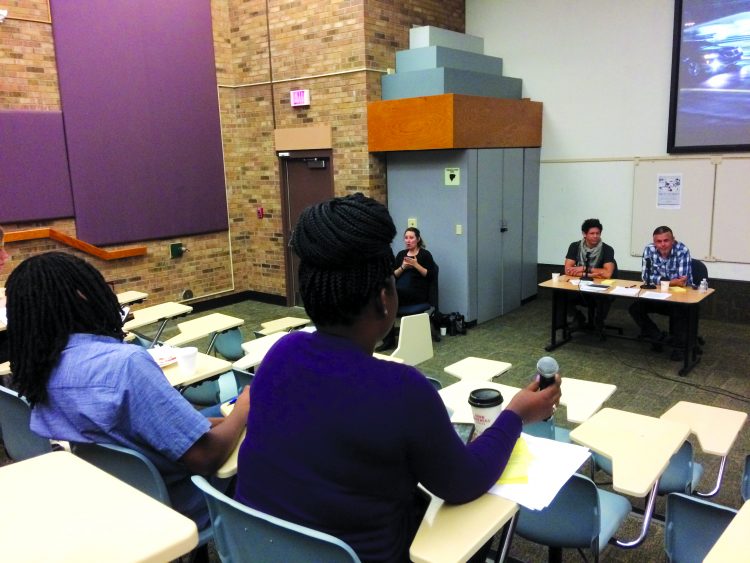 Daniel Rodrigue, journalism professor and contributor at the Dallas Observer, hosted the third annual True Stories at Brookhaven College. He brought in a handful of media professionals from the Dallas area to share their experiences in the professional world of journalism.
From award-winning investigative reporters to professional photographers and videographers, each came April 21 to speak about the true stories of their lives and careers and to offer advice for students pursuing multimedia careers.
Diamond Victoria, clubs editor at the Dallas Observer and editor-in-chief of the Brookhaven Courier, started the discussion from a common perspective by relating to many community college students working toward a journalism degree.
Victoria is a student close to finishing her journalism degree who landed a real-world editing job at the Observer with skills she honed while interning at Central Track, taking several Brookhaven journalism classes and being the editor of The Courier.
"Most internships don't pay you, but they do pay off in the long run," Victoria said.
The panel's next speaker was George Getschow, the principal lecturer at the Mayborn School of Journalism, who has been writing professionally since 1972. As Getschow approached the audience, he thoroughly explained four reasons why writers and people tell stories to the public.
His first reason was that stories have been told for a long time, and the concept is as old as language itself. His second was that stories help people see through the eyes of others. Third, he said stories familiarize listeners with human needs and desires, which relates to the fourth reason: stories help people visualize the unknown.
"The only way to communicate with the world is through stories, and by doing that, we try to make more sense of our lives through narratives," Getschow said.
Christian McPhate, an investigative journalist at the Dallas Observer, and Danny Fulgencio, an editorial photographer and writer, sat together on a panel. The two have worked together on several stories for the Observer, and both emphasized the importance of a strong relationship between a writer and photographer.
"It's a huge advantage to work together, because when I am interviewing a person, I can see their reactions to my questions, and I know Danny will be in the back getting good pictures of their reactions," McPhate said.
Numerous photos taken by Fulgencio were displayed on a background slideshow. While the two described the stories behind the photos, they discussed the previous jobs that helped shape their communication skills for their current careers, such as bartending, sales or waiting tables.
McPhate's final piece of advice to the audience was that when journalists work on a feature, the best thing they can do for themselves and the subject of their interviews is to look at it as telling the story–and not telling their story–to remain unbiased.
Chris Vognar, culture critic at The Dallas Morning News, conversed with Rodrigue on his experience of becoming a journalist, encounters with people of interest and advice for students seeking internships.
"It would be pretty hypocritical of me not come here and talk because I also went to community college not really knowing what I wanted to do at first," Vognar said.
When Vognar was at the University of California, Berkeley, he said he sent out 50 applications for internships and landed his first one with The Dallas Morning News. He told the audience that when interning, students should be professional, prepared, not afraid to be passionate and most importantly, never say no to a story.
Caroline North, music and culture editor at the Observer with Sarah Reyes and Daniel Driensky, videographers and co-founders of Exploredinary, were the last to speak at the True Stories panel.
North said the trio had been collaborating with each other on a package series for the anniversary of former President John F. Kennedy's assassination. North wrote the story while Reyes and Driensky created visuals.
North said since becoming an editor, her writing has improved because there is a lot of work to be done when editing stories and meeting deadlines.
"Write wherever you can," North said.
The panel speakers answered questions from the audience, which wrapped up 2017's True Stories. Attendees mingled and talked with the professionals about the world of journalism after the event.