Intl. student earns honors, awards
By Lauren Keuning
Contributring Writer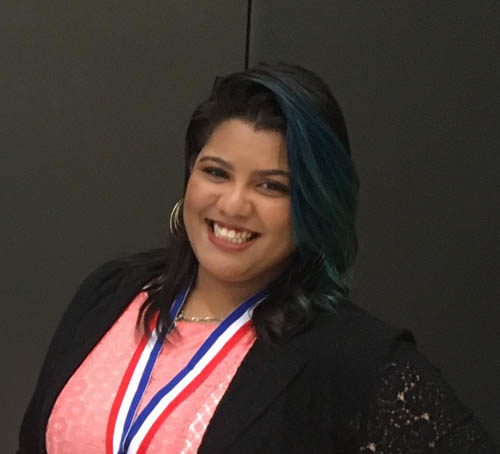 Estrella Rodriguez Perez sat at her desk in Brookhaven College's Office of Student Life with folders, papers and flyers scattered on the surface. She dismissed the mess with a wave of her hand and a big smile, referencing the busy lifestyle her position entails.
Her confidence and minimal accent would baffle anyone told that only four short years ago, she was not able to speak English. But learning a new language is not the only accomplishment the Dominican Republic native has achieved since her move to the U.S.
In August of 2012, Rodriguez Perez and her family relocated to Dallas from the Dominican Republic in search of a fresh start in America. The then-reluctant 17-year-old had trouble leaving behind friends, the safety of her hometown of Santiago de los Caballos, Dominican Republic and more than anything else, her grandmother.
Rodriguez Perez said her whole family regretted leaving her grandmother behind, mostly because her grandfather had died six months prior to their move. "She was like another mom to me. We were so close," she said.
Months after their move, the family received news of her grandmother's death. "It was a dark time for me, and I didn't want to do anything," Rodriguez Perez said.
Her grandmother was a teacher, and Rodriguez Perez said she remembers people stopping by the house to express their gratitude for the impact her grandmother had made on them. She said her grandmother was an inspiration and motivated her to pursue her dream of becoming the first scientist in her family.
That inspiration led her to enroll in classes at Brookhaven through the English for speakers of other languages program in Spring 2013. Rodriguez Perez said she did not speak any English prior to enrolling, but in one year, she was able to test out of the ESOL program and began taking credit classes with the rest of the student body.
Rodriguez Perez said her mother was another influential person in her life, teaching her to be confident and pursue her dreams, no matter what obstacles come her way. She said in the beginning of her college education, her mother would drive her to campus and wait in the car until she was out.
Rodriguez Perez was so successful in the Spring 2014 semester she was invited to join the campus' chapter of the Phi Theta Kappa Honor Society. Even though she was hesitant to join, she felt a connection with the officers at her first chapter meeting. She developed friendships with some of the members, who pushed her to become a member of Phi Theta Kappa herself in the Fall 2014 semester.
She then became the chapter's Honors In Action Coordinator in 2015 and on through 2016. Throughout these two years, she was also part of the Student Leadership Institute and a member of the International and Math/Science STEM clubs. "I did a lot of things at the same time," she said with a laugh.
Her involvement and relationships with the members and officers of Phi Theta Kappa inspired her to run for president so she could encourage others to get involved, just as past members had done for her. She said the presidential position gave her more opportunity to serve her community and campus.
Rebekah Benavides, Phi Theta Kappa adviser and Student Life program coordinator at Brookhaven, said Phi Theta Kappa is an international honors society for two-year colleges established in 1918 with over 1,200 chapters all over the world, including Germany and the United Arab Emirates.
To be eligible, students must be currently enrolled in an accredited institution offering an associate degree program, have 12 or more hours of applicable coursework, maintain a 3.5 GPA and adhere to the society's moral standards, according to ptk.org. Students are invited to the chapter by their colleges, so receiving the offer was a great honor, Rodriguez Perez said.
The hallmarks of Phi Theta Kappa are leadership, service, fellowship and scholarship, the president said.
Rodriguez Perez said that in the 2016 fall semester, she received the Bronze President's Volunteer Service Award for her work with Phi Theta Kappa at Brookhaven. She has also been a part of the College Project, which focuses on solving problems students face on campus. This semester focused on student participation in campus sports, she said.
Rodriguez Perez said being an international student was a major struggle for her. In her Learning Frameworks class, she said she learned proper studying methods. Janelle Edwards, her Learning Frameworks professor, motivated her to get involved in the community, encouraged her to join Phi Theta Kappa and led her to success today, Rodriguez Perez said.
Joshua Johnson, Phi Theta Kappa co-adviser and Office of Student Life coordinator, attended Phi Theta Kappa International Catalyst along with several other members on campus, including Rodriguez Perez, over the weekend of April 6-8 of this year. Johnson said the advisers submitted the Brookhaven officers into the running for the Distinguished Chapter Officer Award without informing their team, so when their chapter was announced as the winner, it was a huge surprise.
The award was presented to the Brookhaven Phi Theta Kappa officers present at the event. Rodriguez Perez led the group on stage to accept their victory, Johnson said. He said her being recognized with the award was an honorable accomplishment. "She's put a lot of hard work into Phi Theta Kappa and into getting the officers and the organization … to reach the level that she wanted it to," Johnson said.
Rodriguez Perez said she plans to pursue her master's degree in physics and hopes to eventually work for NASA. She said her interests lie mostly in astronomy and physics, but she would also love to become an educator like her grandfather. Rodriguez Perez is currently a math tutor on campus and says she enjoys the satisfaction of helping students understand new concepts.