Call for equality brings Dallasites to peaceful gathering downtown. 
By Juan Betancourt and Stephanie Salas-Vega
Web Editor and Associate Layout Editor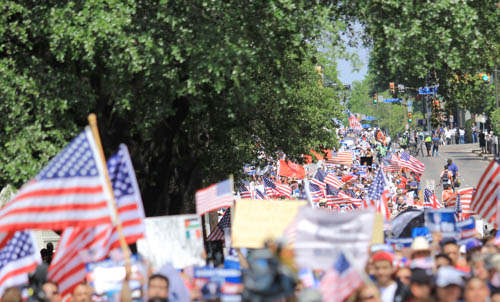 Thousands of people, including Brookhaven College students and staff, marched through downtown Dallas to support immigration reform for the first time in a decade, according to The Dallas Morning News.
Protesters at the Dallas Mega March 2017 gathered April 9 at the Cathedral Shrine of the Virgin of Guadalupe and marched to Dallas City Hall for a rally while guest speakers and local organizers called for unity of the nation. Police reported around 3,200 people at for this year's march.
"We need to send a message to the White House and to the politicians that immigrants are an important part of our lives," Domingo Garcia, a Dallas attorney and organizer of the protest, said.
Since June 2015, President Donald Trump has pushed to build a wall along the border of the U.S. and Mexico, according to CNN. In February, U.S. Immigration and Customs Enforcement arrested hundreds of undocumented immigrants. Federal agents conducted immigration raids in Atlanta, Chicago, New York City and several other major cities, according to The Washington Post.
Nancy Lubar, a Brookhaven student, attended the protest and said she fears ICE will separate families from their homes.
Organizers of the protest also called to end discrimination and hate toward the Muslim community. Trump created national controversy by drafting an executive order that banned Muslims from seven countries from entering the U.S., according to The Guardian.
Organizers and protesters also called for action to stop the Trump administration from targeting the Deferred Action for Childhood Arrivals program. The DACA program allows undocumented immigrants to work and go to school in the U.S., according to immigrationequality.org.
"DACA is a very, very difficult subject for me," Trump said, according to CNN. Trump and his administration have yet to make a decision on DACA.
Various community groups organized the protest. Richard Marcus, a Brookhaven student, was one of the organizers. "It's not only about immigration reform. It's about social justice for all," Marcus said.
Protesters were asked to wear red, white and blue and wave American flags. The Dallas Police Department blocked the streets and made sure the peaceful protest did not get out of control. Organizers of the protest shouted to protesters to stay in two lanes to keep the march going.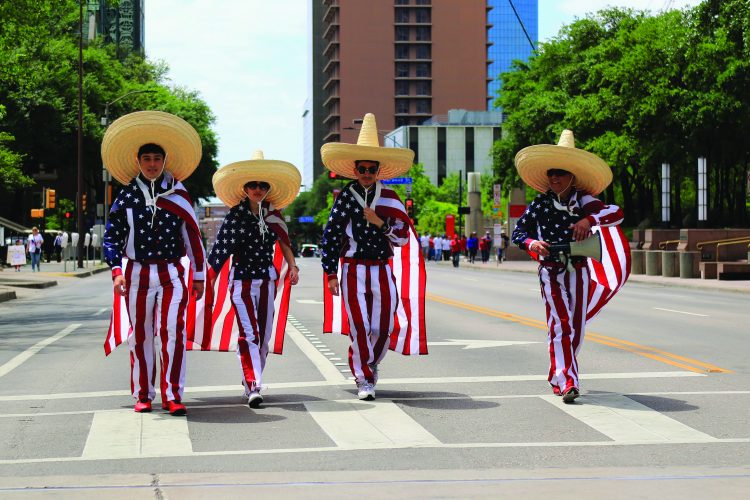 Protesters repeatedly chanted, "The people united will never be divided," and "No border, no nation, stop deportation."
Aubrey Christopher Hopper, president of the Dallas National Association for the Advancement of Colored People and assistant secretary of the National NAACP, said diversity of immigrants is an important part of the country. He also said immigrants will continue to work together to unite the nation.
A few people who opposed the protest were also in attendance. They waved "Make America Great Again" flags and American flags.
After the march, protesters rallied outside Dallas City Hall. Freddie Jones, a Brookhaven music adjunct, performed "The Star-Spangled Banner" with his trumpet before speakers took the stage.
Speakers included local activists such as Garcia, Texas U.S. Rep. Robert Francis "Beto" O' Rourke and Martin Luther King III.
"Do you want to wait until 2020 to start making immigration reform?" O'Rourke said. "Do you want to wait until 2020 to make sure each one of us is treated equally?"
"No," the crowd responded back as they cheered and applauded O'Rourke.
O'Rourke made national news when he announced he would leave his position and run against current state senator Ted Cruz for Texas Senate, according to USA Today.
"We recalibrate our determination to speak out against the injustice and inequality that is running right into our nation and even the world," King said.
This is not the first time Dallas activists organized a Mega March. In 2006, around 500,000 protesters participated in the first Mega March, according to wfaa.com.
"At the end of the day, we all have the same struggle. We might be a different shade of color, but we're all trying to be better Americans," Adan Gonzalez, an organizer, said.