Dallas Paleontological Society unearths prehistoric fossils
By John McClanahan
Editorial Proofreader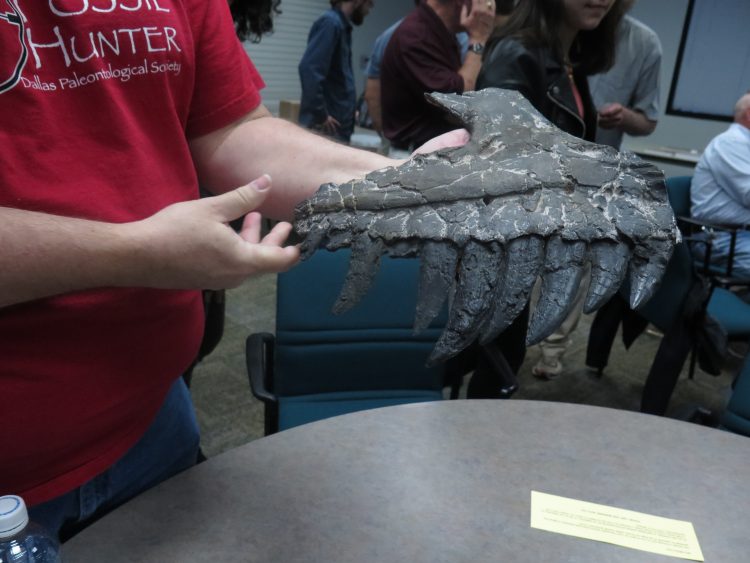 The Dallas Paleontological Society gave Brookhaven College students, staff, faculty and the local community an opportunity to explore fossils and learn about the creatures that once roamed the area. Dozens of DPS members, researchers, collectors, students and other paleontology enthusiasts gathered for the monthly meeting April 12 in Room H125 and was open to anyone interested in paleontology.
"I have found shark teeth right here on Brookhaven grounds. There are fossils everywhere if you just know where to look," Roger Farish, a DPS member, said.
The event included a guest speaker, fossil collections and free food for attendees to enjoy.
Visitors were encouraged to bring their own fossils and other geological specimens to showcase at the meeting. Several attendees carried cardboard boxes with fossils they found while exploring Texas terrain.
Guests moved from table to table, holding and examining various fossils and were encouraged to ask questions regarding the specimens. The patrons' collections included prehistoric echinoids, brachiopods, clams, coral, fishbones and shark teeth. Nathan Van Vranken, a paleontologist and DPS member, said he brought a 100-million-year-old fossil, which he thinks is a new species of ratfish or bonefish.
"This will actually be a possible new animal of science, and I wanted to give the DPS a sneak preview of a new Texas fossil," Van Vranken said.
Jordan Lee, the 17-year-old DPS secretary, said he has collected fossils since he was five years old and has been a member of DPS since he was nine.
"We're really just a fun, friendly, loving group … ranging from amateurs, professionals who just come together and love our one common goal of [finding] fossils," Lee said.
Lee said people do not generally think about what kind of treasures are buried underground. "There could be a dinosaur, there could be a shark tooth every mile you drive across and you would never know it," he said.
Zach and Mason Zibulewsky, Brookhaven students, said they attended the meeting because of their fascination of fossils since childhood and for extra credit.
Tom Dill, president of DPS, said the monthly meeting frequently serves as an opportunity for Brookhaven geology students to earn extra credit.
During the meeting, Dill talked to visitors about upcoming DPS events and handed out the Frank Crane Memorial Scholarship checks in support of paleontology research. One of the recipients was Laura Cruz-Gomez, a research assistant at The University of Texas at Arlington. Cruz-Gomez gave a brief lecture on microfossils and discussed her future in paleontology.
Carrie Tyler, an assistant professor at Miami University of Ohio, gave a lecture on echinoid fossils of the Cretaceous period, or ocean-dwelling invertebrates, from over 65.5 million years ago. She spoke about the evidence of predators and prey from recently discovered fossils. During her lecture, Tyler said fossilized echinoids, such sea orchids, show wear and tear from once being licked by hungry sea snails.
Tyler said paleontology research helps discover new data about the ecological system and evolution of marine wildlife.
This was the first lecture Tyler gave at Brookhaven. Tyler said she regularly gives presentations over the fossils she studied since she was a child. "When I was 2, I rode on a statue of a stegosaurus in a park in England and decided paleontology was for me," Tyler said.
"The speaker was very eloquent," Mason said in regards to Tyler's lecture. "She spoke in an understandable kind of way," Mason said. Tyler's lecture concluded the meeting.
The DPS was founded in 1984 and promotes interests and knowledge of the science of paleontology, according to the DPS website. Dill said the society meets on the second Wednesday of every month at Brookhaven's Geotechnical Institution in the H Building. "Any Brookhaven students or any [other] students are welcome to come," Dill said.
Dill said the DPS is always looking for new volunteers and members to which anyone can sign up at dallsapaleo.org. The DPS will appear May 27 at the 65th Annual Ft. Worth Gem and Mineral Show, and the next society meeting will be 7:30 p.m. May 10 at Brookhaven.