Health, Transfer Fairs guide students
By Lauren Keuning
Contributing Writer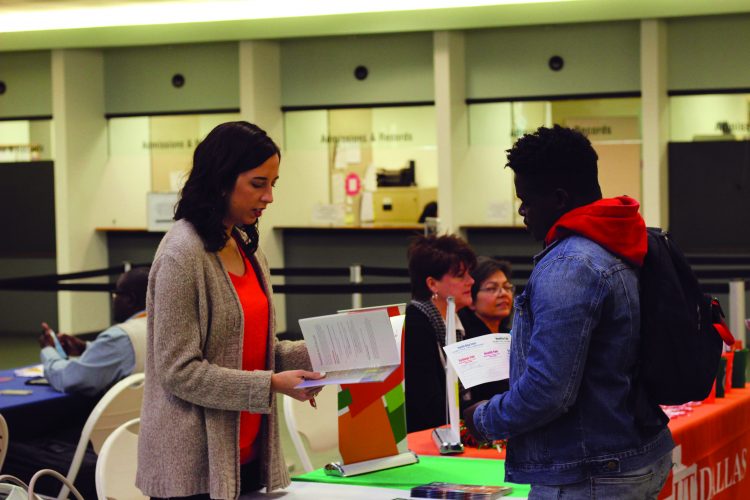 Brookhaven College students carried colorful swag bags while visiting tables and displays from 47 colleges and health-related information by 14 providers in the S Building lobby April 5.
Laura Ahumada, an academic adviser, organizes the semi-annual Transfer Fair each semester, and Mildred Kelley, Brookhaven nurse, puts together the Health Fair each spring.
Ahumada said due to the number of events in the spring semester, the two are typically combined.
The Transfer Fair's purpose is to connect students with four-year university options. Students had access to information about application procedures, financial aid and major programs that will help the decision-making process when transferring, Ahumada said.
A component of the Transfer Fair was the What Can I Major In table, hosted by Al Davis, an academic adviser. The table featured brochures based on majors or desired professions and covered academic requirements for those fields. It also offered transfer school suggestions and other information necessary to obtain a degree in a given field, Davis said.
The goal of the fair was to inform students which courses they can take at Brookhaven prior to transferring to a four-year school. "Students can understand the seamless pathway that is available to them and maximize the courses here at Brookhaven before transferring to a university," Davis said.
The handouts are helpful for making students aware of what is offered not only at Brookhaven, but also throughout the Dallas County Community College District, David said.
Caroline Jeffrey, a student, visited the tables of the universities she hopes to transfer to. She said the event was very helpful in giving information about how to pursue admission to her school of choice. The only problem with the event was the lack of space for each table, she said.
Occupying the east half of S Building, the Health Fair hosted awareness campaigns and continuing education programs available to medical students, as well as general health information for the community.
Victor Diaz, a South Texas Dental representative, passed out complimentary toothbrushes and gave oral hygiene advice to visitors. "Remember to always brush your tongue in a downward motion," he said to a group of students.
South Texas Dental owns multiple clinics in the Dallas-Fort Worth area, where students can fulfill their clinical trials, which prepares them for employment after graduation, Diaz said. He said the program is actively seeking students and that they are always hiring.
Other tables, such as the Advanced Hearing Center, offered information about the importance of healthy lifestyles. Stephanie Ritchie, the Advanced Hearing Center community liaison, said she and her team were there to educate the community on the importance of taking care of their hearing.