Reality Fair balances life
By Clayton Rushing
Contributing Writer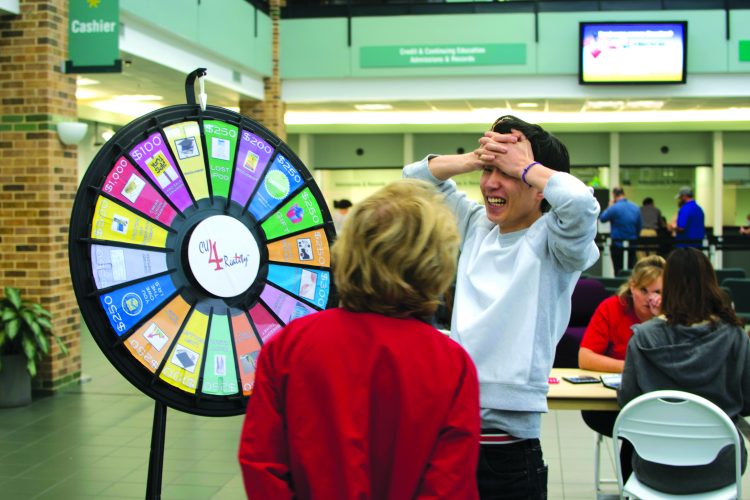 Brookhaven College students explored the challenges of budgeting at the Reality Fair. The fair gave individuals perspective on chosen career fields using estimated salaries to give them insight about future spending habits. The fair was held April 4 in the S Building lobby.
"The Reality Fair is a fun, interactive way for students to learn about budgeting and financial liberties," John Wells, director of financial aid, said. "[It gave] you a realistic view on what your career would earn and how much you would have to spend at the end each month, helping to figure out wants versus needs."
Expenses were tracked on a budget sheet to organize and help students track expenditures within their budget limits.
Participating students considered their haves, wants and needs to create their budgets. They considered real-life decisions, which affected their budgets. If they wanted a pet, they needed to account for pet fees, veterinarian bills and food, among other pet-related expenses.
Responsibilities, such as bills, were also taken into consideration. In one booth, students were asked to choose between renewable energy and standard electricity. Students weighed their options, taking into consideration factors such as price, availability and sustainability.
"[The fair] helps to give you an idea of what you are getting yourself into," Eric Reyes, a student, said.
Students also learned how to prepare for unexpected expenses. A wheel of fortune introduced unexpected circumstances, such as emergency hospital visits or winning a scratch-off lottery ticket.
At the end, students sat with financial advisers to calculate their expenses and figure out who stayed within their budget and who exceeded their monthly wages.
"[The Reality Fair] made me rethink how I spend my money," Omid Janami, a student, said. "I used to think, 'Buy the best food, most expensive car [when I get my career].' But now knowing I have $250, that made me rethink my budgeting."