ESOL Sports program engages, unites students
By Jubenal Aguilar
Managing Editor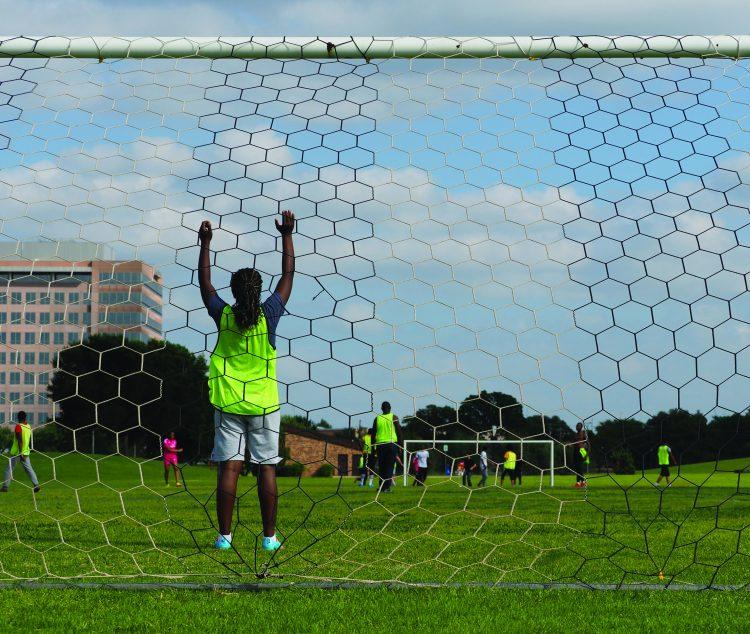 Brookhaven College's ESOL Sports program provides opportunities for international students to learn English, remain active through sports and become more involved with the college.
The ESOL Sports program is the first of its kind in the Dallas County Community College District, Sandro Juliano, a student from Brazil, said. It gives students who are part of Brookhaven's English for speakers of other languages program the opportunity to practice their English skills and stay active by participating in sports.
Juliano, who conceived the idea for the sports program, said the intention is to make Brookhaven a place of choice for international students who want to study and play sports.
The program began in Spring 2016, although the idea had been in the works a year before, Ray Attner, a marketing and business administration professor, said in a previous interview with The Courier.
Attner, who helped Juliano with the initial development of the program, said the goal was to provide an opportunity for ESOL and international students to practice English through sports. "His initial idea was to have an [ESOL] class that, for part of their learning process, would spend time in sports activities," Attner said.
Initially, informal classes were held twice a week where students practiced speaking English by singing, playing vocabulary games or talking about topics related to sports. Afterward, the students would split up to play soccer, practice yoga or walk on the track.
Asako Saito, a student from Japan, said ESOL students have various goals. "I think that all of the students are commonly eager to understand each other in English and to share precious experiences with people who come from all over the world," Saito said in a statement provided to The Courier.
After the program passed the pilot stage, one-credit-hour classes in skills development in listening and speaking were offered as part of the ESOL curriculum in Fall 2016. Andrea Chaney, an ESOL listening and speaking professor, said the courses follow the same format, but with a focus on sports.
"ESOL Sports, unlike other ESOL classes, focuses on communication through sports," Saito said. "Communication is what it takes to play team sports. … Another attractive point of ESOL Sports is that we are able to be united by having a mutual, specific theme regardless of national origin, gender or creed."
Jamileh Stroman, an ESOL reading professor, leads a yoga class as part of the skills development course she teaches. She teaches hatha yoga, which emphasizes the different positions individually, Stroman said. Her class sessions can consists of 8-20 students.
Initially self-taught, Stroman said she has practiced various forms of yoga since she was 19, she said.
To prepare to lead the yoga sessions Stroman has practiced yoga more frequently. "I have to do it on a more regular basis so I can feel what it is that they're feeling," Stroman said.
"I have spent $3,000 out of my pocket to be certified," Stroman said. "I am giving up every weekend for 8 weeks to be certified, so that I can make sure that I don't hurt anybody [and] I know what I am supposed to know."
Currently, basketball and volleyball are also part of the mix of sports participants can choose from, Chaney said. In addition, Juliano said, the International Sports Club was formed for those who only wanted to participate in the physical aspect of the program. However, both groups participate in games together.
Jim Elder, head soccer coach, said he has been involved with the program since mid-Fall 2016 after meeting Juliano. "We met when he was trying to borrow some soccer balls," Elder said.
Elder said he was invited to join the ESOL students one afternoon.
"We invited them to come join us every now and then, once a week or so, to mix the actual soccer girls that I coach," Elder said. "I thought it would be nice for the students to get together and bond a little bit – mix athletics with the student body."
Elder said the groups quickly bonded over the sport. "Soccer is like a worldwide language and anyone that likes soccer speaks the language and seems to get along with the other person," Elder said.
Axel Kabore, a student from Burkina Faso in West Africa, is currently in his first semester at Brookhaven. He said Juliano recommended he try out for the men's basketball team.
Kabore has attended open gym sessions since spring break. "That [has been] a good experience for me and I'm really happy about it," he said.
Kabore added that everyone has been supportive. "My first time [practicing], I was a little shy because I didn't know anyone," he said. "I [have] learned many things and the coach really wanted to help me improve."
In an email to The Courier, Kevin Hurst, head basketball coach, said, "[Axel] has been invited to join us for practice in August when school starts. … We do look forward to seeing how he adapts to and performs in structured practices in August."
Chaney said plans for the program include adding to the selection of sports students can chose from. She said students have shown strong interests in playing tennis.