School of Arts shows off programs, courses
By Juan Betancourt
Web Editor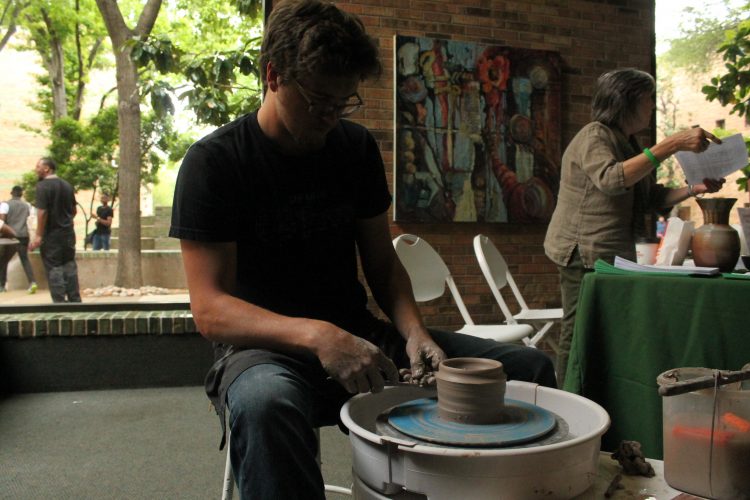 The Brookhaven College School of the Arts hosted its second annual BCSA Open House, showcasing a variety of performances and courses offered to students. Information on art, dance, music, drama, humanities and physical education class offerings was available April 19 in the Performance Hall lobby.
Live performances at the event included a smooth jazz and piano recital, theater dances and a duet singing two cover songs from "The Rocky Horror Show."
Adam Knoche, an art professor, threw pieces of clay onto a ceramic wheel to demonstrate how clay pots are made. Natalie Macellaio, an art professor, printed bracelets using a 3-D printer. Knoche and Macellaio said students who register for first-level ceramic and design classes in Summer and Fall 2017 will have a hands-on experience with the ceramic wheel and 3-D printer.
Dayna Fries, a student theater assistant, said theater students will learn communication, creativity and public speaking skills from taking various theater performance classes. She also said students who take academic cooperative will have the opportunity to go off campus and help set a stage for a professional play. Students can also take a theater practicum course, a practice course where they will audition for the next Brookhaven fall and spring shows.
Students who have no experience with music can choose from different entry level classes including piano, voice and guitar, Ernest Hernandez, a music student assistant said. He also said music majors are able to take composition and performance level entry classes as well.
Dance classes, such as ballet, hip-hop and modern dance, will also be offered to students. Students Reyna Vieyra and Sussette Benitez said dance students will also be able to join a new dance honor society on campus.
Humanities classes give students the opportunity to learn and analyze art and culture of different societies. Adrien Cuellar-McGuire, a humanities professor, said students will also have the chance to take various American minority studies. One of the new courses focuses on women's cross-cultural contributions in American history, culture, society and arts.
"No matter what field you go into, you will have to interact with people who are in different countries," Cuellar-McGuire said.
Students can stay active with kinesiology and physical education classes where they can learn the fundamentals of nutrition, archery, tennis, weight training, self defense, yoga and Pilates, among others.
Grace Brandt, a physical education professor, said that staying active helps keep the mind working and the blood flowing.
Students also had the opportunity to enter a raffle for prizes offered by each department. Prizes included tickets to the Dallas Museum of Art, free dance lessons, 3-D printed bracelets and clay pots. Winners were announced after the event.
Readers can visit a Brookhaven adviser for more information on the School of the Arts courses.