Atrium gallery hosts art show
By John McClanahan
Editorial Proofreader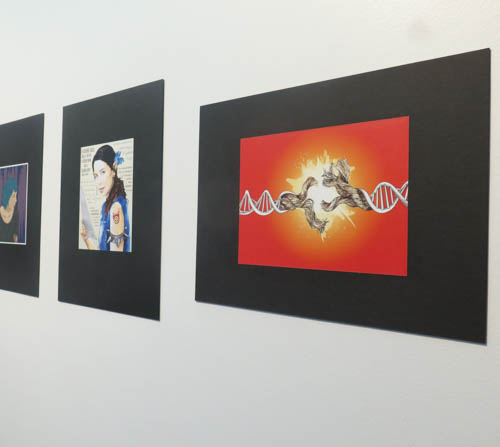 Chocolate packaging, book covers, logos, typographic designs and ad campaigns were among the entries highlighting Brookhaven College's graphic design talent in the Atrium Gallery. The graphic designs were part of the 2017 Texas 2Show, an annual juried exhibition of design student work from Texas two-year colleges. The entries were displayed April 3-28 in the gallery.
A reception was hosted by Ray-Mel Cornelius, a visual communications professor and Atrium Gallery director, to recognize this year's entries April 13 in the Atrium Gallery.
This year's contestants were from Brookhaven, Texas State Technical College and San Antonio College, with Brookhaven having the most entries selected for this year's exhibition.
The designs were displayed with chocolate wrappers and book covers behind glass cases. Attendees of the reception walked up to the designs and observed the various uses of colors, lines, shapes and pictures.
Rock Morris, a visual communications adjunct faculty, said the best pieces were selected and the artists awarded certificates for their member work. Four Gold and three Silver Awards were presented to students for special recognition, according to the exhibition statement.
Morris said two external judges juried the exhibition and selected the best designs from 104 entries. He said Brookhaven did exceptionally well in this year's Texas 2Show.
"It's encouraging … [and] shows progress of what can happen after you take certain courses," Melany Bermudez, a former Brookhaven student, said.
Patience Larimer, a graphic designer and former Brookhaven student, received a Gold Award for her entry, a cover illustration for an article about local chef, Nick Amoriello of Kitchen LTO.
Larimer said she graduated from Brookhaven in August 2016 with an associate degree in visual communications. She said she thanks the program for preparing her for the professional world of graphic design
"I love that [this show] is unique and specifically designed for colleges with two-year programs," Larimer said. "So you'll see students excelling after just a small amount of time."
Stephanie Brady, a Brookhaven student, held up a Gold Award for her logo design, a monogram for a sports branding company. The work uses two A's to create a maze-like design. Brady said the entry was based on a class assignment for which she created a corporate logo for a mock client.
Brady said she hopes to graduate this spring with a degree in visual communications and become a professional graphic designer. "I really like logos and brandings, so if I could do that full time, it would be amazing," Brady said.
Other contestants were awarded certificates of recognition for their submissions. Mamta Nahar, a Brookhaven student, won certificates for her featured logo, book cover and chocolate wrappers. Nahar said she put a great amount of effort into her designs. "It takes a lot of work," Nahar said. "Even a logo or something which may look simple, but actually a lot goes into it."
Cornelius and the Brookhaven visual communications department host the reception for contestants every year in celebration of their work. The art featured is based on class assignments from the various graphic design courses offered at regional Texas two-year colleges.
Morris said their visual communications classes prepare students for the professional world, and the Texas 2Show is a wonderful way to showcase their work for future employers.
"That's one of the great features for this particular program. It's not just teaching you to make pretty things," Larimer said. "It's actually preparing you to go out and get a job in today's graphic design industry."