Panic at North Texas pumps
Citizens of Dallas-Fort Worth struggle to keep their gas tanks full in the midst of the impact of Hurricane Harvey in the Texas Gulf Coast.
SPECIAL SECTION
By Britney Cellerini
Contributing writer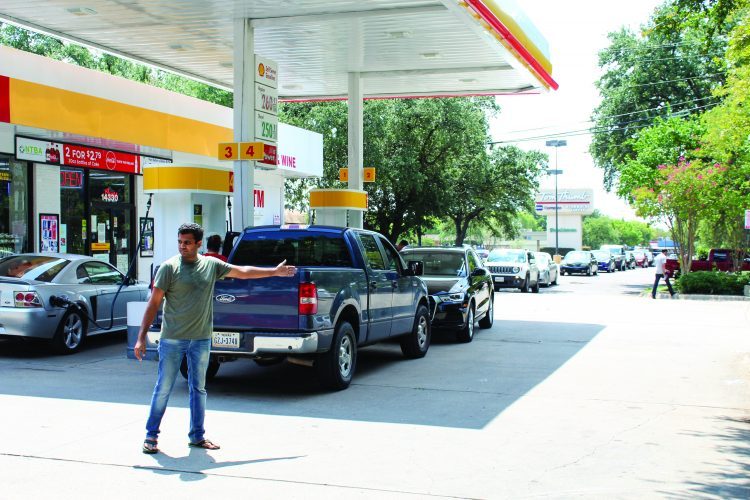 As Hurricane Harvey tore through the Gulf Coast, it not only displaced families, destroyed homes and setback people's daily routines, but it also shutdown major ports stretching all over the southern Texas coast, according to The Dallas Morning News. Oil refineries were shut down as a safety precaution.
As a result, parts of North and Central Texas experienced a gas shortage, according to the DMN. As many North Texans made their way to work, school or other appointments, gas station waiting times increased.
Donovan Webb, a Brookhaven College student, said he left his home 10 minutes earlier than usual to fill up on gas before school. He said he noticed chaos and long lines at the gas pumps at a nearby station. He drove to a different station to fill up. It took him another 10 minutes to find a place that had gas available. As he waited in line, he said he realized he was almost late for his first class of the day.
This has been the case for many students, staff and faculty at Brookhaven, as well as the D-FW metroplex. Some people who have experienced this after a hurricane before were prepared, such was for Brianne Sardoni, an English professor.
"I went through this with Hurricane Sandy because I'm from New Jersey, so I was prepared," Sardoni said.
"I think people might be blowing it a little out of proportion," Webb said. "I think there's a little more panic than there needs to be."
Many drivers turned to online services to quickly find locations that had gas available. One option was GasBuddy, according to DMN.
GasBuddy is an app that allows drivers to compare gas prices in an area, according to gasbuddy.com. The app collects user-provided information to determine the best places for drivers to get gas. The app is available for iPhone and Android devices through their respective app stores, as well as through a website.
To find a gas location, a user enters their ZIP code for a map of local stations. Users may also input information about whether a station has gas available. This helps other drivers know which stations are out.
Students can save gas and money by using their Student GoPass to use Dallas Area Rapid Transit. The pass is free for qualifying students, according to dcccd.edu.