SGA holds first meeting of academic year
Juan Betancourt
Sports/Web Editor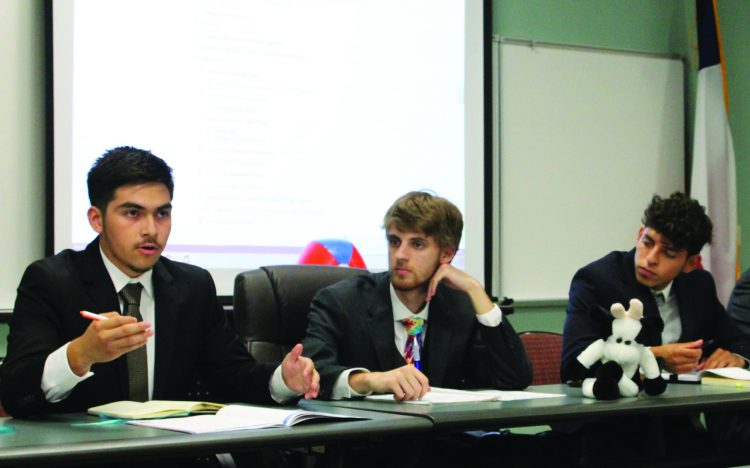 The first Brookhaven College Student Government Association general meeting of the 2017-2018 school year marked the first time two Early College High School students led an SGA meeting. ECHS seniors, Esteban Lopez and Saul Vasquez, were appointed president and vice president, respectively, in Spring 2017.
"At first, I found it intimidating. I hope the pressure isn't on me because I'm in high school," Lopez said.
The meeting went into session Aug. 30 and was held in Room S220, where upcoming events and applications for a public relations officer were discussed.
Attendees had the opportunity to volunteer for the Welcome Back Party Sept. 13. Students and SGA members can sign up for other volunteer opportunities in the Office of Student Life.
The SGA Color Run, which was scheduled for Sept. 14, was postponed to Spring 2018 due to scheduling conflicts.
A mini Olympic project was announced as well. Lopez said the next meetings will address the planning of the mini Olympic events.
Allen Wiese, SGA parliamentarian, said clubs and organizations will select one student to represent them for the SGA House of Representatives. The purpose of the House of Representatives is to get clubs involved in community work.
Brian Borski, director of OSL and SGA adviser, said they previously planned to make a House of Representatives, but were unsuccessful. This year, SGA will attempt to get clubs to coordinate with each other once a month.
As parliamentarian, Wiese is charged with ensuring the meeting follows proper protocol. The assembly follows Robert's Rule of Order, a set of guidelines and principles on how to run meetings that apply in group decision-making.
Lopez's first report included an announcement that applications for public relations officer are being accepted. Lopez said the position handles photographing events and uploading photos to the SGA Facebook page and will have the option to create other social media accounts. The president also handles SGA's email.
Vasquez said applications for 15 senator positions are also open. Vasquez will be in charge of handling the senators' reports, and senators are responsible for advocating community and volunteer hours.
Vasquez said senator applications are due Sept. 15. Students selected will be announced by Sept. 22.
SGA members will travel to a regional and state convention as part of the Texas Junior College Student Government Association Convention. Borski said members will gain experience by meeting new people and attending workshops. He also said members who are interested can travel to the regional convention, but only 12-15 will go to the state convention in Austin.
Borski said students who want to attend the Austin convention will have to get involved early to make the list.
SGA meetings will be held every Wednesday in Room S220.