Library loans free textbooks
By Lauren Keuning
Opinion/Layout Editor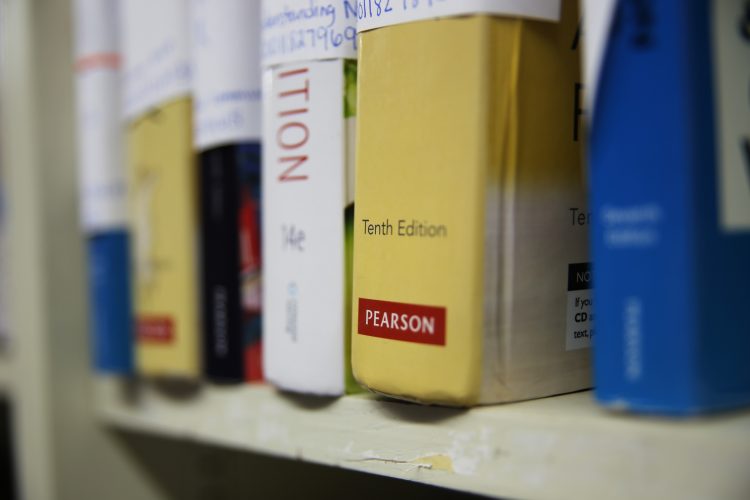 Brookhaven College students have the opportunity to borrow one textbook for a full semester free of charge. The program was founded by the Learning Resources Center.
Brandy Walthall, library circulation assistant, said the program offers mostly core subject textbooks, such as English, arts, humanities, science, psychology and speech, but they encourage students to apply for all the textbooks needed.
"If we see there is a spike in need for certain material, we try to accommodate that need if possible," Walthall said in an email to The Courier.
Walthall said the library receives 400-600 applications each semester, and they typically fulfill half of the requests. She said the library circulation desk employees organize textbooks and manage requests.
El Centro College also offers a similar program, but is restricted to technical and occupational courses. The program is available through the college's Adult Resource Centers, according to El Centro's website.
Students must be enrolled in classes at Brookhaven to be eligible for the program. The loan application can be found on the Brookhaven library website. Students can enter as many textbooks as necessary in order of priority. Rhonda Bitner, an English professor, said it is best to put the most expensive books at the top.
The program works on a first-come, first-served basis. Students will be contacted within 72 hours regarding their requests, according to the Brookhaven College website.
Loan books must be returned in the same condition borrowed with no writing, highlighting or damage, according to the Brookhaven library website. Textbooks are due the last day of the semester, and students are responsible for the replacement of any lost or damaged book.
Bitner said each year, the Learning Resources Center adds new books to the program, some of which are funded by faculty donations. The Follett bookstore provides funds for the program as well. This year, 25 new textbooks were purchased for student use. Many of the courses require expensive textbooks, some reaching $200, she said.
"If students can come and get their most expensive textbook and save that money, it's a personal benefit," Bitner said.
Jonathan Guevara, a student, said he typically buys his books from Amazon or at the campus bookstore, but has used the library's textbook loan program in the past for a criminal justice course book. Guevara said everyone was kind and helpful in explaining the process and acting quickly to get him his book loan.
The program first emerged on Brookhaven's campus in the late 1990s, Walthall said. She said the program really took off when faculty associate Nancy Barlow began fundraising to expand it. Barlow said the success of the program is credited to Sarah Ferguson, executive dean of educational resources, who supported the program and assigned circulation desk staff to manage it.