By Forrest Haynes
Photo Editor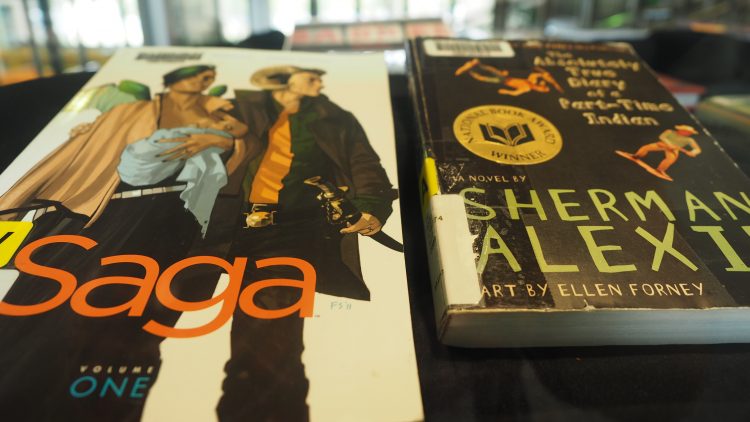 Book censorship complaints increased by 17 percent in 2016, totaling 323, according to the American Library Association's Office for Intellectual Freedom, or OIF. However, most challenges are not reported.
"A challenge is an attempt to remove or restrict materials, based upon the objections of a person or group. … As such, they are a threat to freedom of speech and choice," according to ala.org.
According to the Banned Books Week Coalition, about 10 percent of books reported to the OIF are removed, but half of those most frequently reported have already been banned.
Banned Books Week is an annual event dedicated to encouraging free access to information and highlighting the harms of censorship. The 2017 Banned Books Week, Sept. 24-30, celebrates the right to read and emphasizes the importance of the First Amendment, according to bannedbooksweek.org.
Nimmy Nair, a Brookhaven College English professor, said, "Banned Books Week highlights the importance of reading and the freedom we enjoy in expressing and reading different perspectives. By reading [banned books], students have the opportunity to broaden their thinking."
Every year, the OIF tracks reports of book challenges and publishes a list of the Top Ten Challenged Books List, according to the Banned Books Week Coalition.
Sexually explicit content, topics inappropriate for certain age groups and LGBTQ characters or images are among the reasons most books are challenged, according to ala.org.
"This One Summer," by Mariko Tamaki; "Two Boys Kissing," by David Levithan; and "Little Bill," by Bill Cosby are among the 10 most challenged books of 2016, according to ala.org.
Previous lists included works already prevalent in society, such as "Fifty Shades of Grey," The Holy Bible and "Captain Underpants."
In an email to The Courier, Jessica Beavers, a reference librarian, said the Brookhaven Quality Enhancement Plan is at the forefront of the anti-censorship movement.
"Banned Books Week is important because we believe in intellectual freedom and … want to encourage the spread of ideas and information," Beavers said. "Banning books is counterintuitive to that mission."
"Reading opens up entire worlds for students, and we hate for that to be stifled because of another's opinions on whether the content is appropriate or not," Beavers said. "We think people should be able to decide for themselves what is right for them."
The ALA aims to challenge censorship by drawing attention to works that have been challenged, whether it be for unpopular religious views, material inappropriate for the targeted age group or talking animals, according to ala.org.
Advocates for Banned Books Week strive to eradicate the challenging of expressing ideas because a small group dislikes the content, according to ala.org.
Beavers said she encourages everyone interested in reading and learning about what others are trying to have removed to read the materials involved.
Nair said her choices for books to keep an eye out for include "The Awakening," by Kate Chopin and "The Great Gatsby," by F. Scott Fitzgerald.