By John C. McClanahan
Copy Desk Chief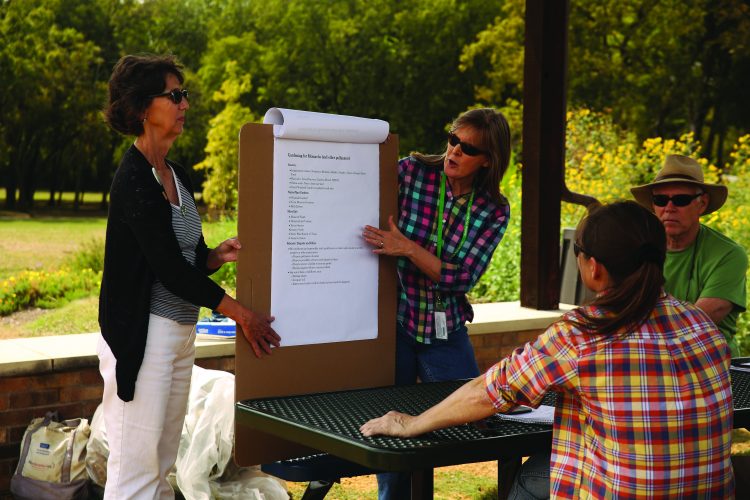 The Brookhaven College Windmill Garden hosted an afternoon monarch butterfly observation meeting. The gathering was the garden's first after being deemed a monarch waystation by Monarch Watch, an organization that studies monarchs.
Amy Monroy, English adjunct faculty, master naturalist and butterfly expert, organized the Sept. 12 event to showcase monarchs' peak migration season. The meeting also observed dozens of other butterfly species fluttering and zipping between the beds of purple, yellow, green and orange flowers.
Monroy said she designated the afternoon to observe the natural interaction between monarchs and the Windmill Garden's colorful flora.
POLLINATOR GARDENING
Monroy gave a lecture on how one can accommodate a garden for monarchs and other pollinator insects. Monroy said her idea was to inform and bond master naturalists and other community members over the nuances of pollinator gardening and its benefits for butterflies.
"I'm probably just a little hippie, but I love hanging out with people," Monroy said. "Sitting out in the garden and talking about flowers is a great day, so I'm thrilled."
Her lecture, "Gardening for Monarchs," included a discussion on the various plants and flora needed to maintain a garden designed for the migratory pollinators. Monroy also spoke about the nectar and host plants used to attract certain insects, highlighting monarchs and milkweed. She said milkweed is crucial for monarchs, as the native Texas plant is one of the few habitable flowers for the orange-winged insects.
"That's what is special about [monarchs]," Monroy said. "Most butterflies can use a variety of [plant] species. And usually the butterflies we have can use a lot of [different plants], but the monarchs don't have a lot of options."
She also discussed appropriate places to find monarch-friendly plants and the best methods for collecting butterfly eggs.
Ricky Thielen, a student, said he is an aspiring agricultural major with experience in beekeeping. Thielen said he enjoys spending time outdoors, and decided to attend the monarch gathering because of his fondness of nature.
"It's nice to see a kind of dedicated spot for the environment and conservation," Thielen said. "There's not a lot of programs like these that have gardens at school."
Monroy occasionally stopped her lecture to point out wildlife in action as monarchs and swallow-tails flew overhead. The attendees turned and looked to one of the flowering shrubs when she spotted a hummingbird spinning between the stems of a Mexican sunflower bush.
BUTTERFLY TOUR
After Monroy finished her lecture, she gave attendees a butterfly-spotting tour through each of the garden's beds. Monroy said one can tell the difference between monarch and queen butterflies by the differing patterns on their wings.
An army of monarchs continued to linger over the garden's plants, lethargically resting atop fully bloomed flowers. Monroy said butterflies are no different than other animals. She said the monarchs are very territorial and will bar other butterflies from approaching certain flowers.
Monroy spotted a black butterfly with gold-splotched wings zoning in on the monarchs' turf. She said she had never seen that species in the garden before. In addition, Monroy pointed out a large bumblebee poking around a purple thistle.
Jennifer England, a student, said she learned a lot about the habitation of monarchs. She also said she wants to participate in the Windmill Garden's maintenance and future plant installments.
"I wouldn't mind helping. That would be awesome," England said. "We are going to have to help Amy make it bigger."
Monroy said the Windmill Garden will host a monarch tagging party Oct. 3, which will allow attendees to see how the butterflies' wings are stickered with tracking labels.