Former student helps collect relief donations
Nick Marino Jr., a former Brookhaven College pitcher, helps coordinate a donation event in Dallas for Hurricane Harvey relief efforts.
By John C. McClanahan
Copy Desk Chief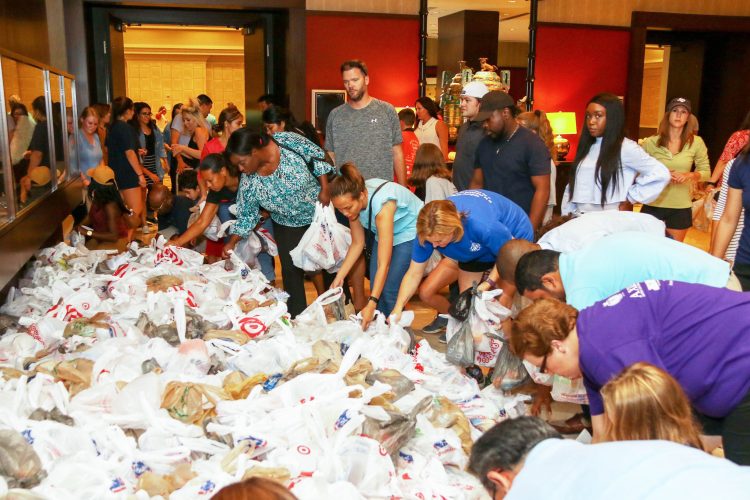 In the wake of Hurricane Harvey, thousands of Texans who call the Gulf Coast home left their possessions and homes to avoid flooding. In response, representatives of TangoTab, an internet company, organized a Harvey relief packing project Aug. 30-Sept. 1.
Nick Marino Jr., TangoTab's director of social change and a former Brookhaven College student, served as the spokesperson of the campaign. He said the project was designed to collect food, clothing, toiletries, baby products and other essential items for storm victims.
Hundreds of volunteers strolled in and out of the Hilton Anatole hotel off North Stemmons Freeway as the sun began to set on downtown Dallas Aug. 30. Local citizens volunteering to help those affected by Harvey carried cardboard boxes and bags full of food and other essentials through the hotel doors.
CALL TO ACTION
Marino stood in front of the hotel entrance greeting donors at the doors while TangoTab volunteers in orange T-shirts took the donations and piled them against the walls of the hotel lobby.
Marino said TangoTab is a smartphone app that coordinates food donations. When app users make a purchase at one of more than 100,000 participating restaurants, the restaurant will pay the company to donate a meal that has been prepared by other local food organizations to an individual registered with TangoTab's food assistance program.
Marino said as of August, TangoTab had fed over 2 million people. "We work with local food organizations that provide healthy and quality meals – organizations that produce organic food and healthy meats," Marino said. "We're trying to give people fruit, not Froot Loops."
Marino said the packing party was held to sort items and put them into correct bags. He said items collected were to be sent to the Houston area. Marino also said TangoTab has donated food items for various D-FW area shelters, including the Kay Bailey Hutchison Convention Center and Trusted World, a North Texas-based nonprofit organization.
"Take in what you're seeing right now," Marino said to a crowd of volunteers. He said the country has seen a lot of division in the past few weeks, but political differences should not matter during a disaster. "Hunger is a real problem, and we have to be in this together if we want to make a difference," Marino said.
BROOKHAVEN BEGINNINGS
Marino pitched for the Bears baseball team in 2009 before transferring to the University of North Texas. He said Brookhaven is where he first became involved in community service.
"[Baseball] was my passion, and it actually led me on a mission trip before I went to UNT," Marino said. "I ended up giving up baseball and focused fully on business and making a difference. I said, 'Why don't we tie the two?'"
Marino said he kept busy at Brookhaven, spending his time between baseball and volunteer work. He also said Hurshel Burton, his Brookhaven English professor, influenced how he viewed service learning.
"We did events around campus with Hurshel Burton, and it was absolutely amazing and life-changing," he said. One of the pivotal points for him was the final exam for Burton's class, which required him to create and collaborate on a charity event.
His group created a fundraiser called Guitar Hero for Fallen Heroes, an event where wounded U.S. veterans played a video game marathon of "Guitar Hero" in the Commons Courtyard. He said the event raised over $1,500.
"[Nick] is a community servant," Burton said. "He is a perfect example of what you can do with the community college experience and staying involved for your community and for the world while doing really good things."
Marino said involvement in community service conditions students for the professional world. "It makes you look at things [from] a different perspective," he said. "In the college career, it really can change how fast you grow in the workforce. If you actually take advantage of those moments during those times, then you're going to be 10 steps ahead of the next person."
MAKING A DIFFERENCE
Marino said his professional dream was to work for Toms Shoes, a company that donates one pair of shoes for every pair purchased.
After he graduated, he met Andre Angel, founder and CEO of TangoTab, and joined the company. Since then, Marino said, he and TangoTab have conducted several hunger-fighting projects across the nation.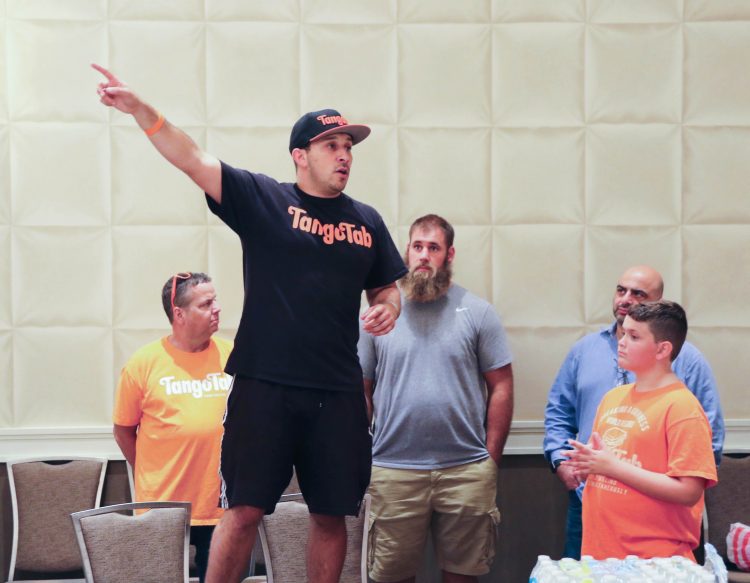 Dallas Cowboys center Travis Frederick, who helped collect donations, said TangoTab can potentially solve issues surrounding hunger.
"It blows my mind, knowing that it can be a great situation for so many people," Frederick said.
He also said his charity, Blocking Out Hunger, teamed up with Marino and Angel to help victims of Harvey.
"We believe that by getting the community together to rally, we can bring a lot of products that are needed for people who have lost almost everything," Angel said.
"When we say, 'What is hunger?' people think of a third-world country," Marino said. "When I say, 'What's hunger in America?' people think of a homeless man or woman standing on the side of a street. Homelessness is a huge problem. World hunger is a huge problem. But what a lot of people don't realize is that most Americans are just one crisis away from being hungry and not having that [next] meal."
Marino will host TangoTab's next installment of Feed The City, the company's series of projects designed for volunteers to prepare food donations at 8:30 a.m. Oct. 7 at the Gordon Biersch restaurant in Plano, Texas.