By John C. McClanahan
Copy Desk Chief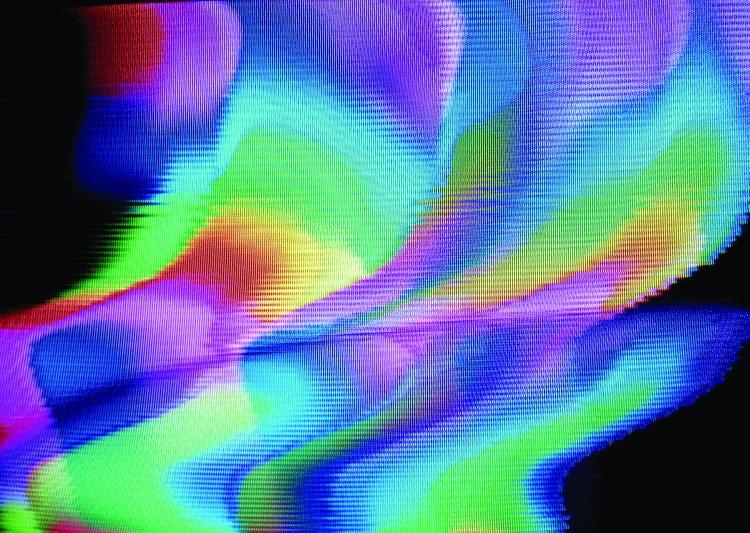 Multi-colored images of manipulated analog shapes adorn the walls of Brookhaven College's Basement Gallery. The campus is filled with art, but the lower level of Brookhaven's library showcases pieces of a different sort – curvature of melting snapshot visuals.
The exhibit, titled "Coalescence," is an array of synthetic images produced by Evan Henry, a Dallas-based visual artist, Brookhaven photography lab technician and former student.
"What's currently on display is something I call 'Coalescence,' which is a blend of old and new – using old things to create entirely new works of art," Henry said. "What I'm doing is taking old video processors that have been used for enhancing VHS copies and circuit-bending them."
He captured the images using an iPhone 5, snapping shots of the analog waves he created using a video processor. "It's coming up on a television monitor, and I'm capturing what's displayed on the [cathode ray tube]," Henry said.
"Coalescence" consists of 25 prints individually created from December 2016 to May 2017. At eye level, each piece is warped with colorful dynamics and splashed with various spectrums of shape. Henry said he created the bulk of the images last spring during his downtime.
"Once a week, I would sit down and kind of play with stuff, and that's what would come out," Henry said. "You take your reds, your blues and your greens, and I modify between the three and the color scale. Using those, I created new hues and timbres with a video synthesizer."
Henry's works are regenerations of the live concert visuals he displays while working with other artists. He regularly provides visual art for several local and touring musicians. Henry recently backed Drab Majesty, a Los Angeles-based goth-gaze duo, at Three Links, a club in Dallas' Deep Ellum. The 21-year-old also regularly performs for Dallas Ambient Music Nights, also known as DAMN, a local series of live ambient performances.
Henry's live visuals can be seen in venues around Dallas, such as Texas Theatre, Tradewinds Social Club, RBC and The Green Elephant. He has also worked alongside Aural Canyon, an Austin-based, deep-ambient concert series.
"['Coalescence'] is just like a captured essence of those live performances," Henry said. "It's what I do all the time. I take it out to small clubs, art galleries, sometimes large theaters, big clubs and whoever will have me."
Henry said his art is inspired by circumstances in his life, with 2017 being the year he decided to let go of things no longer important to him. "Everything important in my life was either taken away or I no longer wanted it anymore," Henry said. "It's all just trying new things and never really being satisfied."
He said "Coalescence" is an expression of his philosophy, with each individual piece echoing his contemplation. "What you're seeing can never be recreated perfectly," Henry said. "It can look similar, but once they're gone, they're gone. Every piece is different because it came from a different mindset."
Henry said he creates new images often and posts the visuals on social media platforms, such as Instagram. He said he will continue to create more art. He describes his process as a never-ending hunger for something unique and innovative.
"Jack White said something important to me, or at least something I read him saying: 'Once you're satisfied, you are dead inside,' and I believe that 1,000 percent," Henry said. "In a sense, I am satisfied with a lot of things, but creatively, I am never satisfied."