By Mira Scott
Staff Writer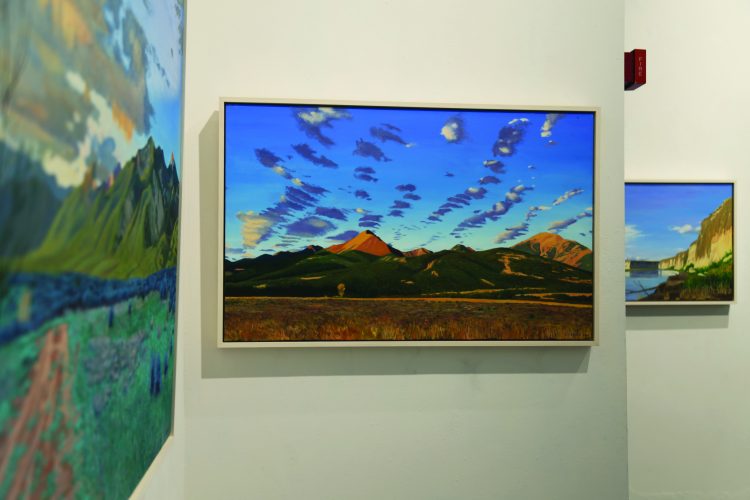 The Brookhaven College School of the Arts held an exhibition for landscape paintings by professional oil painter Lin Medlin Aug. 21-Sept. 22. A closing reception was held for Medlin and his artwork Sept. 22 in the Studio Gallery.
The exhibition showcased a series of Medlin's landscape paintings of the Ushguli and Omalo villages in the European nation Georgia, the Rio Grande and the Sangro di Christo Mountains in Colorado. Medlin said while his paintings from Ushguli and Tusheti juxtapose human structures against immense, natural beauty, he focused on the latter in those of the Rio Grande and the mountain landscapes of the Sangro di Christo range.
"We like to teach from objects, and that is something you cannot teach from reproduction," David Newman, Studio Gallery director, said. He said the art department aimed for their first set of exhibitions to be artwork from professional artists because it is a primary resource for students to properly learn from.
Medlin said the painting "Citadel at Omalo" is from a different part of Georgia in a highland region called Tusheti. He said it has been called one of the most dangerous roads in the world, but the view from it provides captivating inspiration.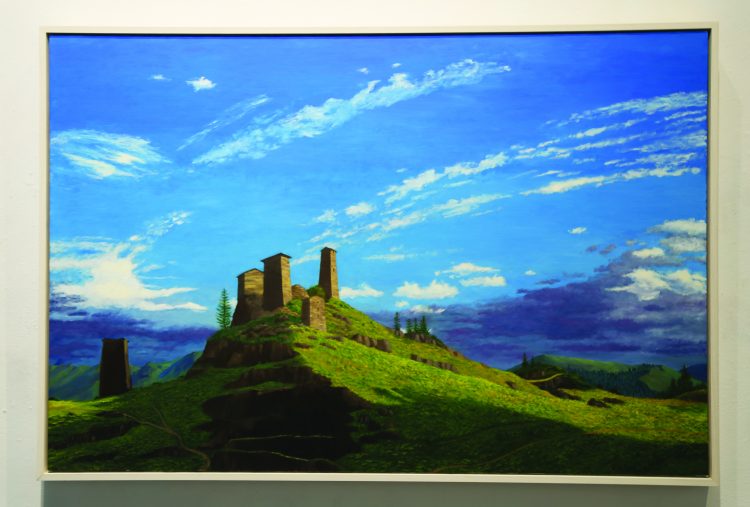 "The Rio Grande" painting contains images from the river where the Pecos River flows into it, including a long stretch where cliffs limit the horizons on either side and no humans are in sight for miles.
The painting "Road to the Sacred Mountain" was inspired by the view of the Mabel Dodge House in Taos, a place where Medlin lived when he was a 20-year-old art student. He said this painting relates to how humans view life events in a single, brief blink. The geological formations in the mountain ranges are everlasting.
"These are images of particular places at specific times, but images in which the elements have been transmuted, having been seen and recorded through the lens of my own thoughts, fears, recollections and hopes," Medlin said.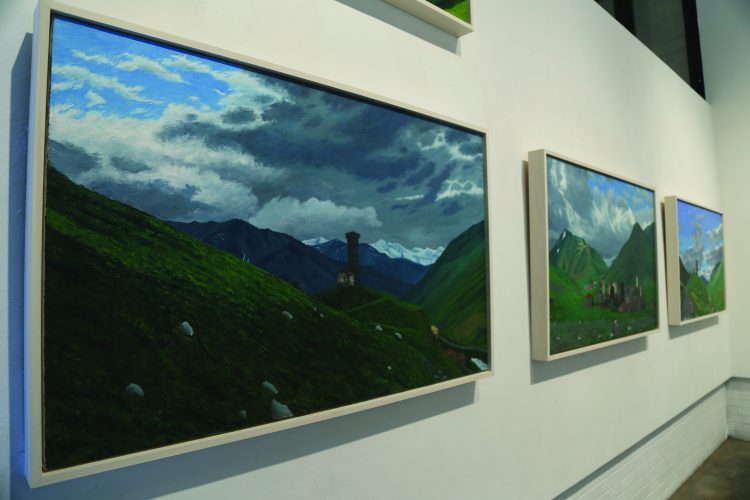 Medlin started painting when he was 15 years old and has painted landscapes for over four decades. He said while he was in college, landscape paintings were not appreciated as a studio art major's pursuit. But, he said, "Seeing certain landscapes in life, I think, is one of the most sublime aesthetic experiences a human can have, and it can be thrilling to immerse oneself in that experience by trying to capture aspects of it in paint."
Alex Wind, a student, said, "His paintings capture the wide, open and free space of the land, but mostly the beauty of nature."