Lopez leads BHC police
By Lauren Keuning
Opinion/Layout Editor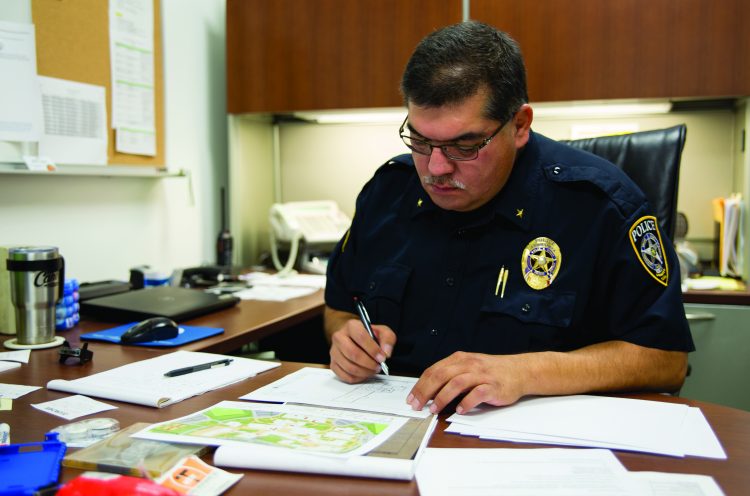 When a tip reporting a suspicious person wandering the jogging trail was phoned in, Brookhaven College Police Cmdr. Mark Lopez was dispatched to investigate the incident.
Lopez said he took the Ranger and scouted the grounds for any alarming activity, completely distracted from his surroundings and the large hole directly in his path, which resulted in him nose-diving down in a ditch, still strapped and hanging to the seat of the vehicle. John Klingensmith, former Brookhaven police chief, recalls the incident and said, "I was just an officer back then, and boy did they give [Lopez] grief over that … He can laugh at himself."
Lopez grew up in Lubbock, Texas and said he admired the first responders' call to action since childhood. From security guards to police officers, Lopez said he remembers seeing the red and blue emergency lights as a kid and always admired them, enough to eventually enroll in the Eastfield College Police Academy shortly after moving to Dallas in 1992.
Lopez was working security at the Presbyterian Hospital of Dallas when the idea of joining the police academy was first proposed to him. He was hesitant due to financial limitations, but was told by his supervisor the hospital had a program where employees could be reimbursed for a completed semester of training.
Lopez said he graduated in 1995 and was hired by Matt Mcguines, who was chief of security at Brookhaven during the time. "I was actually pretty fortunate to finish the academy and get a job pretty quickly," Lopez said.
Lopez said he worked his first year at Brookhaven as campus security because the college did not have a police department at the time. He felt it was necessary for him to return to Eastfield to gain more experience enforcing the law. After three years, he returned to Brookhaven in 1999 as a lieutenant when the Brookhaven Police department was established.
At the time, Klingensmith was also working for the college, and said he remembers Lopez had an officer's mentality and was eager to learn. "He progressed through the ranks over the years and he always insisted on attending training, which drove our first chief of police crazy," Klingensmith said.
"Mark and I hit it off right away because we both had the same type of police philosophy as far as being active in our community and taking our profession seriously," Klingensmith said. They shared the desire to change the image of campus authorities from a security image to a respected police department, which took many years, Klingensmith said.
Lopez said after the police shooting in downtown Dallas July 7, 2016, Dallas County Community College District officials decided to unite each campus' police department and made them a single law enforcement agency. They hired Chief Loretta Hall and Deputy Chief Herbert Ashford to lead the entire district. Each campus now has a commander as head of its department.
After Klingensmith retired in September 2016, Lopez was given the leading role on a trial basis until July 2017, when he was officially titled Brookhaven Police Commander. "When [Chief Loretta Hall] actually offered me the job, that's what I felt my biggest success was," Lopez said.
Natalia Arredondo, an academic adviser, said she met Lopez in 1995 when she was working part-time in admissions. She said she finished her degree shortly after, but in 2000, when she returned to work full-time in continuing education, Lopez was working in the police department.
Arredondo said when she began working as an adviser on campus, Lopez would go to her for advising, as he was working toward obtaining his associate degree in business administration, management and applied sciences.
Lopez said he is currently pursuing his bachelor's degree in applied science at Texas A&M Commerce.
When Lopez is not working on campus, he spends time with his 4-year-old son Diego and studies to complete his degree. Lopez said his duties not only include managing the Brookhaven department, but he is also in charge of hiring applicants in the whole district.
Lopez said the most important part of his job is to make students, staff and faculty, as well as the community, feel safe when they are in the area. "You guys come to school here to learn," he said. "My job is to make sure I provide a [safe] environment where you can learn."
There is a large population of people who live nearby and use the jogging trail. Lopez said they are just as important to him and his department in maintaining a safe environment. The department organized a community meet and greet, National Night Out, where anyone in the Farmer's Branch area could come and mingle with officers on the trail Oct. 3.
In recent years, Lopez said police officers have not been as prestigious and admired, so he puts forth effort to smile at people walking by, acknowledge students around campus and overall make an effort to help people feel more comfortable when someone in uniform is around.
Lopez said: "I want people to understand that we're here for them. If you have any problems … please feel free to contact me."