Oddities Spook Dallas
By Eriana Ruiz
Multimedia Director, Editor & Producer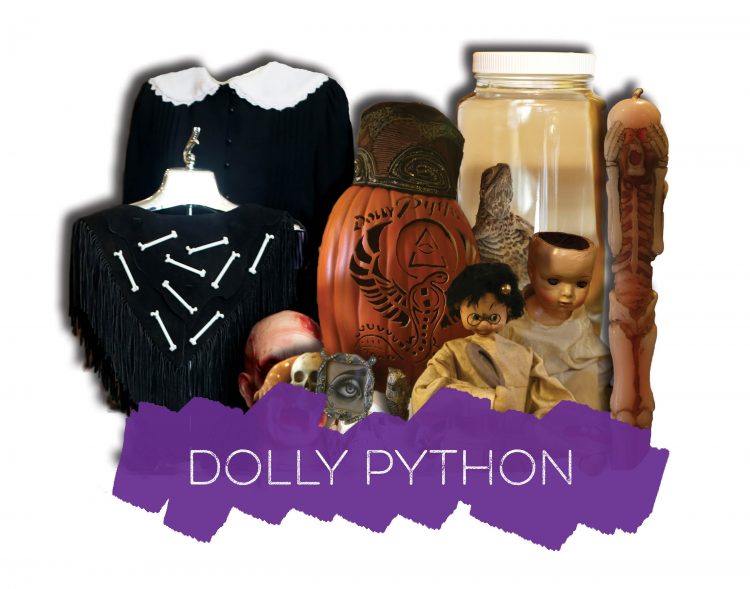 If you are looking for the perfect place to find interesting and vintage oddities, Dolly Python and Curiosities in Dallas are your best bet for Halloween.
DOLLY PYTHON
Located on N. Haskell Avenue in Dallas, Dolly Python uses one-third of the store for vintage clothing, and the rest is topped with eerie objects including heads and bodies of dolls. "This isn't your grandmother's antique mall," Michael Longcrier, a vendor for Dolly Python, said. "This is something totally different."
When customers walk through the store, chills roll down their spine. A figurine of a doctor with eyeballs on a plate, baby doll heads, costume masks and preserved animals line the ominous shelves of the antique shop.
Dolly Python has a large variety of items including records, art from local artists, jewelry, clothing, sinister-looking toys and furniture pieces. The store also includes normal vintage pieces for fair prices and a few modern pieces of accessories.
The store has thrifted vintage Halloween costumes available year-round, but with more choices in October.
Dolly Python also has a large collection of classic Halloween VHS movies including "Frankenstein," "Dracula," "Dr. Jekyll and Mr. Hyde" and multiple Vincent Price films and records that include Halloween soundtracks from Disney, the Muppets and orchestral music.
Anthony Aguirre, an employee, said a tarot card reader recently blessed the store because disturbing things were happening. The keys to the jewelry cases moved around the store somehow and light switches were played with. Aguirre said, "The items here are still attached to their past."
Gretchen Bell, owner of Dolly Python, opened the shop in 2005. When she opened, she occupied one-third of the building and has since expanded the store's size. She has won multiple awards in the Dallas Observer for Best Vintage Clothing and in D Magazine for Best Vintage Store, among other awards.
CURIOSITIES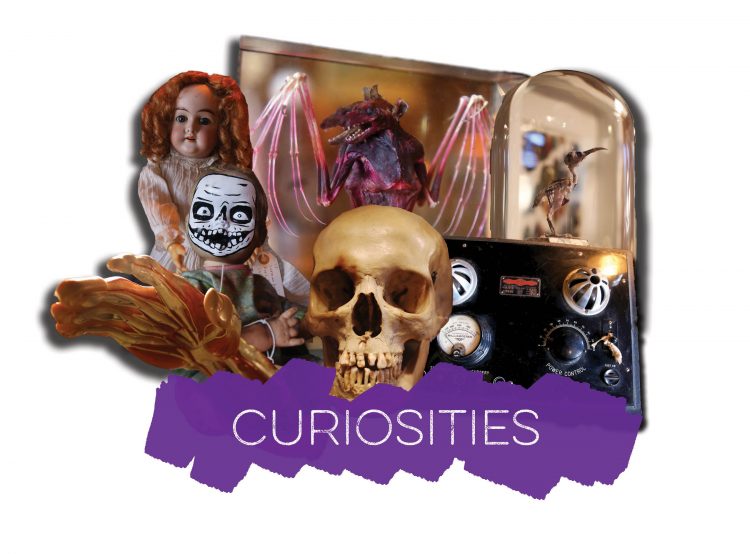 Located on Abrams Parkway in Dallas, taxidermy animals, dolls, skeletons and other creepy things greet customers at Curiosities. The antique shop was born in 2006 out of the love Jason Cohen and his mother, Terry, share for antiques.
They cater to things people may have never seen before. Oddities include a collection of menacing-looking dolls, medical posters, local artists' sculptures and photography, crystalized animal skeletons, taxidermy bats in mini coffins and a medical human skull.
Curiosities houses interesting, eclectic and spooky baubles that entice customers with their shrouds of mystery. They threateningly loom overhead as visitors dazedly navigate the peculiar shop.
Medical tools and a surgical shocker from the '30s were recently added. Sandi Outland, the store manager, said the shocker, a black box with metallic knobs, is very Frankenstein-esque, referring to the movie when Frankenstein's monster is brought to life by electricity.
Customers can spend hours going through all the items in the store. Marcie Hernandez, a customer, said, "I spent half an afternoon here one day and I still haven't seen everything."
Curiosities is not just home to strange artifacts. The store also attracts strange events. In 2016, Rachael "Frankie Stiletto" Williams achieved the Guinness World Record for fastest straightjacket escape while sword swallowing in the parking space in front of Curiosities, according to the Observer.