Gideon Bibles found scattered
By Mira Scott
Staff Writer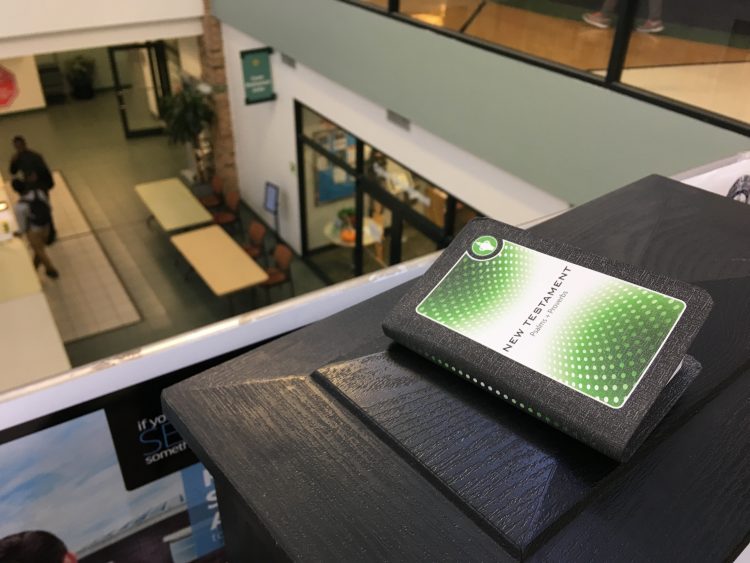 In a span of two days, 1,450 Bibles were handed to students, staff and faculty in the Commons Courtyard by Dallas North Camp of The Gideons International  representatives. Many of these Bibles ended up discarded across Brookhaven College Oct. 9-10.
A representative of The Gideons International, who asked to remain anonymous, said: "We don't spend time prophesying to anyone. After giving someone a Bible, we feel some will be led to read it. … And we know some people do toss [them] in the trash." The representative said he does not receive any lost Bibles after handing them out.
While The Gideon representatives were on campus, The Courier staff collected nearly 50 abandoned Bibles left around campus. The Bibles were found in areas including the Performance Hall, the TreeTop Café, Courier newsstands, tables and in trash cans across campus.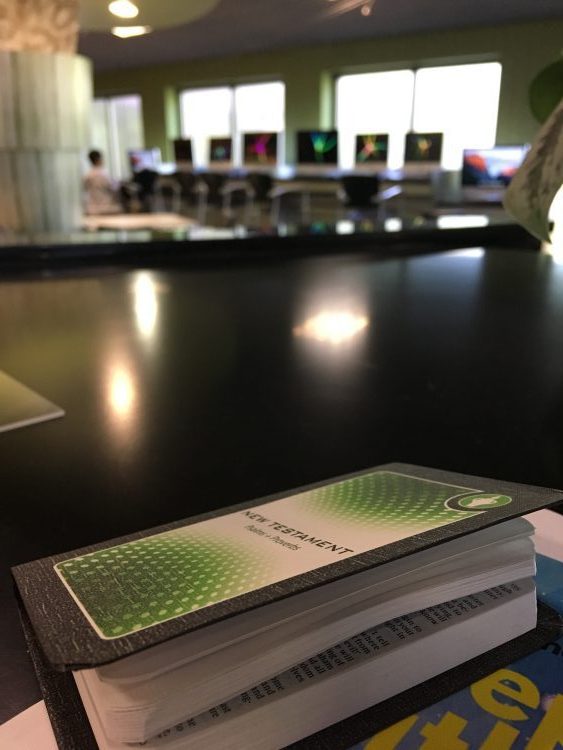 The representative said, "We hand the Bibles out to give people the opportunity to find faith, and answer any question students or teachers may have."
The Gideon representatives of the North Camp are made up of volunteers who come to campus once a year to distribute Bibles in the designated free speech area, the Commons Courtyard.
In an email to The Courier, Brian Borski, director of the Office of Student Life, said: "Anyone may use the free speech area. They have to reserve it ahead of time with me, and I secure permission for them from two Brookhaven vice presidents." He said noncollege groups that ask to reserve a time must also fill out a form listing procedures and guidelines for the use of the area.
The representative said he has received countless testimonies from people who were lost in faith and found the tiny book in the trash, on the sidewalk or in the street. He said they picked it up, read it and found faith. "Someone else will read it, as long as we get it into circulation," he said.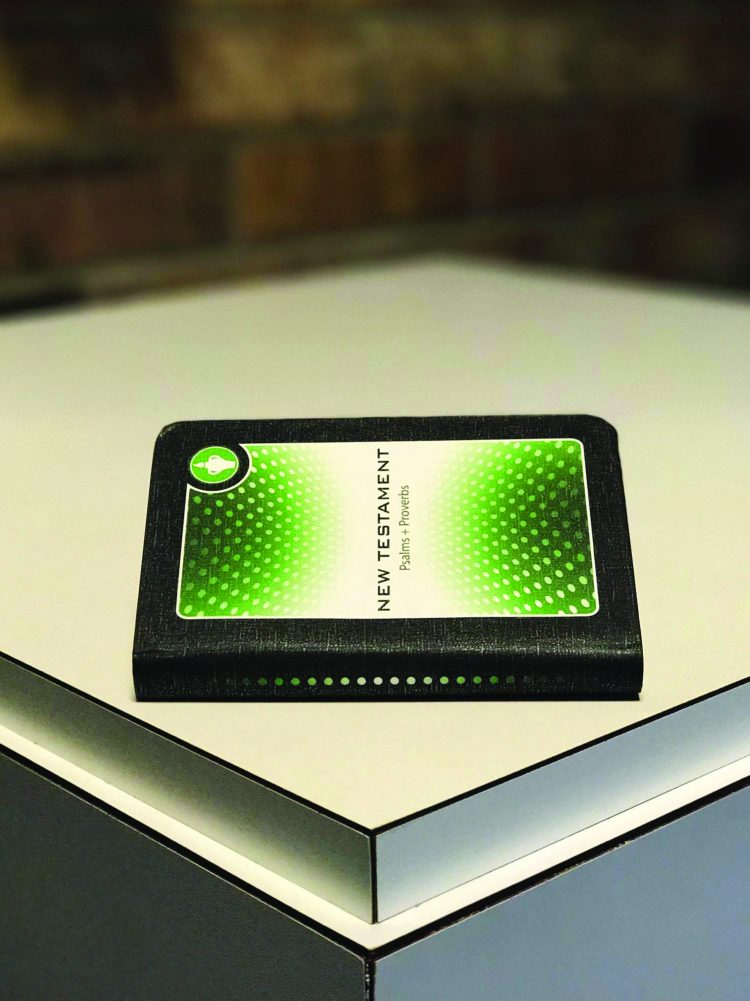 Joshua Johnson, OSL programs development coordinator, said: "Anyone can do what they want with the Bibles at their discretion. They can reuse it, recycle it or throw it away."
The Gideon's International has distributed Bibles at middle schools, high schools and college campuses since 1908, according to their website. The representative said they recently began including a card with instructions for downloading their app, Gideon Bible App, on Apple and Android devices.
The representative said he hands out both the Bible and the app card because the app allows some people to gain easier access to the Bible on their tablet or smartphone. He also said, "Some people want to light a candle or light a kerosene at night while reading the Bible."
He said using the app card is cost-efficient and it is available in many languages for those wanting to read the Bible in their native language. The app can also be used as an audiobook.