OSL shares safety awareness
Brookhaven College informs students about the dangers of drunk driving and domestic violence.
By Hendria Gastelum
Social Media Editor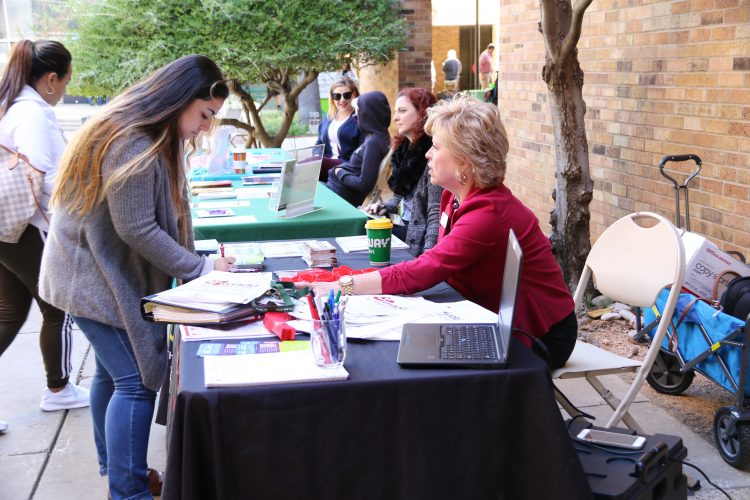 The Brookhaven College Campus Activities Board organized a combined event to raise awareness of drinking  and driving and domestic violence. The event was held Oct. 17 in the Commons Courtyard.
"We decided to combine the drunk driving and domestic violence events this year because they tie in together," Candace Williams, student programs development coordinator, said. "We wanted to host this event to bring awareness to a lot of things at once."
The Campus Activities Board handed out purple ribbons and whistles representing domestic violence awareness.
Organizations that attended the event included Mothers Against Drunk Driving and the Dallas Area Rape Crisis Center, or DARCC.
DARCC is an organization that provides survivors and their loved ones with the resources they need to reclaim their lives, according to its website. Among the services offered by DARCC are crisis intervention, counseling and a 24-hour hotline.
"We help anyone who has been impacted, including friends and family members," Anita Vantrese, a DARCC volunteer, said. "We also provide hospital and court accompaniment for victims of sexual assault."
"We like doing events like these because we get to bring awareness to an important issue," Vantrese said. "I didn't know about [DARCC] until I started volunteering. The more people are aware, the more we can help people who need it."
According to the Rape Abuse and Incest National Network, an American is sexually assaulted every 98 seconds and 90 percent of attacks are against females.
According to the National Resource Center on Domestic Violence website, domestic violence is defined as a pattern of abusive behaviors – including physical, sexual and psychological attacks – used by one intimate partner against another to gain, maintain or regain power and control in the relationship.
Arrive Alive Tour provided a drunk driving simulator to raise awareness of the dangers of drinking and driving. The simulator allowed students to experience the sensation of what it is like to drive while under the influence of alcohol.
Participants wore a pair of goggles that hindered their ability to concentrate and see clearly. They then drove inside a simulator and were issued a citation based on their performance.
"I had no control whatsoever," Emily Romanowski, a student, said. "I was swerving all over the place and I ended up dead. It was scary."
According to the Centers for Disease Control and Prevention, 28 people – about one person every 51 minutes – in the U.S. die in motor vehicle crashes that involve an alcohol-impaired driver. The total cost of these accidents totals more than $44 billion annually.