Focal Points returns with new panel of pros
By Stephanie Salas-Vega
Managing Editor
[email protected]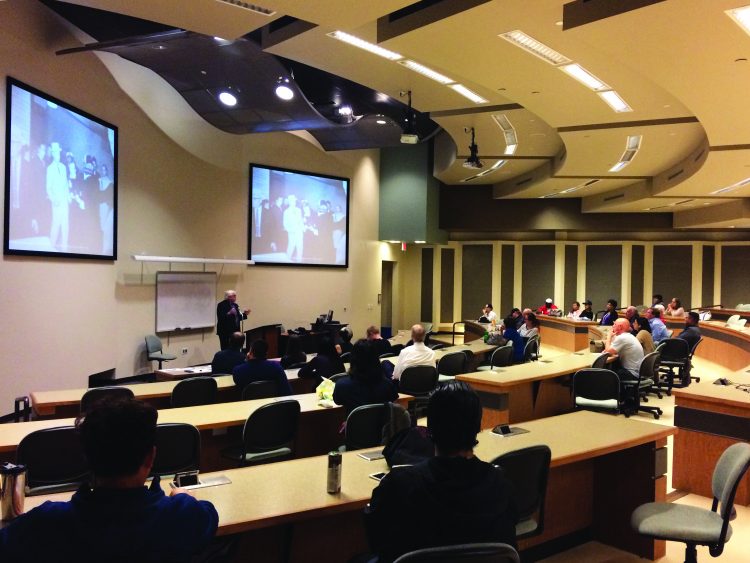 Brookhaven College's Basement Gallery hosted the second annual Focal Points, a one-day photography workshop. The event featured professional Dallas-based photographers, photojournalists and a Pulitzer Prize-winner, all of whom shared the experiences, portfolios, careers, advice and stories behind their lenses to photography enthusiasts.
The event was held Oct. 19 in Room X1091.
Kathy Tran, a former Brookhaven student who now works as a freelance photographer, spoke about her start in the photojournalism world and how her diverse range of subjects got her a foot in the door with many major publications and businesses.
Tran is a former photographer and multimedia director for The Courier and has received many awards. Since then, she has become well-known for her food, fitness, music, feature and street photography in the Dallas area. In 2014, she was voted runner-up for Best Music Photographer in North Texas by the Dallas Observer.
"Whatever you're interested in, try shooting for that niche and keep going," Tran said.
Michael Granberry, arts writer at The Dallas Morning News, spoke about his story, "Sixth-Tenths of a Second, Two Lives Forever Changed," about the images two photojournalists captured of Jack Ruby shooting Lee Harvey Oswald in 1963, and how those images forever changed their lives. The photos were taken sixth-tenths of a second apart, but only one photographer received a Pulitzer.
The first photo was taken by Jack Beers who captured Ruby pointing a gun at Oswald as he was being escorted through the basement of the Dallas Police Department. Sixth-tenths of a second later, Bob Jackson captured the Pulitzer-winning photo of Oswald's expression of pain after being shot by Ruby.
Granberry said each of the  photos impacted the photographers' lives in different ways. Beers fell into a deep depression after missing the shot of the century, while Jackson maintained a successful career.
"Sometimes you feel you've missed something or you failed … but the lesson is just like a hitter going after the plate," Granberry said. "You have to keep swinging. You have to keep trying."
Richard Rodriguez, a freelance photographer and former staff photographer at the Fort Worth Star-Telegram, took the famous photo of Texas Rangers Rougned Odor punching out Blue Jays Jose Bautista during the 2016 MLB season. The image went viral and appeared on T-shirts and other merchandise.
Rodriguez said because he was a staff photographer for the Star-Telegram, the publication owns the copyright to the photo. It could be easy to be bitter or unhappy about not having the copyright to a photo, Rodriguez said, but he is still happy to have taken an iconic sports image.
Photographs of the northern lights of Iceland and lava flows under the Milky Way night sky and moon were just two of the many photos shared by Mike Mezeul II, a freelance photographer. Mezeul II travels around the world capturing nature's beauty. He has shot natural disasters, lunar and solar eclipses, landscapes of many regions and the night sky.
"I love exposing the beauty of this world," Mezeul II said. "I also love the challenge of it."
Mezeul II takes students to national parks to teach them his photography techniques through different workshops.
Michael Mulvey, a former senior staff photographer and photo editor for the DMN, won a Pulitzer Prize in 2006 for his coverage of  Hurricane Katrina's impact. He spoke about the consequences of photographing disasters. "It takes a toll on you," he said.
"I don't want to look [at the photographs] every day, but they're on my mind," Mulvey said. "I can reflect on them. They told a story, [they] continue to tell a story."
Louis DeLuca, a senior staff photographer for the DMN, spoke about the viral photo he took of Cathy Pham and her son, Aidan, being carried to safety by Houston SWAT officer Daryl Hudeck during Hurricane Harvey. He said he thinks the photo was so popular because it shows strength in the middle of a tragic situation.
"I've never experienced anything like what this photo brought into my life for the next week," DeLuca said. "It was unbelievable."
Daniel Rodrigue, photography and photojournalism professor, said: "I hope that students got to hear from these professional photographers or photojournalists about how important it is to be on scene and be prepared when breaking news happens. I hope students left feeling inspired by these photographers who travel all over, either the region or the nation, covering important news of the day."