By Stephanie Colmenero
Contributing Writer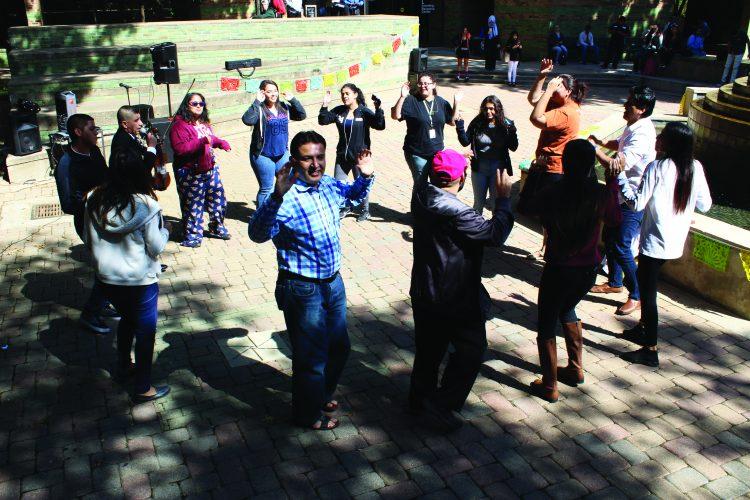 Mariachi music blasted throughout the Commons Courtyard as students sampled Mexican food and treats. Hispanic Heritage Month is celebrated Sept. 15 through Oct. 15. Throughout the month, Latino and Hispanic people from Mexico, Spain, the Caribbean and Central and South America celebrate their heritage and culture in the U.S.
The Hispanic Heritage Festival was held Oct. 10. Music from popular artists, including Vicente Fernández's "El Rey," Selena Quintanilla's "Bidi Bidi Bom Bom" and Puerto Rican Merengue singer Elvis Crespo's "Suavemente" filled the courtyard.
Sol de Mi Tierra, a Dallas-based mariachi group, played live music that brought the growing crowd to their feet for popular dances such as "El Zapateo," "La Macarena" and "El Mariachi Loco." Students just getting out of class stopped to record the live mariachi with their smartphones.
Students shuffled to cumbia and bachata music from the popular group "Aventura" in pairs as they went around in a circle dancing and laughing. Elizabeth Cruz, a student, said, "This is the best event at Brookhaven I've been to."
Rebekah Benavides, Office of Student Life programs development coordinator, handed out chicken and cheese empanadas to students and staff. Other foods served included Chimayo market corn, black beans and horchata, a popular Mexican rice-based drink. Attendees also sampled frozen Mexican treats from a paletero cart.
Colorful piñatas in traditional colors decorated the courtyard.
Sally Piedras, a vendor, sold colorful hand-woven bags from Guatemala and sterling silver jewelry from Taxco, Mexico.
Sam Govea, dean of the Social Sciences Division, said he was pleased with the turnout at the festival. Bob Little, a government professor, said the festival was a way to strengthen the community.
"It's awesome," Anne Garsea, a student, said. "[Brookhaven] did a great job highlighting the Hispanic culture [despite] all the negativity going on."
According to the Brookhaven website, Hispanic or Latino students make up 38.7 percent of Brookhaven's student population, making it a Hispanic-Serving Institution.
According to the Hispanic Association of Colleges & Universities, at least 25 percent of a college's student body must be Hispanic for the institution to be recognized as a Hispanic-Serving Institution.