By Victoria Valdez
Contributing Writer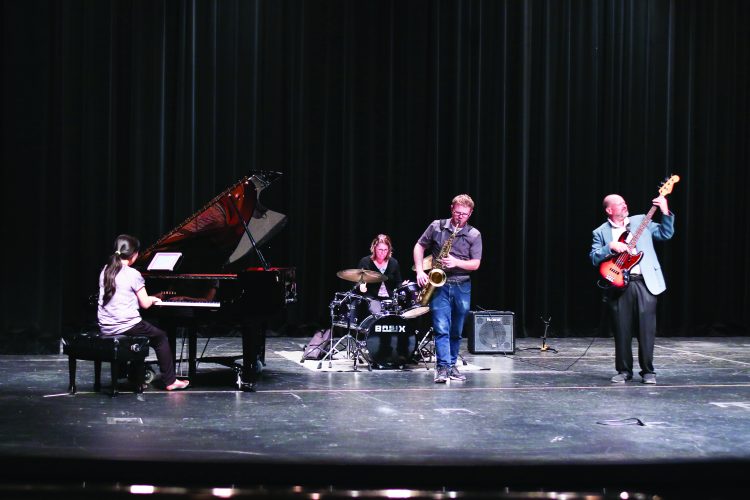 The Brookhaven College School of the Arts music department raised $940 during the annual Faculty Showcase Fundraiser.
Brookhaven faculty members showcased their musical talent  on the Performance Hall stage for students, staff and faculty Oct. 21.
Octavio Gutierrez, the music department chair, said it was the 14th installment of the Faculty Showcase Fundraiser. The show was planned three months in advance, he said. The fundraiser is held every year to raise scholarship money for BCSA music students.
Gutierrez said full-time and adjunct faculty chose to perform a piece or multiple pieces for the showcase. Gutierrez performed two piano compositions by composer Manuel M. Ponce titled "Balada Mexicana" and "Intermezzo."
Faculty performances ranged from classical solos to collaborated jazz pieces. The concert kicked off with Lindsay Kimbley, adjunct faculty, on flute and Tiffany Smith, a hired pianist, playing "Sonata for Flute, K.14" by Wolfgang Amadeus Mozart.
Kimbley said she earned her doctorate of music arts from Texas Tech University. "I've been playing the flute since I was 10 years old," Kimbley said. "It's interesting because we are all at different levels with how we do different things."
Susan Wyatt, adjunct faculty, sang "O Quante Volte" from I. Capuletti E.I. Montecchi by Vincenzo Bellini. Wyatt shined on stage wearing a shimmering black gown with strong soprano vocals.
The concert transitioned to an enactment by Carlo Pezzimenti, adjunct faculty, who performed compositions with his acoustic guitar. He filled the Performance Hall with melodies that built momentum with fast finger plucking.
Among the compositions, Pezzimenti played an original piece he titled "Una Nit al Castel."
Roy Allen, faculty, performed "Sonata for Alto Saxophone" and "Piano, Op.12" by Lawson Lunde on his saxophone with Smith on the piano. Allen said he has played the saxophone for 33 years and has taught at Brookhaven for 15 years. Allen regularly plays with the Dallas Wind Symphony.
The final act of the night was a jazz performance by faculty members Paul Metzger on bass guitar, Ann Macmillan on drums, Brian Stark on tenor saxophone and Jisun Huh on the piano. Each member took a lead with their instrument, and the crowd cheered throughout the performance.
"I thought it was really inspiring to watch my professors perform, especially on behalf of the music students,'' Neylan Loffredo, a student, said. He also he the performace motivated him to pursue a career in music.
Kimbley said, "It's fun. This is who we are and this is what we do."