26 killed in south Texas
By Juan Betancourt and Jacob Vaughn
Sports/Web Editor and Contributing Writer
The 11 a.m. Sunday service was in progress at First Baptist Church in Sutherland Springs, a small south Texas town, when a man dressed in black tactical gear barged in with an assault rifle and fatally shot 26 people and wounded 20 others.
The shooter, Devin Patrick Kelley, opened fire at the church's congregation Nov. 5. The attack now stands as the largest mass shooting in Texas history, according to CNN.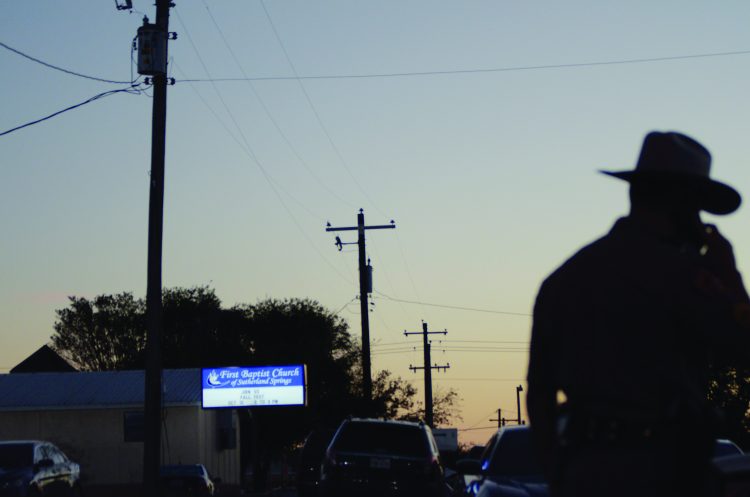 Kelley emptied 15 magazines into the parishioners during their worship service. In seven minutes, he fired at least 450 rounds, according to The New York Times.
"We leave our doors open," Laura Morales, a Sutherland Springs resident, said while attending the prayer vigil the day after the shooting. "We're a small, little town. We don't think of stuff like that."
The victims' ages ranged from 18 months to 77 years, according to The Dallas Morning News, and included the unborn child of Crystal Holcombe.
Kelley used a Ruger assault rifle. He shot the first two victims in the parking lot before entering the building, according to DMN.
NO CLEAR MOTIVES
As of press time, there are still no clear motives for the shootings. However, state officials said he may have attempted to target his mother-in-law, a member of the church, according to the DMN.
Kelley sent his mother-in-law threatening text messages, but she was not at the church when the shooting occurred.
QUESTIONS & HEALTH
Sam Govea, Brookhaven College Social Sciences Division dean, said the shooting will again cause lawmakers to question gun control laws.
Morales said mass shootings will continue to occur until lawmakers regulate gun control.
Govea said mental health issues, which shooters are known to have, may also be addressed.
According to the DMN, Freeman Martin, Texas Department of Public Safety regional director said, "There was a domestic situation going on within this family."
MEMORIAL
A candlelight vigil was held the night of the shooting at a U.S. Postal Service Office across the street from the church, according to USA Today.
On Nov. 6, a prayer vigil was held at a baseball field on Sixth Street.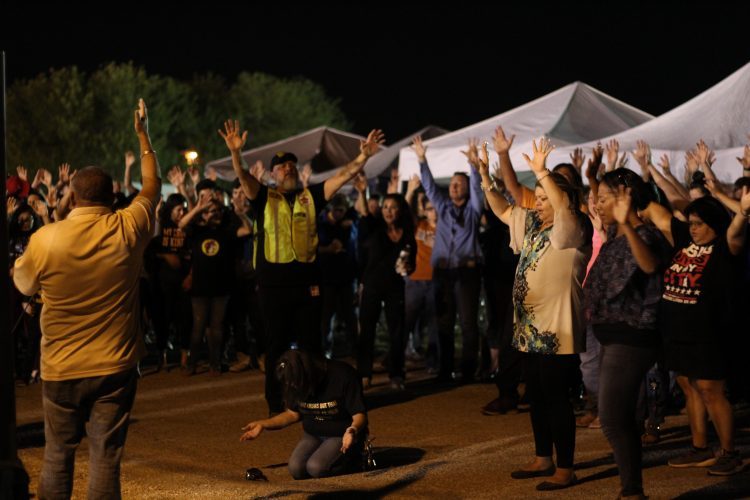 Morales attended the prayer vigil, with her two daughters. "It hasn't hit me until today," she said. Morales has lived in Sutherland Springs her whole life. She said she attended Sunday school at First Baptist Church as a child.
"We're not related to [any victims], but we [have] a lot of friends that were hit," Morales said.
Tom Kiyuna, an Austin resident at the vigil said he planned a hunting trip in Sutherland Springs before receiving a text from a "sister in Christ." She asked him to pray for friends who were hurt during the shooting.
"I had plans," Kiyuna said. "For other things, but forget it. This is more important. The people here are more important."
SHOOT-OUT & CHASE
Stephen Willeford, who lives 250 feet from First Baptist Church, heard the gunshots from his house. "I'm no hero. I'm not," he said, according to the DMN.
He grabbed his rifle and ammunition and ran barefoot toward the church. Kelley then climbed into a Ford Explorer and took off, according to the DMN.
Johnnie Langendorff was driving his truck to his girlfriend's house when he saw Kelley and Willeford exchanging fire.
In a Nov. 6 press conference, Martin said the autopsy showed Kelley had three gunshot wounds. Willeford shot Kelley once in his leg and once in his torso.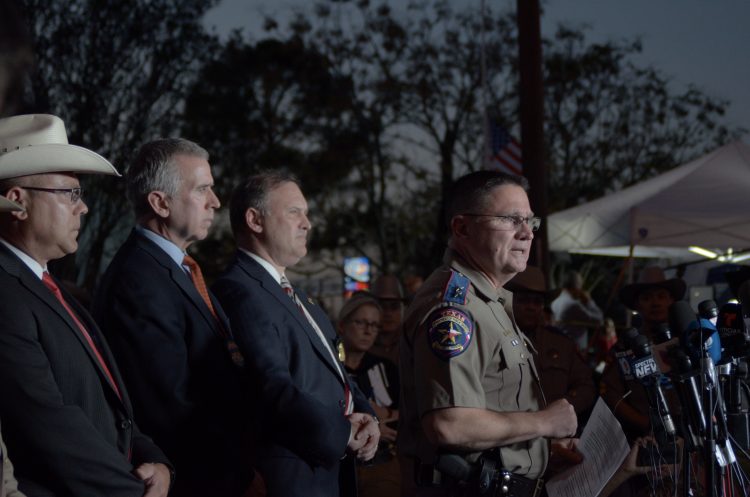 Willeford approached Langendorff and explained what happened. He got inside Langendoff's truck and the two pursued Kelley, according to the DMN. Langendorff drove 95 mph on Interstate 539 in pursuit of Kelley.
After 12 minutes, Kelley crashed and took his own life, according to the DMN.
TROUBLED PAST
Kelley, a New Braunfels resident, enlisted in the U.S. Airforce as a logistical readiness airman at Holloman Air Force Base in New Mexico, according to The Washington Post.
He was court-martialed and sentenced to one year in military prison for assaulting his wife and stepson in 2012.
His wife at the time, Tessa Kelley, filed for divorce the same year while he was in prison, according to The Washington Post.
Gov. Greg Abbott said Kelley was rejected when he applied for a license to carry a handgun in Texas, according to The New York Times. "By all the facts that we seem to know, he was not supposed to have access to a gun, so how did this happen?"
The U.S. Air Force failed to alert federal law enforcement agencies about Kelley's troubled past. Kelley passed a background check and bought the firearms from Academy Sports and Outdoors, according to The New York Times.
"There's something we can do about this, but we're choosing as a society not to stand for more access to mental health care," Govea said.