Student's photo voted best
By John C. McClanahan
Copy Desk Chief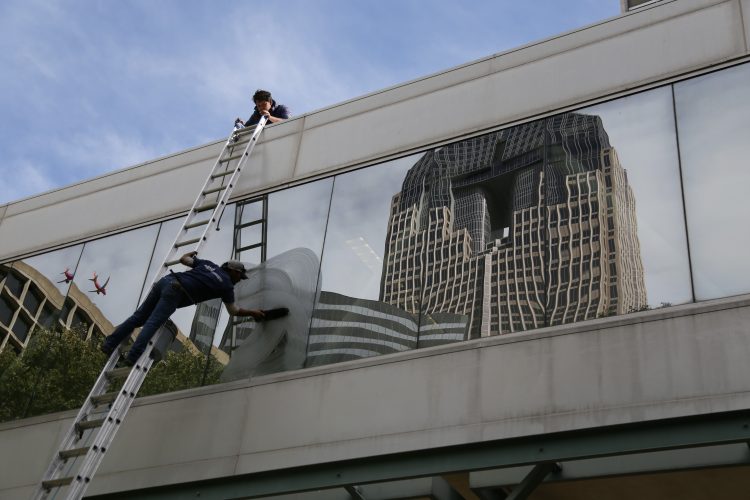 A Brookhaven College student won First Place in an on-site photojournalism competition at the 2017 National College Media Association and Associated Collegiate Press Convention in downtown Dallas.
Over the course of a week following the convention, 22 judges deemed Jubenal Aguilar's, editor-in-chief of The Courier, photo of Leonardo Garcia, a window washer cleaning a Bryan Street skybridge window, as the contest winner.
"I feel great that I won the contest," Aguilar said. "It's re-energized me and reaffirmed that I may be on the right path in life."
The Dallas Photo Shoot-out was coordinated Oct. 26-28 at the Sheraton Dallas Hotel, and designed for photojournalism students to highlight life in Dallas using their photography skills, according to ACP/CMA competition rules.
The judges, professional and freelance photojournalists and college media advisers, selected Aguilar's photo over 42 student photographers from two- and four-year colleges in the U.S. His submission was the judges' only Top 6 selection from a two-year college student.
"It's amazing how he beat photographers from four-year schools across the nation," Stephanie Salas-Vega, managing editor of The Courier, said. "I'm not shocked. He perfects everything he does, and his help and leadership are reasons why [Brookhaven's] journalism program continues to succeed."
Aguilar said he sought a subject to photograph the morning of the competition's last day. Looking for a great feature photo, he passed up attending a keynote lecture from CBS newsman Bob Schieffer.
Aguilar said he looked for subjects in a few spots around downtown Dallas, including the Dallas Farmers Market, Dealey Plaza and Thanks-Giving Square. However, he could not find a subject in those areas with the photographic elements he needed for a great image. Without a captivating photograph, he returned to the Sheraton. There, he finally found a perfect subject.
"When I arrived at the hotel, I felt defeated," Aguilar said. "I spent almost three hours in the cold streets of Dallas and was returning empty-handed. … At that last minute, an idea came over me. If I could get a great shot of the guy washing the windows with a DART train and the old Texas High School in the background, I might just have a chance."
With the contest deadline rapidly approaching, Aguilar submitted two photographs of Garcia washing the skybridge window. Due to his last-minute submission, Aguilar said he was almost disqualified from the contest for not including the required metadata for the photos. He said Bradley Wilson, the contest coordinator and adviser from Midwestern State University, scolded him for failing to add the required information.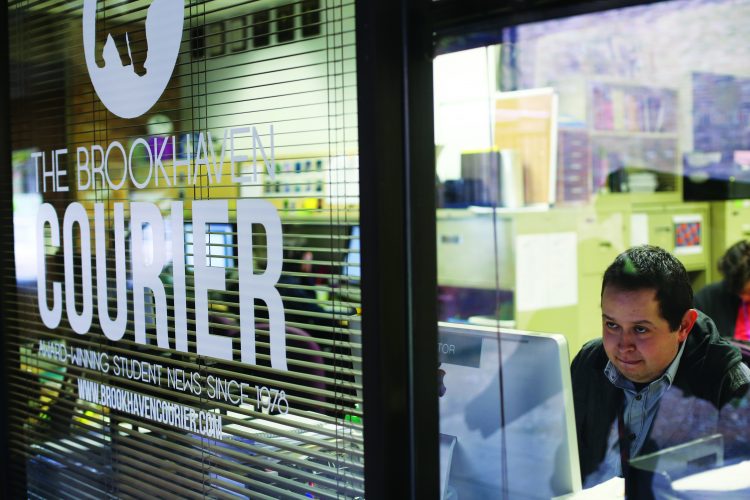 "I almost pulled my two entries from the contest out of shame because I knew he was right in saying I should have prepared better and been ready to submit my images with enough time to address any issues," Aguilar said.
However, his images cleared to the contest's final round. Aguilar said the judges likely favored his images because they consisted of many eye-grabbing photographic elements, such as leading lines, dynamic diagonals, repeating patterns and reflections.
On Nov. 3, while returning home late on the Denton Country Transportation Authority A-Train, Aguilar said he read a Facebook post from Wilson, which detailed the final results of the Dallas Photo Shoot-out. To Aguilar's surprise, his name was posted as the first-place winner.
"At first, I couldn't believe I had won," Aguilar said. "I didn't expect to win anything above maybe honorable mention after seeing the other entries."
Winning the Dallas Photo Shoot-out is not Aguilar's first photography accolade. At the 2017 Texas Intercollegiate Press Association conference in spring, Aguilar, along with former Courier photographer Emma Donohue, won first-place for a two-person photo essay.
During spring, Aguilar's photo illustrating a drug deal, which highlighted a theme from Alfredo Corchado's book "Midnight in Mexico," won first place in an Instagram photography contest sponsored by Brookhaven's Open Book Project.
In 2014, Aguilar's photography was showcased in Brookhaven's Basement Gallery. His solo exhibition depicted recreations of chapters from J.R.R. Tolkien's "The Hobbit," using Lego bricks and mini-figures.
Aguilar said he has always been fascinated with photography. In 2013, he enrolled in Daniel Rodrigue's, photojournalism and journalism professor, photography courses.
Soon, he began shooting photographs for The Courier. And after several published photos and staff positions, including copy desk chief and managing editor, Aguilar became the editor-in-chief of The Courier in summer 2017.
Since then, he has continued to snap award-winning photos while leading The Courier news team.
"Jubenal is an amazing editor-in-chief, photographer and journalist, so I'm not surprised he won first place," Monica Mitrovic, copy editor and editorial proofreader for The Courier, said. "He's so hardworking and always goes above and beyond what's required."