Runners sprint in haunted race for The Cave
By Willie R. Cole
Senior Photo Editor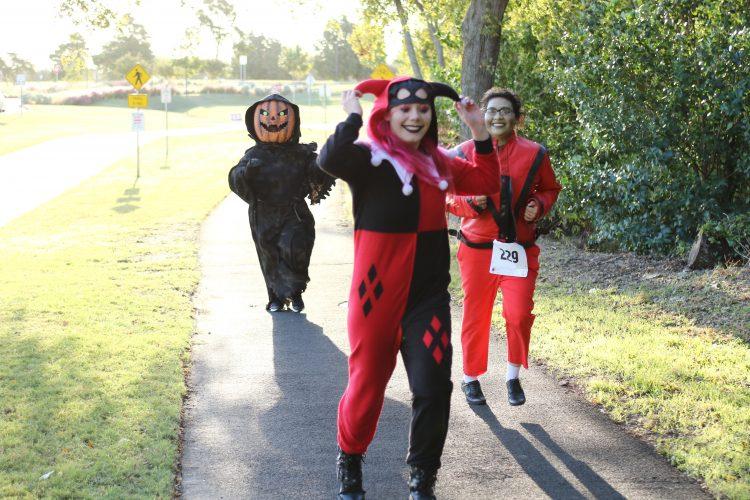 One hundred and two participants ran the Brookhaven College jogging trail for the sixth annual Spooky Trot 5k Run/Walk Oct. 27 to collect donations for the Brookhaven food pantry.
"Spooky Trot is an annual race to help support the Brookhaven food pantry, also known as The Cave," Rebekah Benavides, Office of Student Life student programs development coordinator, said. Costco and Frost Bank were also sponsors of the fun run, she said.
As the sun broke through the clouds, the first of the runners made their way to the finish line. The top three runners in men's and women's categories were awarded trophies and gift certificates.
Students Jonathan Wilson and Norberto Flores won first and second place, respectively. Glenn Dumas, a Farmers Branch resident, finished third. Wilson said he did not train well for the first Spooky Trot he participated in and finished fourth or fifth. "I didn't specifically train for this [one either], I thought, 'Since I run every day, I might as well run another day,'" Wilson said.
The winners in the women's category were students Mia Gramly, Pavia Pantoja and Coral Ramirez.
All participants of the event received a medal and T-shirt, Anthony Krajewski, OSL programs services specialist, said.
Jacqueline Brock, a student, dressed as a jester and perched herself in the trees. When runners approached she jumped out and ran alongside them as they approached the finish line.
The Spooky Trot took shape after Cpl. Vikki Ethington, a campus police officer, saw an opportunity to help the food pantry. She said she saw the pantry needed more food when she tried to help a student. "I didn't know how they were going to feed their self for two or three days," Ethington said.
When Ethington began planning the first Spooky Trot, she said she opted to collect food donations instead of money for the entry fee to stock the pantry.
Ethington said another 5k run is being planned for spring, the Heroes Run – a project to honor first responders including those that serve in the military, she said. Proceeds from the run will go to a new foundation that will benefit all food pantries in all Dallas County Community College District campuses. "When their food pantry run low, they can pull money from the foundation and go buy food and fill the food pantry," Ethington said.
The run is planned for April 14 and will be held at Brookhaven. There will be games and activities for the whole family, including an obstacle course and activities for children.