Students debate campus carry
Members of four campus clubs debated controversial gun issues.By
Jacob Vaughn
Contributing Writer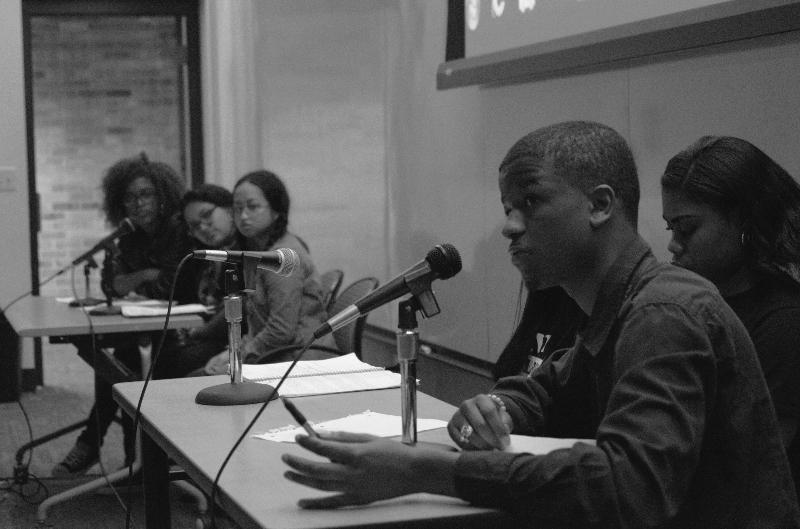 The Brookhaven College African Cultures' Club hosted its first Inter-Debate First Edition, a debate competition Oct. 24 in Room B240 where various campus clubs debated age restrictions for firearms. Participating clubs included the Brookhaven Korean Culture Club, the International Club and Student Government Association.
Each club's panel consisted of three of its members who defended their stance on the topic in front of a room of their peers and three judges. The judges included Sheri Van Court, an English speakers of other languages professor; Jennifer Laprade, a government professor; and Hurshel Burton, an English professor.
In preparation for the debate, each panel drew from a hat to determine their stance on the topic. The panels debated their stance on the issue of campus carry, and whether 18- to 20-year-olds should be allowed to conceal carry on campus.
ROUND ONE
The Korean Culture Club opened the debate, defending their assigned stance on lowering firearm age restrictions.
"Today we are here to show you why guns should be allowed on campus regardless of age," Alexis Villas, a Korean Culture Club member, said during their opening statements. "This restriction of those under the age of 21 makes them feel less empowered and more likely to pursue a gun from illegal sources, which in turn can lead to an increase in crime rates," Villas continued.
The African Cultures' Club took the opposition, arguing the age limit should remain the same.
"People believe that if they have guns on campus, it will reduce crime," Nnaji Nneka Chidy, an African Cultures' Club panel member, said. "Rather, it increases mortality rates and prevents people from expressing themselves freely." To end her opening statements, Chidy posed two questions. "How much value is placed on our lives? Do we actually value the lives we're living?"
ROUND TWO
SGA supported the lowering of the age restrictions against the International Club. In the SGA's opening statements, Saul Vasquez, SGA vice president, said they believe the main purpose of owning a gun is to preserve the freedom of people and defend themselves against a tyrannical government. "Has the United States ever been a tyrant? Yes, of course it has," Vasquez said. He then gave examples, such as the Jim Crow laws and the incarceration of Japanese-Americans during World War II.
In their opening statement, International Club member Maria Tovar said ordinary citizens who carry firearms do not have the skills required to protect those around them. To close her opening statements, Tovar said lowering age restrictions on campus carry would result in an increase in injury, accidental shootings and homicides.
DEBATE & DECISION 
All of the clubs involved posed questions, answered questions and offered rebuttals to their counterparts before finally handing the microphone to the judges for critiques.
The judges announced their final decision for the winners of each debate. The judges said all of the teams could have done a better job in structuring their arguments and used more practical analogies. They concluded SGA was the first-place winner. The International Club and the African Cultures' Club were the second and third place winners, respectively.
International Club member Maria Tovar was recognized as best speaker.
Chidy said with everything that happened and the turnout, they plan on doing another debate. She then said members of other clubs approached her during the debate to express their interest in participating in the next Inter-Debate event.