Once located in South Dallas, Zoli's NY Pizza Tavern has a new home.
By Morgan Hanson
Contributing Writer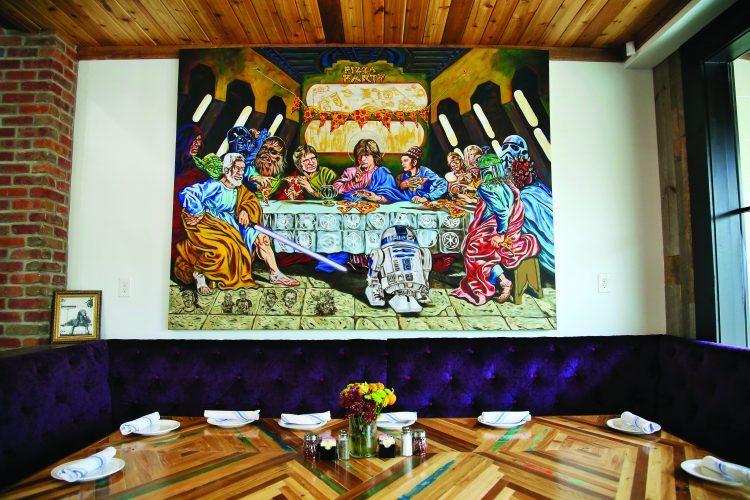 When Zoli's NY Pizza Tavern in Oak Cliff, Dallas closed its doors Valentine's Day 2016, patrons were heartbroken. But the beloved pizza parlor returned 628 days later and is now situated at 14910 Midway Road in Addison, Texas, inciting a feeding- frenzy among fans when Zoli's reopened Nov. 3.
According to its website, Zoli's has "more comedy bits than you can even imagine," and the layout of the new restaurant attests to that. A yellow neon sign reads, "Y U NO EAT GLUTEN?"
On a metal fan above the pizza oven, "SEND NUDEZ" is spelled out using refrigerator magnets. A marquee sign hangs in the lobby, which reads, "This had better be good."
Recreations of famous paintings with a Star Wars motif hang on the walls. Most prominent is a rendition of "The Last Supper," featuring Luke Skywalker, Obi- Wan Kenobi, Darth Vader, Darth Maul and others in place of Jesus and his apostles. In a Yelp review Nov. 10, customer Bob S. wondered why the restaurant would find it useful to offend what might be 50 percent of their patrons. Customer Bennett Updegraff said, "[The painting] probably upset some people, but it didn't really offend me at all. It's not making a parody of the religion."
POSITIVELY PIZZA
"I'm happy to report I was the first person in the door for the grand opening," Melanie Kelly who has twitter account @mydallaskitchen tweeted at Zoli's account Nov. 3. The tweet linked to an Instagram post with a photo of a cheese pizza. In an email to The Courier, Kelly said, "The pizza at Zoli's is hands down the best pizza in Dallas."
Diners can select appetizers such as garlic knots, fried mozzarella Nuggz and zucchini fries. Pizza can be ordered as 14-inch round pizzas or 12-by-12-inch square pies for $2 more, such as the NY White, a pizza made with mozzarella, ricotta, garlic, olive oil and sesame seed crust.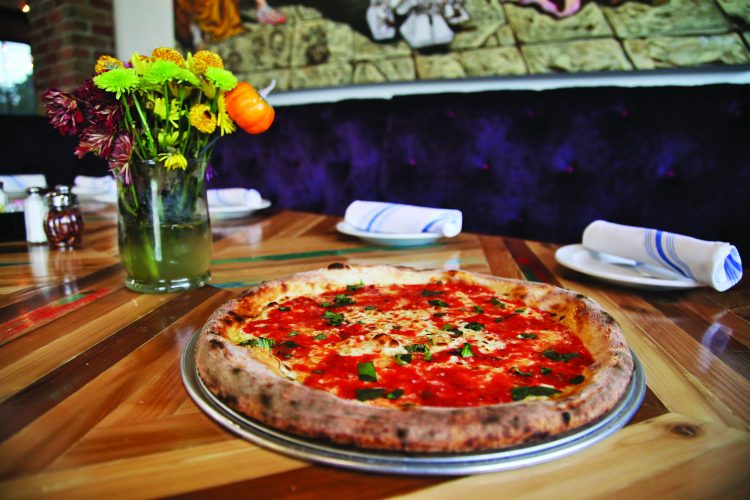 Zoli's offers specialty sandwiches such as the Eggplant Parm, which consists of breaded eggplant, tomato sauce and mozzarella. The dinner menu contains fancy dishes, which include the Chicken Milanese, a meal made with thin-pounded chicken breast, pecorino and coated with seasoned breadcrumbs.
"A lot of people who got stuff here also took stuff to go," Jonathan Graham, a waiter, said. "Everybody knew what they wanted." He said he worked as a server before, but never at a venue with such notoriety.
ORIGIN
The New York-style pizza pie place is the brainchild of local pizza mogul Jay Jerrier, who is no stranger to the spotlight. He was the subject of a feature story published in D Magazine in 2011, just before the first Cane Rosso opened in Deep Ellum. Since then, Jerrier has attracted nearly every local publication's attention, and that of several national outlets.
Zoli's is a sister restaurant to Cane Rosso, which means red dog in Italian. The restaurant is known for serving Neapolitan-style pizza certified by the Associazione vera Pizza Napollitana, the Italian agency that gives special designation to restaurants that meet strict requirements of traditional Neapolitan pizza making. Cane Rosso also famously sold a bottle of Hidden Valley ranch dressing for $1,000.