Bookstore clerk shares optimism
By Britney Cellerini
Contributing Writer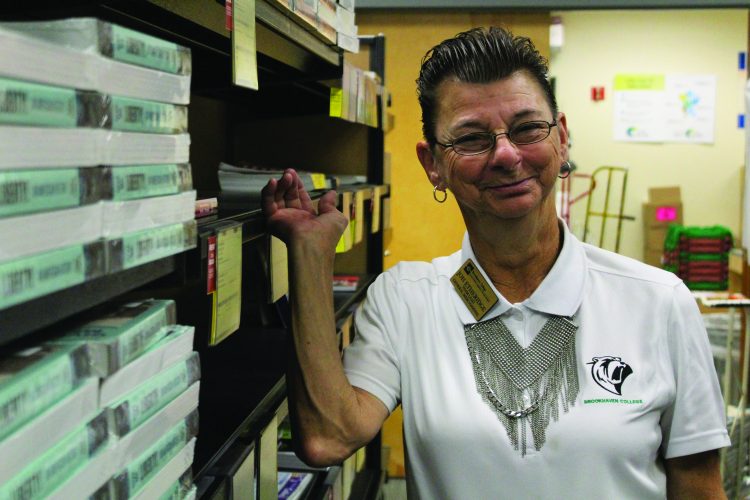 Students move about the Brookhaven College Follett Bookstore looking for school supplies, Scantron forms, drinks and snacks. As the checkout line grows longer, Johanna Etheridge, or Joh as her friends call her, a bookstore clerk, stops what she is doing and moves behind a register to help with the line.
She gives students a bit of motivation before they go take a test.
"[There are] two rules to taking a test," Etheridge says. "Rule No.1, your answers are always correct. Rule No.2, whenever you're in doubt, go back to rule No.1 because I already told you the answer was right the first time."
Most students recognize her as the bookstore clerk, but some students may know her as the lady with the Scantron jokes or who dances to hip-hop.
BOOKSTORE ORIGINS
Before working at Brookhaven, Etheridge and her husband ran a martial arts studio in Oak Cliff, Dallas. To help the business, Etheridge said she decided to go back to school after 36 years to get her business degree at Brookhaven and transfer to a university. While attending Brookhaven, her husband was diagnosed with cancer.
In 2006, the bookstore put up a hiring sign. "I noticed they had a hiring sign and I thought, 'Well good because I just lost my previous full-time job and I also had a part-time job,'" Etheridge said. "I decided to do the two-week stint to make a little extra money to help pay for [my husband's] cancer bills."
After Etheridge attended Brookhaven for two years, her husband died from cancer. "This school kind of gave me that stability during all the turbulent times of him passing," Etheridge said
Etheridge has worked at the bookstore for 11 years, the longest she has worked for any company. "It's the only company that will pat you on the back for what you can do instead of grinding on only the things you can't do," she said. Etheridge said she is inspired to come to work every day because of her encouraging manager and co-workers. Her manager, Alex Matthew, praises her for a job well done, always gives her a helping hand when she is having a bad day and has picked her up when her car would not work.
"[Alex] goes above and beyond … what a normal manager would do," Etheridge said. "Working up here at Brookhaven is like working with family."
JUST KEEP DANCIN'
Etheridge said she has danced her whole life. Before getting married and having four kids, her dream was to be a go-go dancer.
When she is not crocheting or working, Etheridge dances at Havana Lounge, a Dallas nightclub. She even took a dance class at Brookhaven.
She said dancing is what kept her going after her husband's diagnosis. "I had to," Etheridge said. "It was the only way to relieve the tension, the fear and the anguish and pain. He would make me go. He would say, 'Go, you need it. I can't keep hope if you lose it.'"
Etheridge said her favorite genres to dance to are hip-hop and rap. "I love to dance to anything except 1950s country," she said with a big grin. "I can pop, lock and drop it big time."
She is a fan of hip-hop and rap artists such as Lil Wayne and Ne-Yo. "Because I am tone-deaf, I can feel the beat better than everyone else," Etheridge said.
LOVE FOR STUDENTS
Etheridge's favorite part about working at the bookstore is them students. "All of you are my grandkids," she said with tears in her eyes. "All of you are my family when y'all walk through those doors." Etheridge said the worst part about working at the bookstore is when all of her beloved students graduate and leave.
Each semester, Elizabeth Whatley's speech class nominates someone on campus to receive an award for going above and beyond. Etheridge has received this award twice and has been nominated 10 times. "She is 100 percent behind making sure students are successful," Whatley said. "She makes everyone feel valuable and encourages them."
Etheridge said: "I just hope that I help the kids have enough motivation and confidence in themselves. I want to encourage them as much as their own grandparent or their parent who can't be here."