Local veteran motivates students
A wounded warrior shares his story of resilience with Brookhaveans during the Early College High School Veterans Day Tribute.
John C. McClanahan
Copy Desk Chief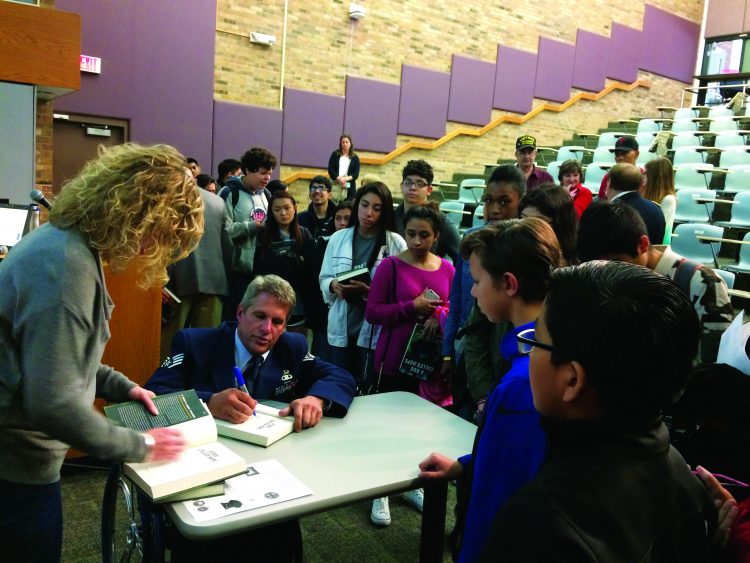 Sgt. Jason Morgan, a wounded U.S. Air Force veteran, served as the keynote speaker for the Brookhaven College Early College High School's Veterans Day Tribute, which honored men and women who served in the U.S. military. Morgan and a dozen other veterans were the special guests for the ECHS commemoration on Veterans Day Nov. 11.
Before Morgan gave his speech, he introduced his service dog, Rue, who lay beside him. With the audience's attention, Morgan stroked Rue's back and shared his story of perseverance and personal sacrifice.
"[Morgan] did what so few do," U.S. Navy veteran George Mills, who was also honored at the Veterans Day Tribute, said. "He suffered a horrendous accident, and he looked forward. He didn't look back. You can't recover what's behind you, but you can control what's ahead of you."
Morgan, a Dallas native, said he began his military career in 1989 as a combat meteorologist in the Air Force as part of the 10th Combat Weather Squadron. Soon, he joined the Special Operations Aviation Regiment, a unit within the Green Berets, and fought in black operation missions in South America alongside U.S. Special Forces.
SECRET MISSION
In 1999, Morgan, then 29, was deployed to Ecuador on a counternarcotics mission with the Night Stalkers, a U.S. special operations unit, to train the Ecuadorian special forces to combat the Revolutionary Armed Forces of Colombia, also known as the FARC. After a month on duty and two days before he was scheduled to return home, Morgan said his squad's SOAR Black Hawk helicopter broke down, which forced them to find another way out of their undisclosed location. He said his squad drove eight hours in an unmarked white Chevrolet Blazer SUV through dangerous territory until they arrived at the mountains in Tumbaco Valley, east of Quito, the Ecuadorian capital.
While sitting in the back of the SUV with his M4 carbine rifle, Morgan said they were approached by another vehicle they believed held FARC rebels. While driving down a section of the road called Dead Man's Curve, he said, his driver anxiously tried to avoid the potential threat. The driver accidentally made a sharp turn around the curve, which caused the SUV to slide off the road and tumble down a mountainside.
"I was thrown from the vehicle, and the vehicle rolled over me and crushed my back," Morgan said. "And to make matters worse, I landed facedown in some water."
He said the SUV continued to roll for another 100 feet, while he lay paralyzed in a muddy pool of contaminated water.
"So, there I was with a broken back," Morgan said. "I was unable to move, and all I could do was just ingest this bacteria-filled water. I was quickly drowning."
LAST MINUTE RESCUE
Morgan said he was lucky an American missionary, who was driving down the same road, spotted the flipped vehicle and climbed down the ravine to help. He said the missionary almost did not see him because he was covered in mud.
Morgan said a friend of the missionary, who worked for a local radio station, was able to make a radio call to the U.S. Embassy for help. After he called for immediate medical attention, the embassy directed an ambulance to Morgan and his squad members, who were also severely injured. He said once he was carried inside the ambulance, he stopped breathing, so paramedics immediately inserted a chest pump to keep him alive.
Morgan fell into a coma. After 48 hours on an unmarked Gulfstream jet, Morgan arrived back in the U.S. He was immediately rushed to Wilford Hall Medical Center in San Antonio, where he remained in critical condition. His mother, Patti, and his father, Mike, arrived at Wilford Hall to be by his side.
RECOVERY
After six weeks in a coma, Morgan gradually regained consciousness, but was unable to speak coherently. He said he was first able to speak when his brother, John, tried to have a conversation with him. John asked him to quote his favorite Bible verse. Morgan softly whispered Isaiah 40:31 into John's ear, a verse Morgan said always gives him hope and encompasses everything he does in life.
Morgan spent the next three and a half years in the hospital, waiting to return home to his wife, Carla, and their three sons, Blake, Austin and Grant, who stayed in San Antonio. After another 11 months in physical therapy, Morgan was able to return home.
Two weeks before he was scheduled to be released, Carla told Morgan she would not be there for his return. She soon filed for divorce, leaving Morgan to raise the boys by himself. Soon after, he relocated his family to McKinney, Texas.
He said Carla's departure was a blessing. Though he became permanently wheelchair-bound, Morgan said he was still able to raise his children and enjoy recreational activities with them, which included golf, basketball and scuba diving.
RESILIENCE
"I decided I wasn't going to focus on my disability and [instead] focus on my ability," Morgan said. "And that's what really kind of got me going. I decided it wasn't about what I can't do anymore. It's what I can do."
Though doctors told him he would never walk again, Morgan said he began training and competing in marathons in his wheelchair. While training for the Marine Corps Marathon in Washington D.C., Morgan developed a blister on his right foot, which caused an infection that spread to one of his leg bones. After his infection worsened, a doctor recommended his right leg be amputated. Morgan said the loss of his limb did not deter him from living his life to the fullest.
NEW BEST FRIEND
While attending an airshow in San Diego in 2009, Morgan said a friend introduced him to Canine Companions for Independence, a service dog program. After the visit, Morgan signed up for the program, and he was soon paired with a black Labrador named Napal, his first service dog with Canine Companions. He said Napal became crucial for his physical and mental recovery. Napal was a friend who supported him during his moments of distress and deep depression.
In October 2013, Napal died of cancer. Morgan said he was heartbroken when he lost his companion. But now, he says Rue continues to provide him with the same emotional support he received from Napal. Morgan recently co-wrote "A Dog Called Hope: A Wounded Warrior and the Service Dog Who Saved Him," a book that details his recovery and the time he spent with Napal.
NEW MISSION
Morgan now travels with Rue across the U.S. as a motivational speaker and continues to share his story and encourage communities to recognize the sacrifices servicemen and women make every day.
After his speech, Morgan provided ECHS students with free copies of his book. Students stood in line with their new books for Morgan to sign them.
"I never really thought about how hard it is to be part of the Army or Navy or other [services]," Jessica Monge, an ECHS student, said as she waited for Morgan to sign her copy of his book. "I thought it was really amazing to hear his story."
Dozens of Brookhaven and ECHS students gave Morgan a standing ovation for the story he shared.
Morgan said: "I'm just one story of many in the military. I hope by me going and telling my story, [people] can start understanding the sacrifices the military makes for us.