Library features Holocaust archive
Brookhaven College Library has the largest Holocaust and genocide-related book collection in the Dallas County Community College District.
By John C. McClanahan
Copy Desk Chief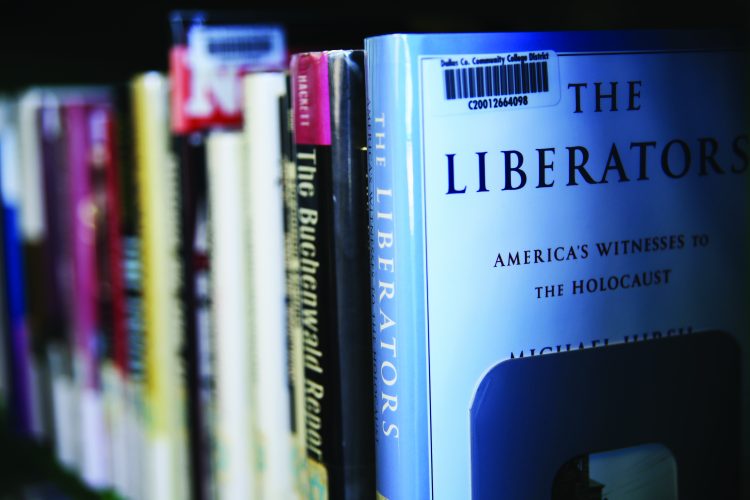 In 1944, 20-year-old Olga Weiss Astor and her sister, Etelka, stepped off a train that arrived at the Ravensbrück concentration camp in Germany. There, Nazi soldiers forced them to strip off their clothes and shaved their heads before dragging them to their barracks. Now detainees, they were given new stripes of imprisonment to wear and were uncertain of their fate.
Astor's firsthand account in "The Jewish Women of Ravensbrück Concentration Camp," written by Rochelle G. Saidel, can be found in the Brookhaven College Library's Diane M. Plotkin Holocaust Collection. The collection holds 519 books that pertain to historical accounts, legacies and concentration camp survivors' memories of the Holocaust, as well as books about other genocides committed throughout history.
Astor and her sister were among thousands of women taken from their homes in WWII-era Hungary as part of one of Nazi Germany's last Jewish roundups, according to Saidel.
In Saidel's compilation of interviews with women who survived the Holocaust, Astor recalls her experiences in the concentration camp. "They marched us in, and we saw walking skeletons wearing striped clothes," Astor said in Saidel's book. "And I said to myself, 'No, I'm not going to look like this.'"
The archive rests in a study corner near a back window in the library's first floor next to the glass-enclosed quiet study room. Five green book shelves contain an array of Holocaust-related literature. Reading options include nonfiction stories, compilations, textbooks and biographies, such as Lawrence L. Langar's "Witness: Voices from the Holocaust" and "The Diary of Anne Frank."
Sara Abosch Jacobson, Dallas Holocaust Museum senior director of education, said, "If you have a collection like this that students can access, I think that is a vital way for preserving the history of these tragic events."
In an email to The Courier, Rick Halperin, Southern Methodist University director of the Embrey Human Rights Program, said. "Literature is essential in the understanding of the Holocaust, either from personal survivor accounts or beyond." Each book is labeled with a white sticker with a blue Star of David, a symbol commonly associated with modern Jewish culture, an idea from the original founders of the collection.
In October 1994, Diane Plotkin, a former Brookhaven English faculty, unveiled the collection. Sarah Ferguson, executive dean of learning resources, said Plotkin and her husband, Alan, donated money for the collection and several of the archive's first books.
"From what I remember from meeting Diane … she and her husband both had family that survived the Holocaust," Ferguson said. She said the Plotkins had a passion for educating others about genocide and oppressed populations.
The donations were initially received by the Dallas County Community College District Foundation, a separate entity from DCCCD and Brookhaven, Ferguson said.
She said the books were officially accepted by Walter G. Bumphus, a former Brookhaven president, and included as new additions to the library in Fall 1994. Ferguson said Brookhaven still holds funds from Plotkin's initial donation, which the library uses to purchase new books for the collection.
Ferguson said Brookhaven and the DCCCD Foundation initially established guidelines for the collection's donations and both made the decision to name the archive after Plotkin. She also said the foundation created a selection process that determines which books are to be added to the collection. "I think it is still very timely," Ferguson said.
"I think it addresses world issues and it was a very generous donation on the part of the Plotkins to draw attention to world needs and issues."
Ferguson said Plotkin regularly incorporated Holocaust and other genocide-related topics in her English courses at Brookhaven. Between her work at The University of North Texas and Brookhaven, Plotkin taught courses in Yiddish and Holocaust-related literature, as well as Jewish studies and the Holocaust depicted in film.
A couple of Plotkin's Brookhaven students donated artwork to accompany the collection. The artwork includes four original canvas paintings by alumna Kemberley Dvornik. One of Dvornik's paintings depicts Nazi soldiers delivering a group of Jewish people to a concertation camp.
Another art piece in the collection area is a student-crafted model depicting two hands reaching toward each other, which is displayed in a glass case.
The Diane M. Plotkin Holocaust Collection is the only collection of books related to a single topic at Brookhaven, Ferguson said.
Though other DCCCD colleges have a few of their own topic-related collections, Brookhaven is the only school in the district to hold an archive dedicated to Holocaust and genocide-related literature.
"I think it is a great tribute to Brookhaven for having such a vast resource available to its students and the community," Halperin said. "I wish it were a norm instead of being an aberration." From top: Books pertaining to the Holocaust sit atop a shelf in the Diane M. Plotkin Holocaust Collection; a student's artwork sits in a glass case.