By Erika Torres 
Staff Writer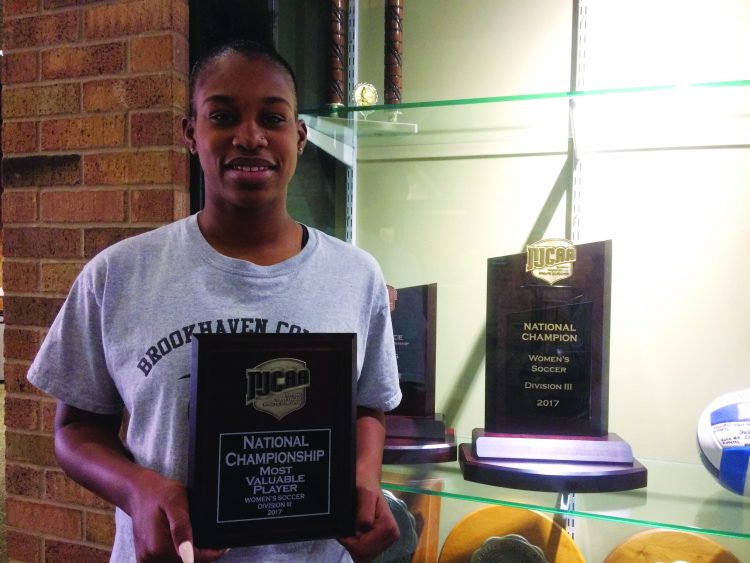 Deshae Darrell, Brookhaven College's second Bermudian soccer player, was named the Most Valuable Player after the Brookhaven women's soccer team victory in the National Junior College Athletics Association Division III Women's Soccer Championship. During the tournament, Darrell scored five goals and had one assist. She scored in every match of the tournament, including the Bears' first goal in the finals.
"She hits the ball harder than most guys," Robert Williams, assistant soccer coach, said. During the tournament, he said he heard one of the other teams say, "We need to stop number 11. If we stop number 11, we'll win." But Darrell and the Bears pushed past their opponents and were victorious.
Before coming to Brookhaven, Darrell lived in Sandys Parish, Bermuda, until she was asked to play for Daytona State College in Daytona Beach, Florida in 2016.
Jim Elder, Brookhaven's head soccer coach, said Darrell is a unique player because she is level- headed and keeps her composure on the field. He said her calmness allows her to be at her best in front of the goal.
Darrell said an acquaintance in Bermuda had connections to a coach who was looking for female soccer players. They spoke about Darrell, and the coach went to Bermuda to see her play at a finals and all-star match.
After watching her, the coach spoke with Darrell, who agreed to play for Daytona State, where she played for one season.
After a year, she decided to transfer to a different school to get more playing time because she felt she was not getting enough time on the field.
NEW SCHOOL
Williams, who is also from Bermuda, followed Darrell when she played there. "I keep up with all the players in Bermuda, especially the female players," Williams said. When Williams found out Darrell was looking for another school, he waited for her season to be over before contacting her parents and convincing Darrell to move to Texas and play for Brookhaven. Williams could not talk to Darrell about transferring before then because he would violate NJCAA rules.
He said it was easy to convince Darrell's parents that Brookhaven was the right choice for her. Their shared nationality was a point in his favor, he said. He said that having people from the same country made Darrell's adjustment process easier.
When Darrell moved to Texas, she became roommates with Micah Pond, another soccer player from Bermuda. She said Williams helped them find an apartment.
Living without her parents meant she had to do everything on her own. "There was a lot of fast food out there and not a lot of home cooked meals," Darrell said.
She said Texas is different, bigger and has more traffic than her parish in Bermuda.
Darrell said: "Out here in Texas, it's much hotter and humid. We trained in the heat and I kept getting exhausted, but I had to overcome it and drink a lot of water."
Darrell said Williams helped her with the admission process at Brookhaven, including enrolling in the classes she needed to work on her business administrations degree.
She said she was not nervous about trying out for the Bears because she made every team at her previous schools. "I don't get nervous as much anymore," Darrell said.
FAMILY VISIT
Darrell said she got to see her mom, who still lives in Bermuda, at the national championship Nov. 12. They had not seen each other since Darrell came to Brookhaven. Darrell said she was excited to be at the NCJAA tournament because her mom had never seen her play outside Bermuda.
SOCCER BEGINNINGS
She began playing when she was 6 years old. "My mom and dad just put me into a club and I loved it, and I got better and better," she said. Darrell played soccer at Somerset Cricket Club in Bermuda.
She said she grew up with many of her teammates in Bermuda, but she stopped playing when they got to U16, a league designated for players under age 16. The league did not have enough players to form soccer clubs after several of her teammates quit.
When her club stopped playing together, she thought she was done with soccer. "I didn't have anything to do," Darrell said.
BEARS' NEW STRIKER
After she signed with Brookhaven, Darrell said the Bears' Fall 2017 season started slow. She said at the start of the season, the Bears had to adapt to each teammate's different playing style, but quickly adjusted after learning each player's strengths and weaknesses.
Williams said the Bears had a solid team, but they knew their problem last season was a lack of strong strikers.
However, he said Darrell, as a player, has a strong and direct playing style. "She is just a powerful physical striker," Williams said. "She has tons of speed … she terrorizes defenders." He also said Darrell being such a great player in the U.S. is great exposure for Bermuda and their soccer.
Williams said Darrell exceeded the coaches' expectations as he watched her teamwork and talents grow.
Though she helped lead Brookhaven to their first national champion title, Darrell said she plans to transfer to a four-year university next season. "I don't know where I'm going yet next year, but wherever I go, I do intend on playing soccer and furthering my education," Darrell said.