Bears engage in MLK Day of Service
Brookhaveans and community members volunteer with Farmers Branch.
By Jubenal Aguilar
Editor-in-Chief
[email protected]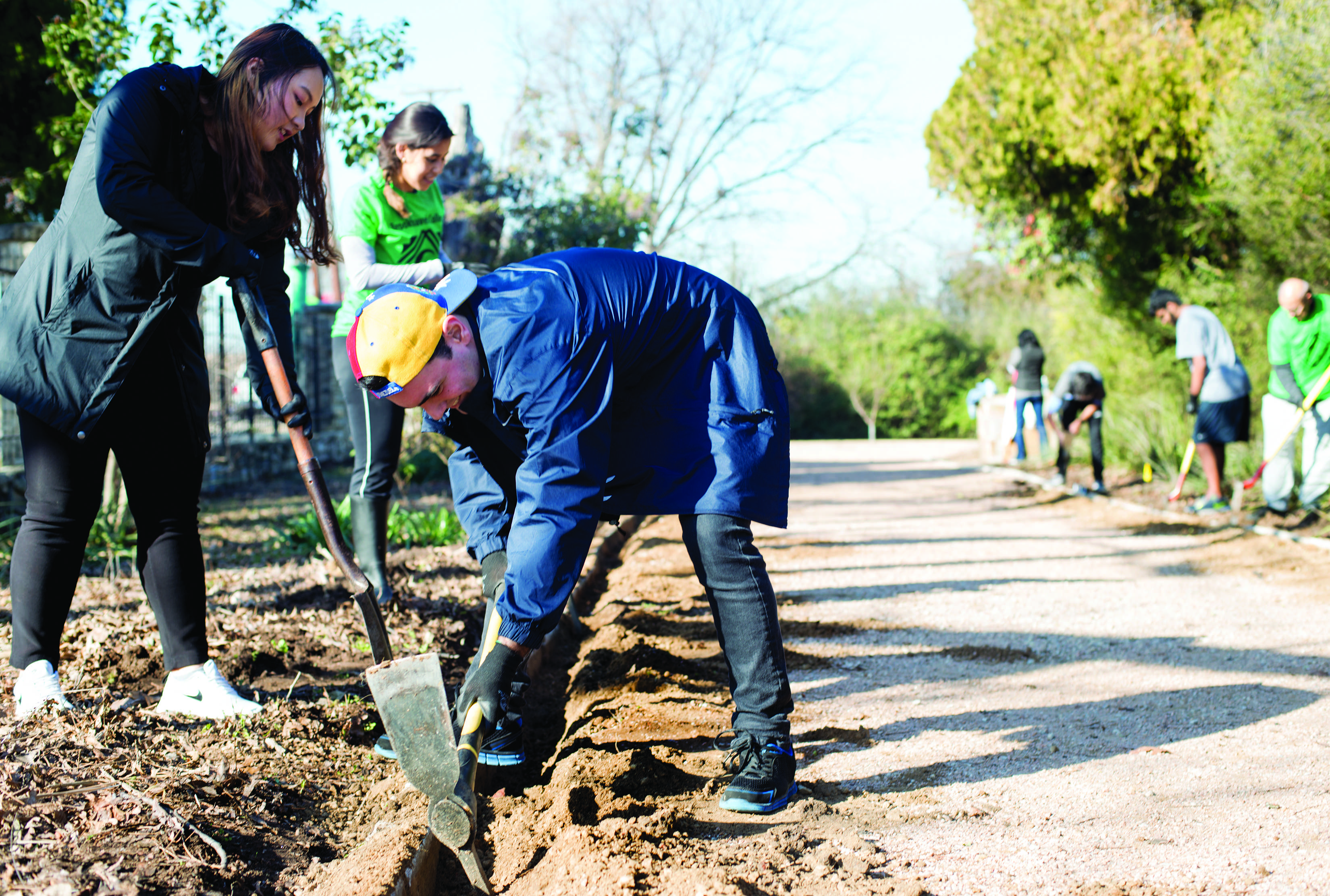 The sound of draining spades striking the ground broke through the silence of the cold morning in the Farmers Branch Historical Park. Ten volunteers spent the morning realigning the bricks that outline the park's trail. The group was part of the more than 60 Brookhaven College students, staff, faculty and other community members who volunteered for Brookhaven's sixth annual Martin Luther King Jr. Day of Service held Jan. 15.
"It's a program that's put together to help promote what Dr. Martin Luther King, Jr. stood for in terms of service to the community," Anthony Krajewski, service learning coordinator, said. "It's a way to honor him."
Krajewski said the service project this year differed in that volunteers worked with different departments of Farmers Branch, Texas, whereas in past years, volunteers worked with outside organizations around Dallas to complete service projects.
In addition to working at the Farmers Branch Historical Park, other volunteers worked at sites including Farmers Branch Manske Library, Farmers Branch Senior Center, Farmers Branch Aquatics Center and the John F. Burke Nature Preserve.
Krajewski said the program is open to everyone across the Dallas County Community College District. "It's a great way for people from different campuses to come together and collaborate and get to know each other and see just what kind of good can be done when people come together in groups," he said.
This year, Krajewski said, volunteers from i-CERV and Points of Light, two external civic engagement organizations, worked alongside Brookhaven volunteers.
During the morning introduction in H Building, Thom Chesney, Brookhaven president, said the MLK Day of Service is one of his favorite yearly events. "[There's] nothing like a national holiday that's proclaimed in service," he said.
"Students, especially, never underestimate the value of these community service and learning service experiences," Chesney said to volunteers. "They are the stories that you will tell for years to come. They will be the kinds of things that will resonate and you will remember upon and reflect upon as some of the best moments that you get to live in this world."
Maria Tovar, a student from Mexico, said this was her first MLK Day of Service in the U.S. She worked with other volunteers on the Farmers Branch Historical Park trail. "I love that you meet people and you help people," she said. "It's a good place to have a great time."
Carlos E. Valbuena, a student, said this was the first time he participated in a MLK Day of Service, but has volunteered with organizations such as Habitat for Humanity and the North Texas Food Bank in the past. "As a student leader on campus, we always try to do better for the community, especially on campus," he said.
"The best part is giving back to the community," Valbuena said. "By doing this you give back to the community and at the same time, you grow yourself as a person."
Krajewski said he began planning this year's service projects in May 2017 with Pam Smith, Farmers Branch director of landscaping.
Krajewski said next year's MLK Day of Service will likely continue the new partnership with Farmers Branch. "This year being the first we've done with the city of Farmers Branch, we've definitely learned in how we want to expand," Krajewski said. Next year's projects will include activities aimed at younger groups and more family-friendly jobs.
"It really shows the community in Brookhaven Community College – [community] is not in our name anymore – but we are absolutely rooted in and committed to and living with and transforming lives in our community," Chesney said.