Lions own The Bears Den, 97 – 72
By John C. McClanahan
Copy Editor/Editorial Proofreader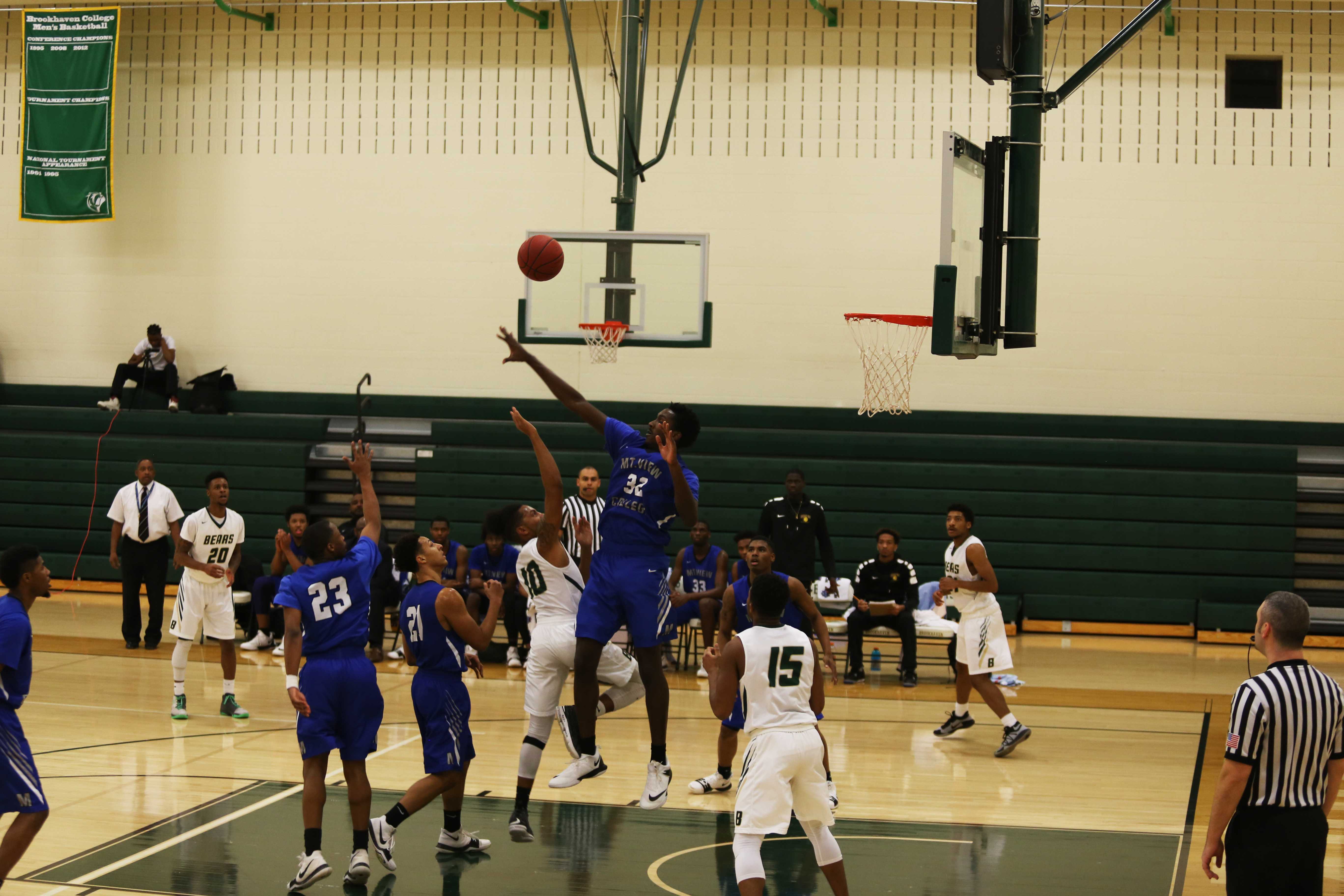 The Mountain View College men's basketball team annihilated the Brookhaven College Bears 97-72 for their first conference win of the season. Lions guard Damian Willis led Mountain View's offense after sinking 10 3-pointers and tallying 36 points.
Hoping to extend their four-game winning streak, Brookhaven hosted the Lions Jan. 24. But the Bears lacked the offensive and defensive chemistry that put them up 3-0 in conference.
"We didn't play like we're very capable of playing," Chris McGill, Brookhaven head basketball coach, said. "We didn't come ready to play. We didn't defend. We played timid. We played like we had already won the game."
The Lions' offense immediately ripped through Brookhaven. After a Bears' turnover, Lions guard Jordan Penha ran the ball down court and tossed a layup to give Mountain View a 2-0 lead. The Lions regained possession, and Lions Charles Rambo III passed the ball to teammate James Flowers for a quick 2-point shot under the basket.
The Bears' offense struggled to get on the board. With a couple minutes shaved off the clock, Lions forward Isaiah Washington rattled in a 3-pointer after a sharp pass from Rambo to push Mountain View up 7-0.
With 16 minutes left, Bears forward Reid Walker nailed a long-range shot to put Brookhaven on the board 10-3. But Walker's 3-pointer did not shake the Lions' rhythm. Mountain View continued to capitalize on the Bears' sluggish defense and quickly moved up 18-4.
With 13 minutes on the clock, Bears guard Justin Price snapped a pass to teammate Desmond Funches who launched another long-shot for 3 points. In a backcourt battle, Willis answered with a 3-pointer of his own to move Mountain View up 21-7.
Brookhaven's offense still struggled to pick up the pace.
Bears Javon Lipscombe ran down the court and threw a layup, but a Bears' turnover allowed Willis to nail another 3 points and raise Mountain View's lead to 24-9.
With 10 minutes remaining in the first half, Willis threw up a fade-away shot from the 3-point line. After falling and sliding on his back, he sank the shot and a referee called a foul on Brookhaven. Willis went to the line and hit his free throw to give Mountain View another 4 points. The Lions moved up 28-16.
The Bears trailed the Lions 57-32 after the first half.
Rolling into the second half, Brookhaven still could not shake off Mountain View.
To start the second half, Lions forward Isaiah Washington sank a 3-pointer from behind the key. Bears Antwain Baker answered with 3-points for Brookhaven, but Mountain View's Reginald Peel  ran down court and passed an alley-oop to Washington to set the score 62-37.
With 11 minutes on the clock, Price tried to toss up a shot, but Lions forward Sharay Creeks blocked his attempt. Price picked up the ball, but Creeks stuffed him again. The Lions regained possession.
With less than three minutes remaining, the Lions started killing time off the clock. McGill called for a full-court press, but the Bears still scuffled with Mountain View's offense. Peel tossed up another alley-oop pass to Washington, who rolled the ball through the basket. The Lions widened their lead to 91-72.
In the last minute, Washington stomped through Brookhaven's defense and threw down a goliath one-handed slam dunk.
"My teammate dropped it down, and I dunked it," Washington said.
Down by 25 points, the Bears had no bite left, as Mountain View took the victory with ease.
"We played a complete game today," LeRoi Phillips, Mountain View head basketball coach, said. "We had lost games by one, two and three [points] and this is our first [conference] win. Right now, we played better as a team overall."
Brookhaven will play Cedar Valley College at 2 p.m. Feb. 3 at home. As of press date, the Bears have a conference record of 3-1 and an overall record of 13-9.