Art exhibit garnishes Forum Gallery
Artist showcases drawings in campus exhibition gallery.
By Yecsenia Sanchez
Contributing Writer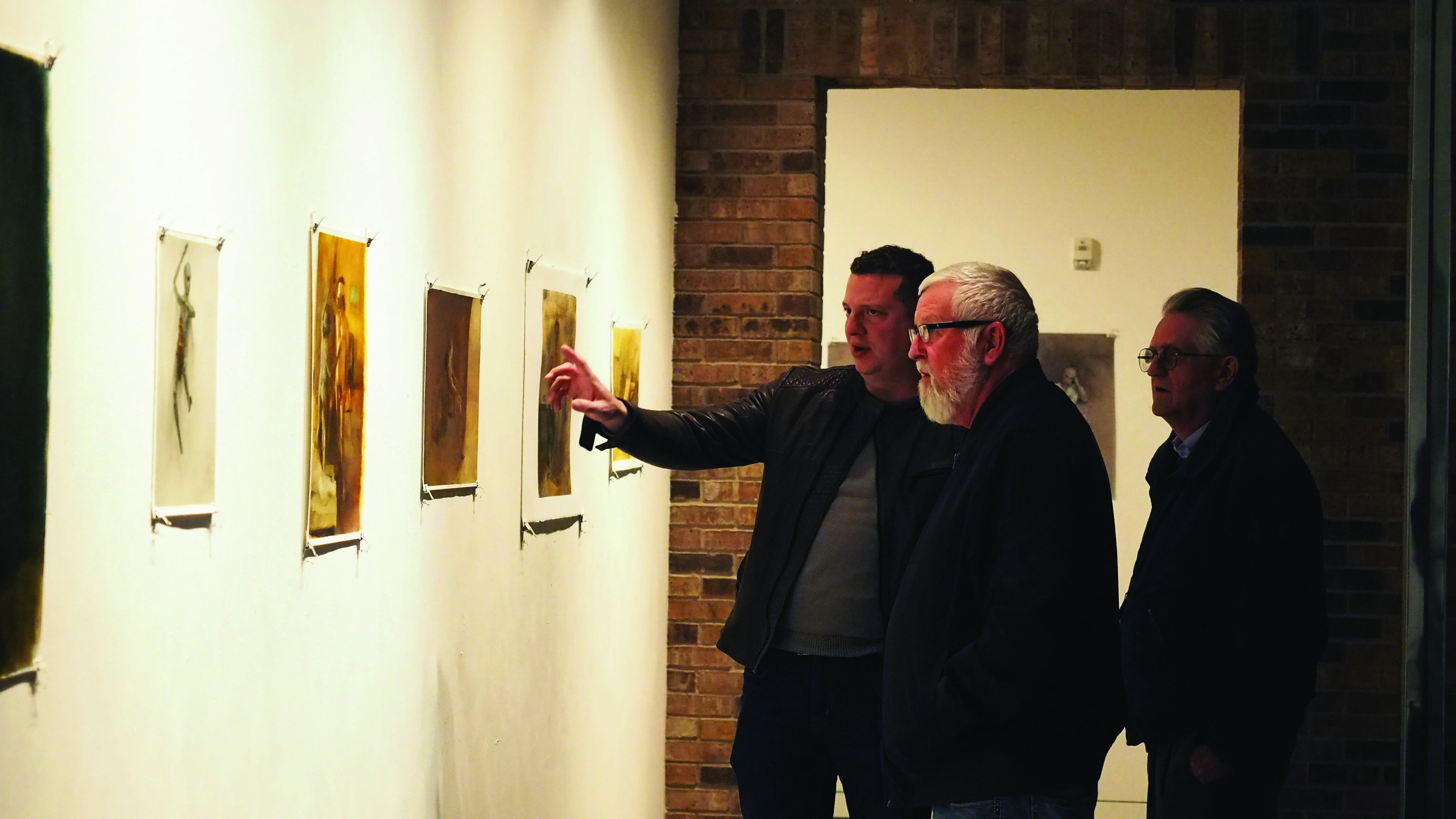 Oil, graphite, charcoal, chalk, pastel and color pencil drawings of body studies on paper lined the walls of Brookhaven College's Forum Gallery. The art pieces, a total of 68, are part of "Work on Paper," an exhibition by Kevin Neal Gardner, an associate professor of painting and drawing at Berea College, in Berea, Kentucky.
"Work on Paper" will be on display through Feb. 28.
A reception was held for Gardner Feb. 2, giving art students and faculty, as well as other guests, the opportunity to visit with Gardner some students visited the gallery during their classes dressed in their aprons and paint spattered clothes.
"As an artist, my goal is to show a world more beautiful than the one I perceive, and I do this through depictions of the human figure, interior spaces and landscapes," Gardner wrote in his artist statement for the exhibition.
Despite his work being on paper, Gardner said he loves painting and drawing on canvas too. "Although all today's work here is on paper, I've worked on a bigger scale," he said. "Oil is my favorite medium. The texture and plasticity is beautiful."
According to Gardner's statement, he is interested in the way studies or partially formed drawings and paintings show artistic decisions, doubts and certainties, among others.
"My artistic process often leads to an aesthetic that prizes aesthetics for its own sake, but it also cherishes the revelation of process that comes through the work itself," Gardner wrote in his statement.
David Newman, gallery director, said there was no better person than Gardner to support the current material being covered for art students. Newman said Gardner's techniques need to be seen in person.
Gardner also has taught workshops in Italy, Ireland, Spain and Turkey since 2012. He said his experience has varied with students traveling with him. "It's a challenge teaching in a foreign country," Gardner said. Drawing and painting abroad helps students observe art in a special way, he said. "They actually see places in a way they wouldn't as a tourist would," he said.
Elsie Tai, an art student, said she took a workshop in winter with Gardner. "[The] vivid colors used are magnificent," she said. "I had to come see it before all this beauty is taken down."
Gardner received a bachelor's in liberal arts with an emphasis on philosophy and the history of mathematics and science from St. John's College and a Master of Fine Arts in painting from Indiana University.
At Berea College, Gardner teaches all levels of painting and drawing, as well as a writing seminar on literature and philosophy, according to the biography in his artist statement.