Corporations launch new Space Age
By Morgan Hanson
Opinions Editor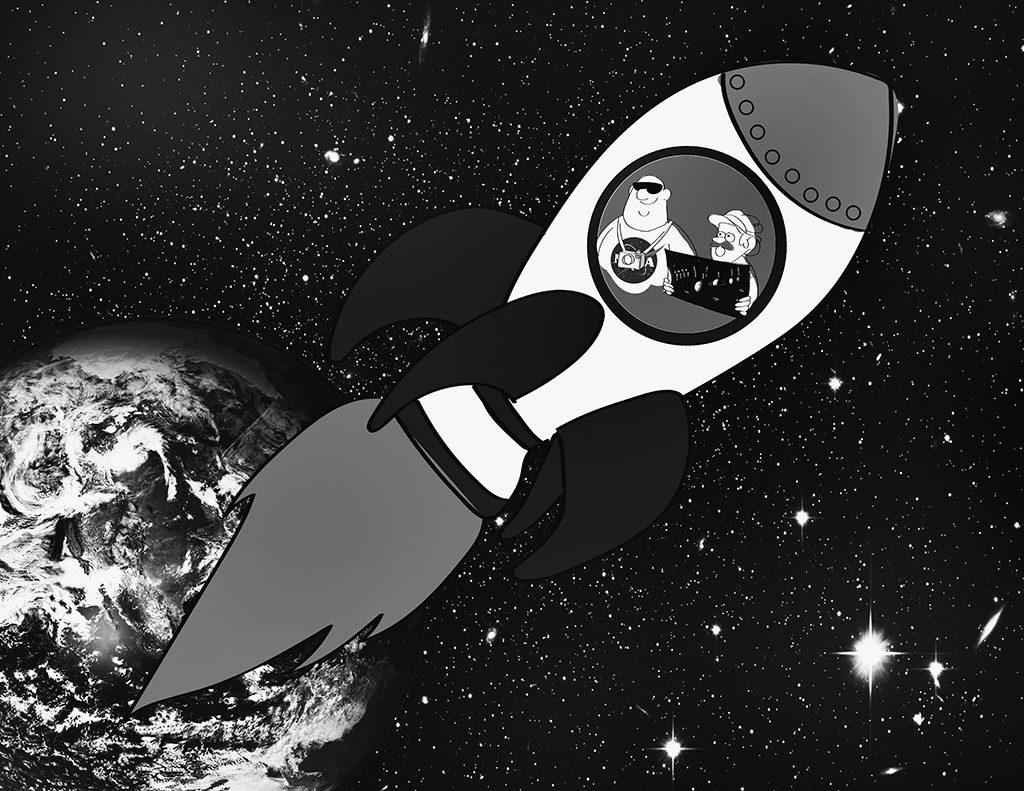 It's an exciting time for astronomy enthusiasts. The Second Space Age is happening right now. Businesses are rushing to meet historic milestones. Only instead of merely racing to the moon, the goal is much broader – to capitalize on the heavens.
"Space is something businesses could use to make money," Chaz Hafey, Brookhaven College astronomy and physics lab coordinator, said. "That's where we should have been in the '70s, because then we could have kept on pushing further and further."
The successful launch of Falcon Heavy signals the dawn of the corporate Space Age, and that's good, regardless of a person's net worth.
According to The New York Times, on Feb. 6, Elon Musk's company, SpaceX, successfully launched a new rocket, dubbed Falcon Heavy, from the same pad NASA launched the Apollo 11 mission to the moon from. According to the SpaceX website, Falcon Heavy, the most powerful rocket in the world by a factor of two, carried a unique payload – Musk's car, a red Tesla Roadster, manned by a mannequin wearing a spacesuit.
"It was a blast," Hafey said. "We had a physics class going on in here, but we flipped the [projector] on and watched it live, all the students and I." Hafey said Falcon Heavy's orbit will take it near the asteroid belt between Mars and Jupiter. "Private industry could take things to Mars now," Hafey said. "Whoa."
Falcon Heavy is more cost effective than its competition. Compared to the Delta IV Heavy, the former most powerful rocket in use, Falcon Heavy is nearly twice as powerful and costs less to launch at roughly $150 million compared to around $350 million, according to Teslarati, a business, technology and science news website.
According to Business Insider, Musk said: "We want a new space race. Space races are exciting."
Only this time, instead of governments competing for the great beyond, billionaires are. Amazon founder Jeff Bezos' company Blue Origin sent a dummy, dubbed Mannequin Skywalker, into space, according to The Washington Post. British billionaire Richard Branson, founder of the Virgin group and owner of Virgin Galactic, has already accepted down payments on tickets for commercial space tourism rides at a price of $200,000 each.
After the success of Falcon Heavy, SpaceX won the backing of Ajit Pai, Federal Communications Commission chairman, for approval of an application to establish a broadband services network composed of satellites Feb. 14. "It would be the first approval given to an American-based company to provide broadband services using a new generation of low-Earth orbit satellite technologies," Pai said, according to Ars Technica, an online publication dedicated to technology coverage.
Musk first discussed the plan to build a global satellite communications network in January 2015, according to Business Insider. During a SpaceX event, he said, "We're really talking about something which is, in the long term, like rebuilding the internet in space."
According to Reuters, during a speech in 2015, Musk said his goal for the project is to build a global communications network that will help finance a future city on Mars.
"Think about that," Hafey said. "[Musk] has the entire organizational structure in place. He's got the technology. He could do this."
In August 2016, billionaires Bill Gates, founder of Microsoft, and Pierre Omidyar, founder of eBay, joined forces to start the Radiant Earth project, a digital platform and archive of the world's satellite, aerial and drone imagery, available for nonprofit and humanitarian uses. The goal is to make the entire surface of the Earth visible through satellite imagery, and to make that data freely available, according to Reuters.
Meanwhile, Russian tech billionaire Yuri Milner financed a $100 million engineering project, the Breakthrough Starshot Initiative, to extend humanity's reach even further, according to Forbes. The goal of Breakthrough Starshot is to propel ultra-light nanomachines attached to lightsails up to speeds of 100 million mph using a giant laser. Lightsails are a high-concept technology that catch light photons for propulsion, similar to how a sailboat uses wind.
To reach Alpha Centauri, the nearest solar system to our own, would take 300,000 years using a traditional rocket. If Breakthrough Starshot is successful, that travel time could be reduced to as little as 20 years, according to Forbes.
The future looks bright, even if you don't have a 10-figure income.