Officer shares July 7 shooting experience
By Jubenal Aguilar
Editor-in-Chief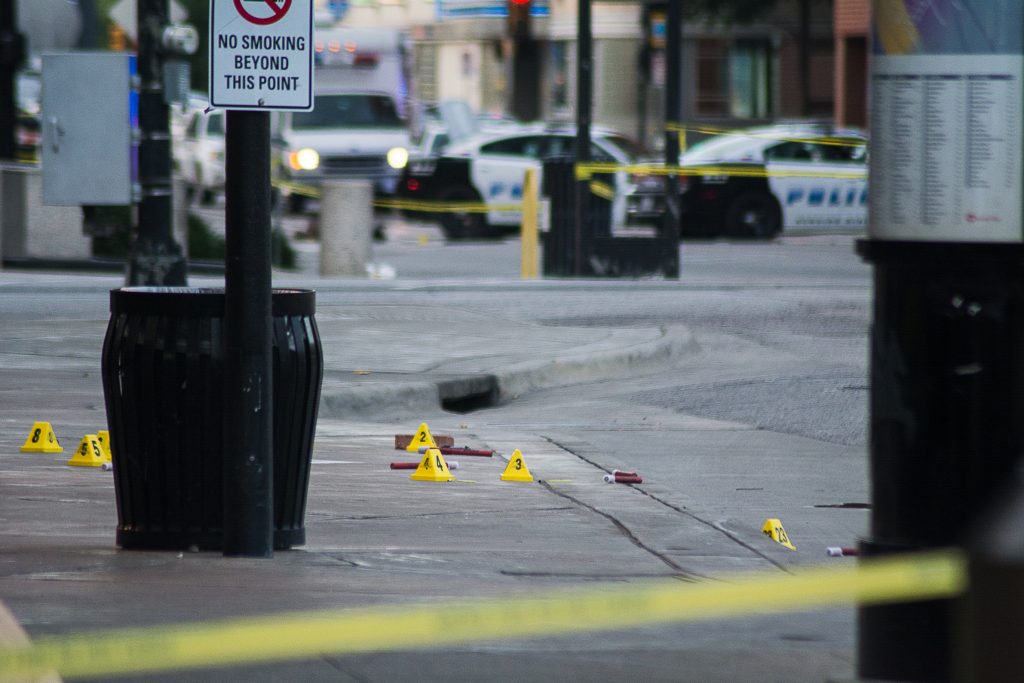 "Beware, there's a shooter coming your way," read a text message, Joseph Hannigan, El Centro College's then-police chief, received, warning him of a shooting in downtown Dallas.
"Wrong," Hannigan replied, indicating the warning was too late. "He's having a shootout with a police officer in our stairwell."
Hannigan's reply was to David Browning, El Centro's vice president of business, who was watching the news unfold rapidly from home.
SGT. JOHN ABBOTT
Earlier that afternoon, Sgt. John Abbott, an El Centro police officer, stood guard inside the Market Street entrance of the campus, on the opposite side where the gunman, Micah X. Johnson, began his rampage against local law enforcement during a peaceful protest.
Hannigan, now the campus' police commander, ordered a lockdown at 7 p.m. "We got word from Dallas Police Department's intelligence unit there would be a protest passing by our campus," he said
The lockdown, Abbott said, was in response to Hannigan's feeling there was something about to go wrong. Abbott said that feeling is something officers refer to as their "Spidey Sense," a reference to Spider-Man's ability to sense impending danger. "His was going off and just said, 'No. You guys come inside, lock the doors and just stand by the entrance ways and make sure nobody gets in,'" Abbott said.
It was standard procedure, he said.
Dallas police expected approximately 600 participants at the protest.  However, Hannigan said he had been made aware the numbers were more than double at about 1,500.
TROUBLE
Abbott heard Police Detective Bryan Shaw, who was at the Main Street entrance, call for help over the radio. "You get to know the people you work with on the radio," Abbott said. "You can hear in their voice something bad is happening."
Abbott did not hear the gunshot from the initial firefight on the streets. But he immediately took off, darting through a long hallway and across the Student Center. Outside, the crowd had dispersed in all directions as some officers returned fire while others used their bodies to shield those who could not run.
Three DPD officers, Lorne Ahrens, Michael Krol and Patrick Zamarripa, laid mortally wounded on the streets after the initial confrontation.
TOWARD EL CENTRO
The gunman fled toward his vehicle parked at the Lamar street entrance of El Centro, where he attempted to enter the college by shooting out the glass doors. He was confronted by Dallas Area Rapid Transit officer Brent Thompson.
Eyewitness video shows the gunman, a former Army Reserve veteran, using his military training to maneuver around the college's pillars and shoot Thompson from behind, killing the officer. "This was a mobile shooter who had written manifestos on how to shoot and move," Dallas Mayor Mike Rawlings later said at a news conference. "And that's what he did."
FIRST ENCOUNTER
Without hesitation, Abbott and Shaw ran toward the Lamar entrance after hearing more gunshots. "Rapid fire," Abbott, an Iraq War veteran, said. "It was rifle fire, clear as day."
He said, "The glass door exploded in front of me."
Abbott and Shaw retreated to hard cover to check that no one else was hit. Abbott was injured by the shattering glass. Shaw said he felt discomfort. "I didn't feel pain, so I assumed it was glass," he said.
Abbott was later able to review body camera video.
"I was infuriated that somebody was shooting at us," Abbott said. "I was just angry. I was cussing, just trying to get out the front door to figure out where this was coming from. And it was frustrating for me because I had no idea where the shots were coming from at any point. I could hear them. I knew there were rifles, but I didn't know where to go to engage it."
"He and I got within 10 feet of each other – maybe 15 feet," Abbott said, remembering the moment he stepped outside. But the two never saw each other, he said.
Possibly seeing the two officers, and with a group of at least six others trailing him, the gunman turned back and ran north along the building. He turned left on Elm Street, using the school's pillar as cover from oncoming patrol cars.
A FRIEND DOWN
Outside, Abbott saw Thompson, his friend, laying on the ground. Abbott worked for DART police, where he met Thompson. for six years prior to joining El Centro's force.
Abbott, a Navy corpsman assigned to the Marine Corps during his service, used his training to help Thompson. "He had been shot in the head, and we started to work on him," Abbott said. "We cut his clothes off and saw that he'd been shot in the chest."
But it was too late, Abbott realized, there was nothing he could do for Thompson. Investigators later learned that Thompson was shot from behind.
After Thompson was taken to a patrol car, Abbott ran, following the gunman's path to re-engage in the fight. As he neared Elm Street, he heard someone over the radio say the shooter had entered the building. "I stepped away and back around the corner and buried my head in the wall so that I could hear him," he said. "I started yelling at Dallas [police] saying that he was inside."
A team of three SWAT officers, and a rookie officer, followed the gunman into the college and to the second floor.
Abbott believed the gunman would try to exit through the Lamar entrance, so he rallied with other officers and prepared to enter the college.
STACK TEAMS
Abbott ran into Sgt. Ivan Gunter, leader of the Foxtrots special team in DPD's Southwest Patrol Division.
"He and I stacked up," Abbott said. "I won't forget it. We were all pushing forward and he stopped it and said: 'Hey, well look, the guy's got body armor on, we're going to have to take headshots to kill him. You guys get in behind me. … I got a heavy vest, he's going to have to shoot me in the head to kill us, so I'm going to need an officer behind me.'"
Abbott continued, "So I jumped on his back and was like, 'Alright, let's go.'"
As the team moved forward, gunshots were heard from inside the building. It was the first SWAT team engaging the gunman after he was held up on the second floor of El Centro.
SMOKE INSIDE
As the battle raged on, Abbott's group pushed forward through the Student Center toward the Lamar entrance. Ahead, the entrance started to disappear as smoke and the scent of gunpowder filled the hallways.  "You could see … all the gun smoke just pouring over from the second floor down," Abbott said.
The group took cover behind an accessibility ramp wall.
Through the smoke, they saw more officers attempting to enter through the locked Lamar entrance and tried to help them inside. "The whole area was fogged up with gun smoke and they were like, 'No, no, no.  We're not coming over there, we're going somewhere else,'" Abbott said.
TEAMWORK
Later, Abbott took post in a set of exterior stairs between B and C buildings, near the ramp they had taken cover behind. He was informed that some of the SWAT officers, who had cornered the gunman and were attempting to negotiate, did not have Kevlar. Abbott and another officer broke cover and returned to the El Centro police station through the Student Center. At the time, officers believed there was at least one more shooter, presumably in the Texas Club parking garage across the street.
Abbott said the other officer separated from him for an instant.
"Damn, he took off without me," Abbott said he thought to himself.
Reminiscing on the brotherhood officers form, Abbott said, "Then I turned back around and he was just standing there and he was like, 'Don't worry, brother, I'm never going to leave you, we're going together.'"
EVACUATIONS
When Abbott returned to the area where the gunman was held up, he worked with the officers providing onsite intelligence on the campus before being assigned to assist in the evacuation of students, staff and faculty trapped throughout the building.
The first group to evacuate was the largest. Roughly 40 took shelter on the seventh floor of A Building, Abbott said. The large group was divided into smaller ones, and Abbott helped lead the last out.
A group of eight was found hiding in a janitor's closet in C Building. Hannigan, Abbott and two other El Centro officers, Andrew Maughan and Luiz Hernandez, broke cover again as they passed the Student Center.
Abbott said two more people, that he helped rescue, were found in the basement of A Building.
Afterward, Abbott returned to the ramp where he first took cover before the bomb-strapped robot was used to kill the gunman.
"I didn't see the explosion," Abbot said. "I just felt it."
A SHIFT'S END
Abbott and the rest of the El Centro officers remained onsite for the remainder of the night. He and Shaw later were ordered to DART headquarters to get medical assistance. Shaw had been grazed by a bullet when the gunman attempted to enter El Centro earlier, and Abbott was wounded by the exploding glass.
The officers made their statements at DPD headquarters and returned to El Centro after sunrise. After a walk-through of the campus, Abbott and Shaw were ordered to return to DPD headquarters when they informed officers they had been wounded.
Abbott's day ended at roughly 1 p.m. when he arrived home, July 8 – 22 hours after clocking in for work. "I went and dropped some paperwork off, and then went to Taco Bell and went home," he said. "And then got a shower."