Mayor speaks with residents
By Morgan Hanson
Opinions Editor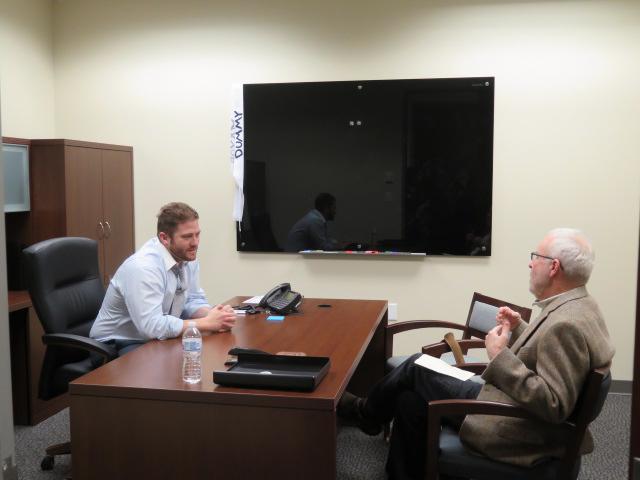 Two Farmers Branch residents voiced their concerns and commendations to Mayor Robert Dye. The bi-monthly Tell It To The Mayor meet up happened Feb. 16 in Farmers Branch City Hall. "If no one is beating down my door to tell me something, I guess they don't have any issues, and we're doing a good job," Dye said.
The first Tell It To The Mayor event of each month is aimed at adults, while the second is targeted toward the city's youth. Dye said the children's event is well attended. "Last month, there were about 25 of them. An entire Boy Scouts troop came to earn their merit badge," he said. "I made them come up to the [microphone] like they would at a council meeting."
Sean Mitchell, a Farmers Branch resident and retired journalist, showed up to research the history of Valley View Estates, the neighborhood he grew up in. He said he has fond memories of Farmers Branch. "When I was maybe 12, I was really interested in sports, and I started a newsletter documenting our sandlot baseball games," Mitchell said. "I had a circulation of maybe 12."
Mitchell said, he wrote for the now defunct Dallas Times Herald, the Los Angeles Herald Examiner and the Los Angeles Times, as well as several magazines.
"I do a lot of things for Farmers Branch," Linda Bertl, a resident of 45 years, said. Bertl said she attended to commend the city officials' accessability. "They're very responsive," Bertl said. "I see the mayor at many events out and about."
Bertl said she is passionate about the city. She said she has raised four children in Farmers Branch, and is a commissioner on the Planning and Zoning Commission. She is also part of Citizens on Patrol. She said, "I love Farmers Branch."
Bertl said all the city council positions, including the mayor, are unpaid. "We get paid an exorbitant amount here at city hall," Dye said. "Zero."
He said local politics are important. "I impact your life more than any federal person ever will, just because the things we're doing affect you and your community directly," Dye said.
He said he does not have a political science degree or a background in law. He said people with a legal background may be over-represented in politics. "You can hire a lawyer to draft your [legal documents], but you need people who aren't afraid to reach across the aisle and find solutions," Dye said.