Open Book Project encourages goals
By Natalie Davila
Contributing Writer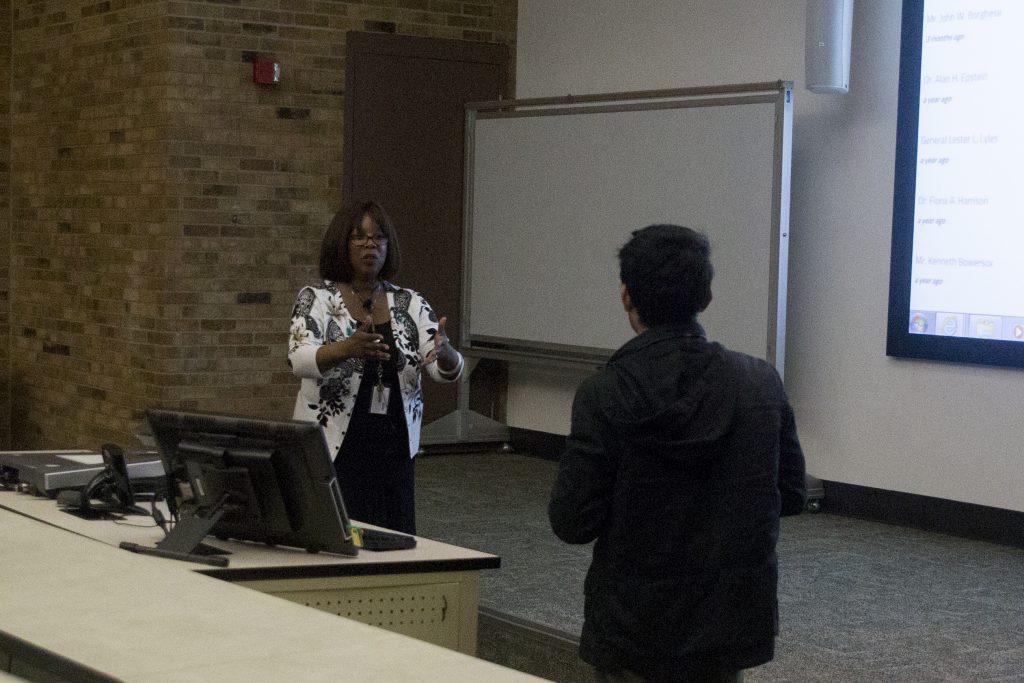 Army veteran Angela Ross spoke to Brookhaven College students on the importance of persuasion and achieving their goals. Ross, a University of Texas Health Science professor, spoke Feb. 21 in Room Q201 in an Open Book Project event sponsored by the Office of Student Life. 
She focused on chapter six "You're All Going to College," of Howard Schultz and Rajiv Chandrasekaran's book "For Love of Country."
The chapter's theme was about not letting failures define an individual as well as facing change. "Do not quit, do not go around thinking you can't do it," Ross said. "Even if it takes you longer than others, do not give up."
Ross was in the Army Nurse Corps. and served for 22 years. Ross said she struggled with transitioning to civilian life after always working in a fast-pace environment. She had to find a new job where she felt like she could still be herself.
Ross compared her experience to veteran, David Oclander, whose story is described in the book. Ross said she related a lot to Oclander. She said. Oclander's story changed the way failures should be viewed and the way experiencing change provides strength.
While deployed in Afghanistan, Oclander believed Afghans needed education to have stability. He left the Army to pursue a career as an educator.
As a leader and mentor in the military, he felt he had an advantage to teach in a school with at-risk youth. He became a teacher at a charter school in Chicago. Oclander struggled and experienced many failures on his path to become an educator, but he pushed himself to accomplish his dream.
Joshua Johnson, student programs development coordinator, said "We were looking for someone who could speak about 'For Love of Country' and who also has military experience." Johnson said he met Ross while working for UT Health Science Center.
Ross said she started at a community college. "I don't care how hard it is or how long it takes, you gotta keep going," Ross said, as she talked about the importance of students finishing their education.
She talked about the importance of goal planning to stay motivated instead of procrastinating.  She mentioned having a group of people to keep her focused on her career plan is important.
Ben Nhan, a student, said, "I never really thought about including a group of friends and family assist you when it comes to planning my career path."
Ross asked two volunteers to look up the requirements they need to succeed in their dream jobs. Vivek Chhetri, a student, said seeing the volunteers look up the proper salary and courses requirements intrigued her. "Answering the questions and listening to volunteers talk about steps they need to take for their dream job made me realize how close I am to achieving my dream job as a mechanical engineer," Chhetri said.
"The first part is writing out your plan." Ross said, "Second part is saying it out loud because once it is said out loud, it becomes real."