3-D printers on campus
By Stephanie Salas-Vega
Editor-at-Large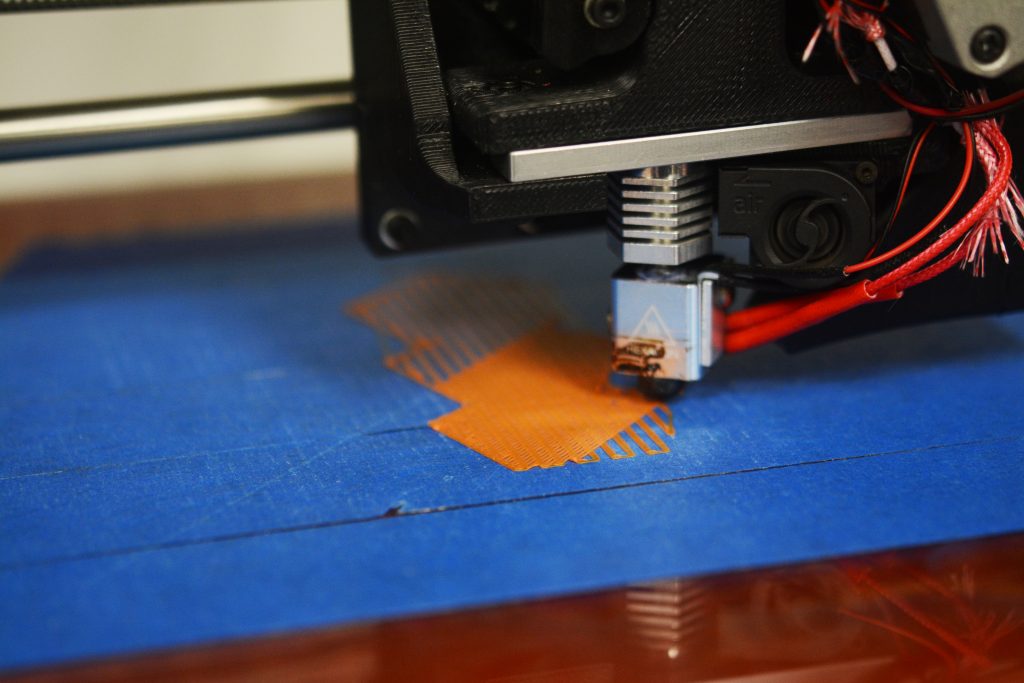 Thin layers of molten plastic filament are deposited over each other from a nozzle. The material comes out an extruder that moves up and down, back and forth over a platform. As the layers build up, the creation begins to take form. Like an ink jet printer printing line by line, the 3-D printer prints a set of three geometric pyramids in three dimensions. 
Brookhaven College has nine 3-D printers, the most recent addition is a Formlabs model, a laser 3-D printer that prints in resin, wax and clay and can print smaller, more detailed objects.
The Makerbot Replicator 2, Lulzbot and Formlabs are located in the sculpture lab in Room F132. Four Makerbot Replicators, a Makerbot Replicator Z18 and a Makerbot Replicator Mini are located in Room K255 and are used by Brookhaven's engineering program.
3-D IN ART
Natalie Macellaio, arts metal, sculpture and 3-D design professor, incorporates the printers into her class work. She said students create designs using free 3-D software programs either online, such as Tinkercad, or downloadable applications, such as Sculptris.
Students interested in 3-D design can take Macellaio's 3-D design class or sculpture class, and ARTS 2311, an advanced design class that focuses more on 3-D printing and scanning.
Macellaio's 3-D design and sculpture classes work on a project in which students create an object using the software program, print it and choose if they want to make a mold of it or directly take the print and cast it into metal. She also allows her advanced metals jewelry class to print items they want to include in their pieces or design something to be cast.
When the art department received its first 3-D printer, student demand was so high, they waited days for their turn to use it, Macellaio said. 3-D printing is time consuming, she said. Printing can take from one to 12 hours. "It depends on the size, amount of infill … and how detailed you want it," she said. "It's not as fast, I think, as people assume that it is." The department then bought a second printer, a Lulzbot, to shorten student wait times.
"The biggest we've printed is probably 8 inches," Marcellaio said.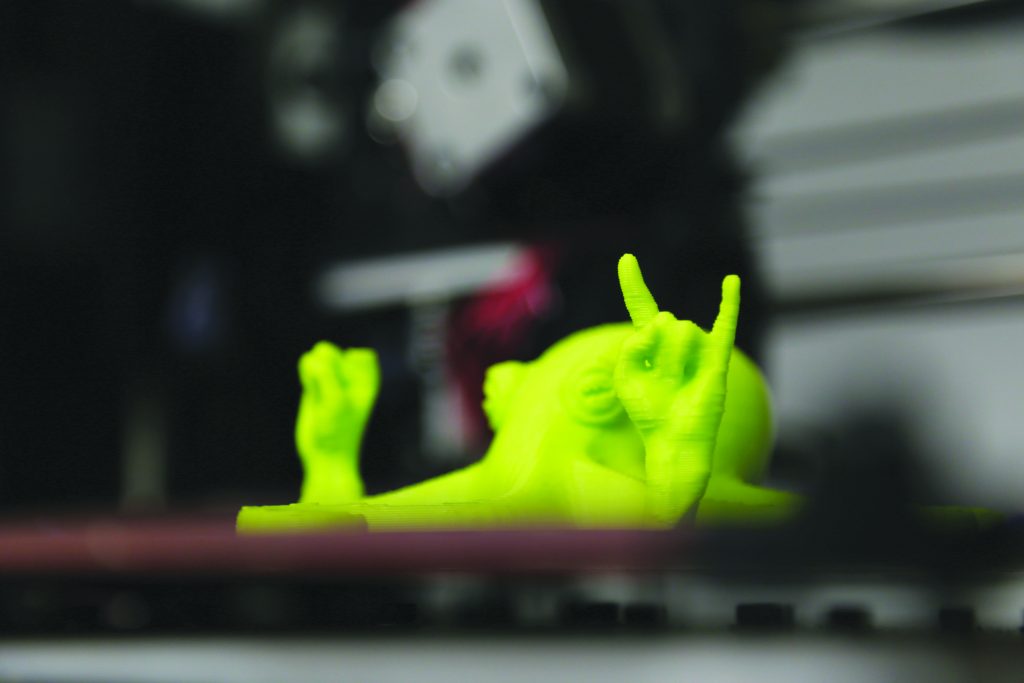 3-D IN ENGINEERING
The engineering department received its 3-D printers in fall 2016.
Kathryn Wetzel, executive dean of the Mathematics and Science Division, said ENGR 1304 students start the semester learning how to draw different views of 3-D objects by hand. Students then learn how to input those drawings and create a 3-D object in Autocad, a computer-aided design and drafting software application, and print them by the end of the semester.
Engineering students can create any object they want as long as they include the certain characteristic assigned, such as holes, angles, cutouts and curves. "I've had people make salt and pepper shakers," Wetzel said.
3-D LIMITATIONS
Macellaio said 3-D printers have limitations, which could cause printing to take longer or waste material. Learning how to use one takes a lot of trial and error, she said. Things could go wrong, such as the bed or the extruder leveled incorrectly, the material not being hot enough to stick to the plate or printing things that are too thin or weak to hold themselves up. The printers lack the ability to autocorrect themselves, they will print however the user commands it to. "If you tell it the wrong thing, then that's how the prints get messed up, but they're getting better," she said.
"It can be really frustrating," Macellaio said. "I think it's just another tool to use. I don't think it's like magic, but if you use it to your best advantage, you can create some really cool, amazing things."
According to Forbes, 3-D printers have been used to create car parts, smartphone cases, fashion accessories, medical equipment and artificial organs. "The [printer] can almost print itself, it can print all its own parts and it's a really fun thing to work with," Macellaio said.