By Jacob Vaughn
Copy Editor/Fact Checker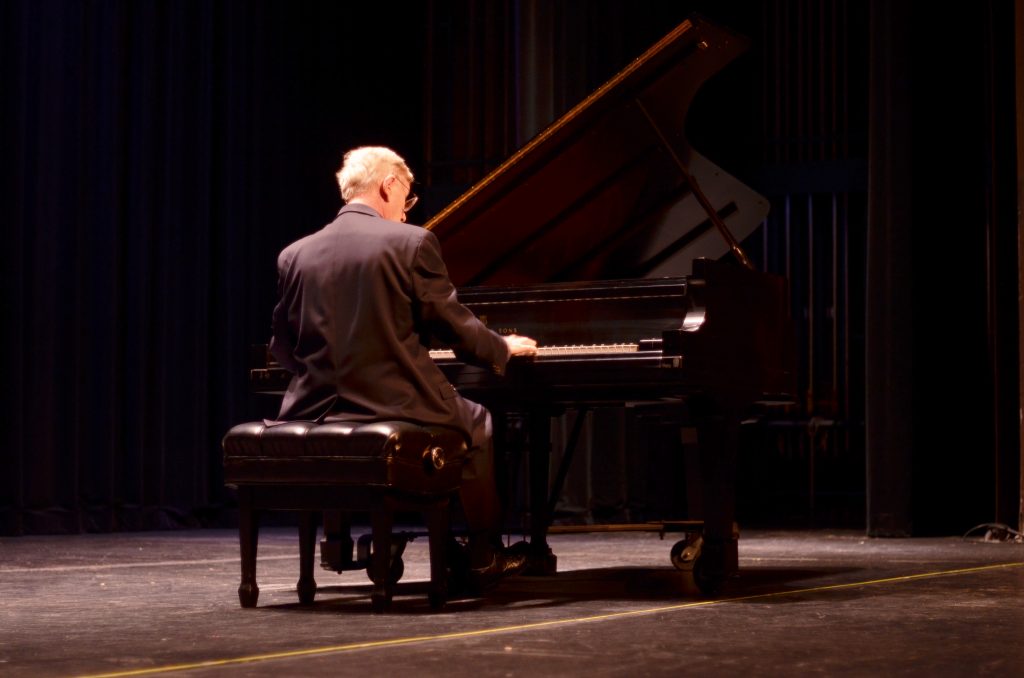 The Performance Hall at Brookhaven College was full of anxiously waiting attendees of all ages. Some held flowers in anticipation of a great performance filled with classical works March 24.
World-renowned pianist and professor at the University of North Texas, Adam Wodnicki, held a free concert in the Performance Hall. The three-time prize winner of the annual Chopin Competition performed works by Franz Joseph Haydn, Robert Muczynski, Claude Debussy and Frédéric Chopin.
Octavio Gutierrez, chair of the music department, introduced Wodnicki, Polish-born pianist and his former professor. "As [seen] in his bio, he's not just a very accomplished musician internationally, he's just an amazing teacher and professor," Gutierrez said before the concert. "That's why he's in the faculty of North Texas."
When Wodnicki came out on the stage and walked toward his piano, audience members, some holding bundles of flowers, cheered for his much-anticipated performance. Wodnicki composed a varied program from different eras of piano composition. He began the performance with works by Hadyn. Wodnicki said he played "Sonata in C Major," one of Hadyn's more popular works. "I just love the piece," he said.
Although Wodnicki said he tries his best to convey what he thinks the composer was feeling at the time the pieces were written, he acknowledges there is no way to know for sure. "Even if they left some accounts, what we deal with is the notation," Wodnicki said. "Even if I try to follow what is on the page, I can't avoid doing it in my way."
Wodnicki then performed Muczynski's works, who he said he had the pleasure of meeting. "I actually met the composer and I recorded his chamber music," Wodnicki said. "He was an excellent pianist." Wodnicki said he wanted to balance the performance with preludes by Debussy, and end with Chopin. Wodnicki said he plays a lot of Chopin, not only because he is Polish, but because Chopin is loved universally. Wodnicki played more than one Chopin piece.
"He plays Chopin and the other pieces like no one else plays them," Byron Montgomery, a concert attendee, said. "I was blown away."
After seemingly playing his last piece, the audience gave him a standing ovation, which prompted him to return to perform three encores. When he concluded his performance was finished, Wodnicki bowed as audience members handed him flowers from the edge of the stage.
Bryan Serrano, a student, attended the concert for a dual credit music appreciation class. "He's very skilled," Serrano said. "He knows what he's doing. It's very nice to watch him."
Wodnicki said there is always the worry of messing up on stage, but he does not believe the worth of a performance is measured by these mistakes. "Radio broadcasts used to be live concerts with audiences," Wodnicki said. "You hear the great names that you admire mess up, you know. It makes me feel a little better."
Wodnicki said he believes every performer feels relieved once they are done with a concert. However, his thoughts coming off stage surpass  feeling relief. "If I feel that I gave something of myself and people reacted, then that is not only a relief, but it really makes me feel happy," Wodnicki said.