Soft Skills workshop offers workplace advice
By Olivia Rodriguez
Contributing Writer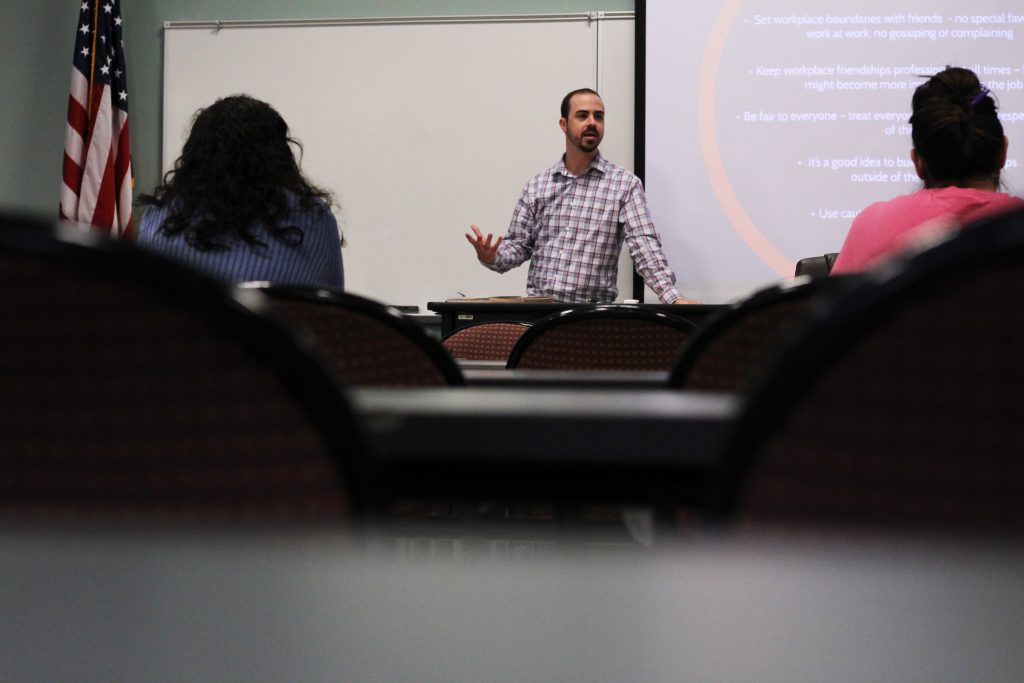 The Brookhaven College Career Development Center hosts events where students, staff and faculty can learn about the soft skills employers look for in the workplace.
The Career Development Center held a workshop March 5 in Room S220, led by Adam Clawson, program services coordinator.
The Workplace Relationships and Conflict Negotiations Soft Skills workshop was aimed at teaching attendees how to create a pleasant and supportive work environment, Clawson said. Attendees learned how to build work environment relationships, communicate with one another and deal with conflict.
"Soft skills are becoming the No. 1 thing [employers] look for in a potential candidate," Clawson said. Soft skills teach people how to communicate and how to get along with each other in the workplace.
Students who attend and complete at least five workshops will be able to apply for a Workforce/Occupational Skills Certification that can be added to their résumés, according to the Brookhaven website.
Maribel Guzman, a student, said she attended the workshop because it is a good thing to add to a résumé when looking for a job. She said it was a good refresher on what to do and not to do regarding conflicts in the workplace. Guzman said she would return to more Soft Skills workshops because they are helpful for her.
Clawson showed a video clip from the TV show "The Office" to provide examples of different workplace relationships and an example of how conflicts may arise. In one example, two office workers came to a compromise after a conflict about hanging a poster in the office. Other examples from "The Office" were shown to explain how to keep positive work relationships.
Maintaining positive relationships takes a lot of work and is not the easiest thing to do, Clawson said. He said people will still come across issues in the workplace that will have to be worked out whether or not they are surrounded by friendly coworkers.
Clawson said workplace hierarchies often create conflicts. Hierarchies can be organized in three different categories: executives, managers and supervisors, and colleagues.
When interacting with different people in higher positions, engagement can be different, he said. Clawson also said there can be good and bad relationships between managers and subordinates. Keeping relationships professional is the best way to prevent personal issues from rising.
Joanna Rodriguez, a student, said she learned new ways to handle friendships with colleagues, how to keep relationships professional and also that communication is the best way to handle most conflicts in the workplace. "I feel like this workshop will help me out a lot when I start my first actual big girl job," Rodriguez said.
Clawson said his goal was to help attendees recognize healthy professional workplace relationships, how to communicate with one another and how to deal with conflicts. "You don't have to like everyone, but you do have to find a way to get along with everyone," he said.