Sexologist touches on sexuality
Brookhaven College's Office of Student Life invites a human sexuality professor to speak on campus on consent.
By John C. McClanahan
Copy Editor/Editoral Proofreader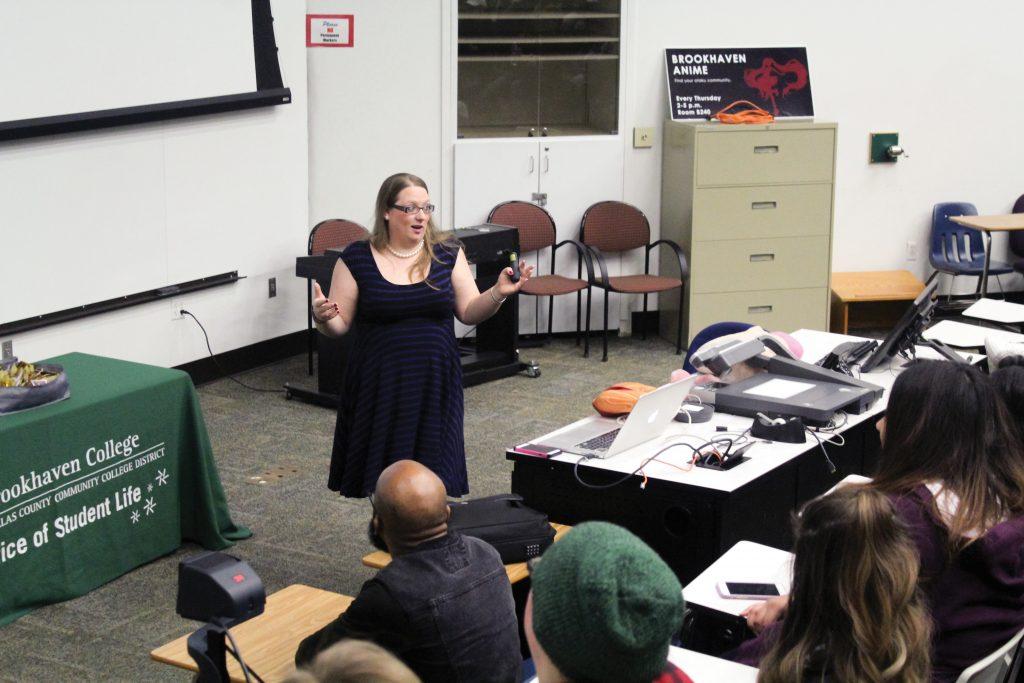 A New Jersey sexologist used sexual humor to inform Brookhaven College students, staff and faculty about sex topics. Justine Shuey, a board certified sexologist and human sexuality professor, discussed fact-based information regarding sex March 8 in Room B240 during a standing room only lecture.
"I think many people have gotten misinformation about sexuality over the years," Shuey said. "I'm encouraging people to be informed about their sexuality and make informed decisions."
Shuey answered sex-related questions from audience members, which were submitted anonymously via text messages.
She also incorporated a couple props during her lecture. Using them as visual entertainment, Shuey showed the audience her fuzzy pink plush toy shaped like a penis, along with a stuffed vagina puppet named Violet. Shuey said she uses plush toys to set a light-hearted tone when she speaks, which eases peoples' mood to better engage with the controversial subject.
"I'm making them laugh," she said. "I'm having a good time. I'm keeping it light-hearted while talking about serious subjects. Because when people are laughing, they are learning."
Topics of discussion included the physiology of human reproductive organs, the components of sexuality and the significance of establishing consensual communication. She also shared stories of people with various sexual fetishes, including feet, bondage and discipline and sadism and masochism, Swiss cheese and a fire ant hill.
Consent and direct communication were two key points Shuey stressed.
"If you cannot talk to your sexual partner about sex, you probably shouldn't be having sex with them," Shuey said, while audience members laughed. "I feel like if you can put someone's genitals in your mouth, you can talk to them about what feels good. You can have those conversations."
Shuey said consensual communication is established by verbal statements spoken with confirmative enthusiasm. She said consent is determined before and during any sexual encounter with an absolute response of yes or no.
"I learned that a lot of people don't actually know what consent is," Fabiha Rahman, a student, said.
Shuey said consent needs to be clear, coherent, willing and ongoing every time. "It does not matter if you are married or in a relationship," she said.
Shuey also discussed protective sex and the repercussions of sexually transmitted diseases with her plush toys.
Shuey said no one has ever been greatly disgusted or offended by her presentations. She said some people who are reluctant to attend her lectures are often surprised once they hear her speak.
"They say, 'Oh look, she has a vagina puppet. She's going to tell people to have sex all day,'" Shuey said. "No, not really. I'm telling people to wait until they are ready – when they are having sex, know what they are doing, know how to protect themselves, make sure they are getting confirmed consent and make sure they are able to communicate with their partners effectively around sex and sexuality."
Mitzi George, psychology adjunct faculty who teaches a human sexuality course, invited her students to attend Shuey's lecture. She said: "I still think [sex] is a very taboo subject. People don't want to talk too much about it."
Shuey gave a similar sex education lecture at Brookhaven last spring. Sam Govea, dean of the Social Sciences Division, allowed Shuey to use his 10:30 a.m. psychology class for her presentation, and said Brookhaveans responded positively to her last year and the Office of Student Life was quick to invite her back.
Shuey said she has been giving sex education presentations for about 12 years, visiting college campuses across the U.S. and Canada.
"I do about 100 college presentations a year," she said.
Brookhaven was the third Dallas County Community College District campus she visited, after speaking at Eastfield and Richland colleges earlier that week.
Shuey said she is an adjunct professor at six colleges in New Jersey and Pennsylvania. When she and her puppets are not visiting other campuses, she is teaching one of her human sexuality courses.