By Jubenal Aguilar
Editor-in-Chief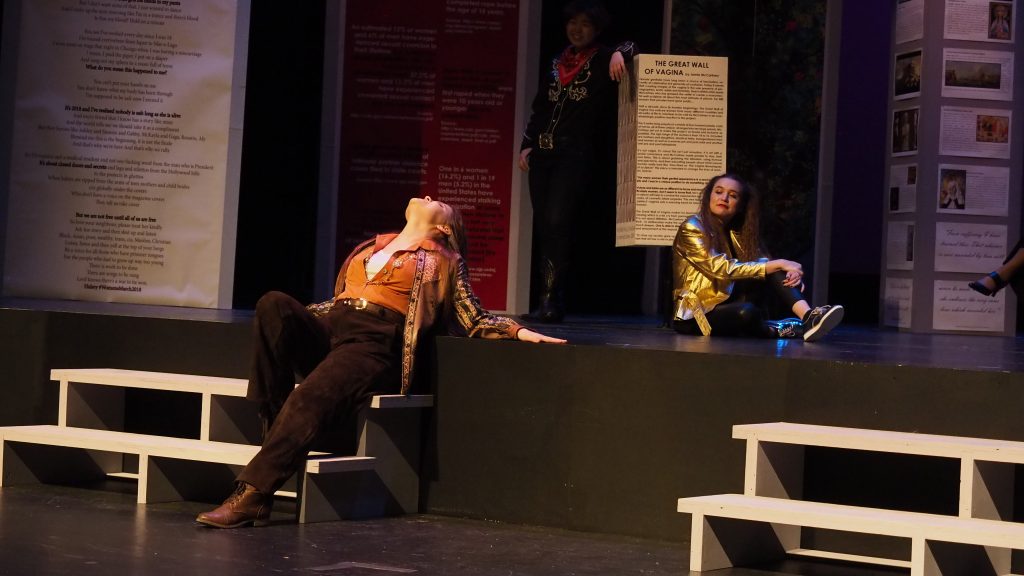 Staged in a women's museum, 11 female cast members took audiences through an exploratory journey of female sexuality in a series of dialogues focusing on a subject long considered taboo – the vagina.  Rape culture, birth, identity, self-discovery and sexuality were some of the topics dialogued by the cast in Theatre Brookhaven's production of Eve Ensler's "The Vagina Monologues."
The play was presented March 1-10, with a special matinee show March 7 for students, staff and faculty.
"The play is about various aspects of female sexuality – the good, the sad, the traumatic and the joyful," Darise Error, theater department chair and producer for the play, said in an email to The Courier.
"I love socially-relevant, 'in-your-face' art and abhor censorship," Error said. "When the request came, I championed the project, with complete faith in director Lisa Devine's vision, artistic integrity, compassion and experience."
Error said Joshua Johnson, student programs development coordinator, brought the idea for a one-off reading of the play in spring 2017. However, Error decided to include the show into their 2017-2018 season with a full production.
Johnson said he thought incorporating a production of the play was a great way to add to Brookhaven's program for Women's History Month after attending another production of "The Vagina Monologues."
"It really plays an important role in empowering women and getting the perspective of women into the regular dialogue," Johnson said. "The play does a really good job at breaking some of those barriers and making a discussion easier to have using some points of comedy and seriousness."
In a campuswide email, Error said Ensler interviewed more than 200 women of different ages and ethnicities around the world.  She turned what she learned into "The Vagina Monologues."
Ensler's monologues include stories that run the gamut from the abusive to traumatic, to the good and even funny, Error said.
Stories include a vagina workshop participant, a Bosnian rape survivor, a tax lawyer-turned-sex worker, a woman who named her vagina and a feminist happy to be with a man who "liked to look at it."
Although not planned, the timing of the play falls in line with current social discussion across the country. The #MeToo and #TimesUp movements have taken a stance on sexual assault and harassment against women. "The timeliness of the message conveyed cannot be any more relevant," Sam Govea, executive dean of the Social Sciences Division, said in a campuswide email after attending one of the performances.
Error said the play is usually done with one to three actresses, sitting on a stool and reading from a notebook on a music stand. "We wanted something larger, with more actors ad more spectacle to it," Error said.
Theatre Brookhaven stood out among other productions of Ensler's play in that the stage was set to a contemporary Women's Museum. The idea, Error said, was from Devine. The museum featured pillars filled with statistics on women in the workplace, privilege, consent and female historical figures.
Dayna S. Fries, a student and theater department assistant, who performed a dialogue of a tax lawyer who became a sex worker later in life, was in charge of researching and creating the museum's information. She said the hardest part was narrowing down where to start. "There are so many aspects of being part of the female identifying demographic as well as the many current political issues and social movements," Fries said.
"Unless a woman caused a serious uproar, like Joan of Arc or Marie Antoinette, very little has ever been written about the real women 'toiling in the trenches,' fighting against oppression and for the freedom of the female sex," Fries said. Through the museum displays, Fries said she wanted to show there are a lot of women who have fought for basic human rights. "All of their contributions have led us to where we are today," she said.
Fries also wanted to showcase the innovators and leaders among women. "Women are a strong bunch and until science makes us obsolete we will continue to fight," Fries said.
After each show, audience members were invited on stage to visit the museum and interact with the cast. "[It] brought an interactivity to our production that I don't think any others have had," Error said.
Johnson said a representative of the Dallas Area Rape Crisis Center, or DARCC, was present during each presentation of the play.  Counselors were on standby to assist any audience member in the event the content of the play triggered an emotional reaction.
Brookhaven's Counseling Center and Genesis Women Shelter also provided information relating to the topics discussed in the performances. Johnson said a representative from Hope Rising, a non-profit organization that fosters education and awareness about sexual and domestic violence, was also present during the matinee performance.