North Texans rally against gun violence
By Celeste Colon & John C. McClanahan
Contributing Writer & Copy Editor/Editorial Proofreader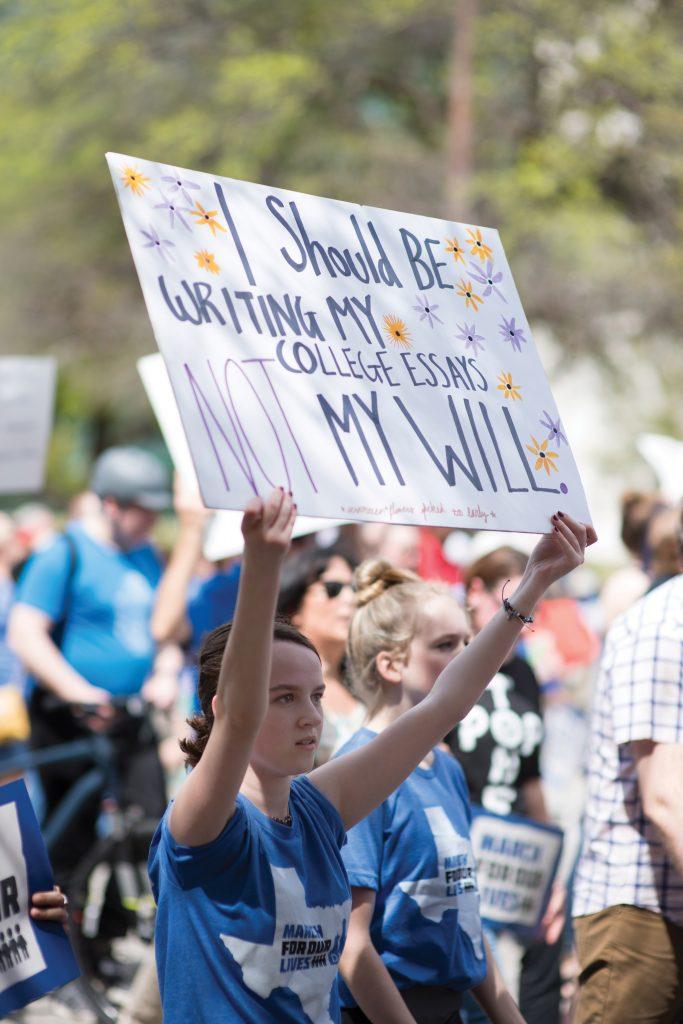 Dallas-area students joined thousands of others across the nation to take a stance for gun control in the nationwide March For Our Lives rally. The student-led demonstration was a response to the Feb. 14 shooting at Marjory Stoneman Douglas High School in Parkland, Florida, where 17 students and staff were killed.
Dallas Police Department officials estimated between 4,000-5,000 people attended the march downtown with no arrests or incidents, according to CBS DFW. More than 800 sibling events were held across the U.S. and the world, according to the Dallas Observer.
"It's really disconcerting that we are going to school to get our education and prepare for the future, but we don't know if there will be a tomorrow when we enter our school," Molly Reed, a senior at Grapevine High School, said. "It's definitely a scary experience, and I want to feel safe at school."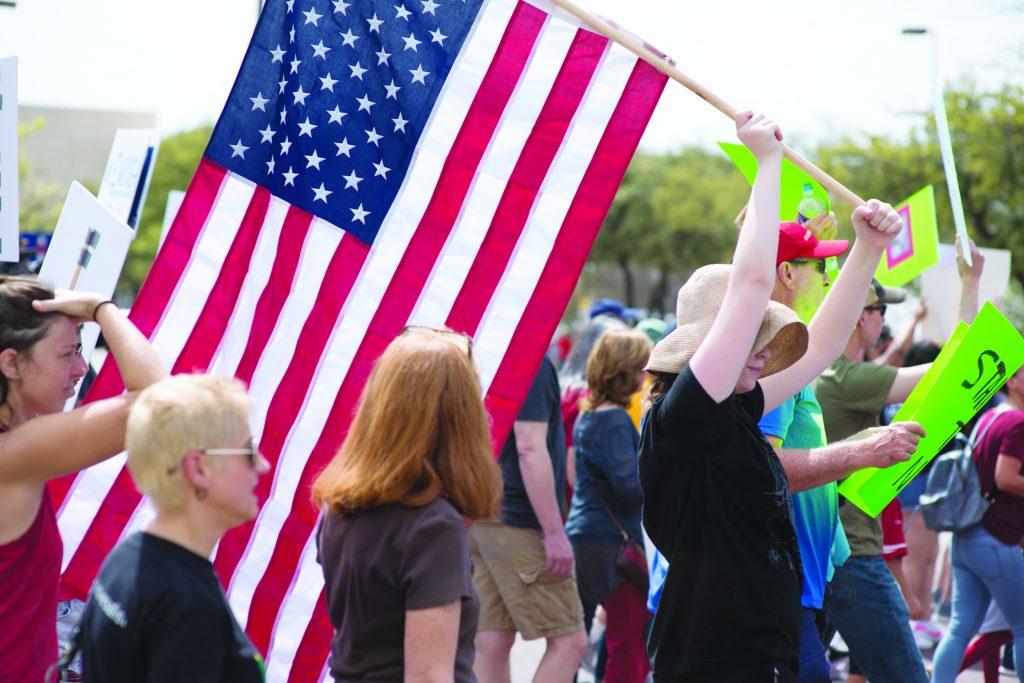 Justin Irwin, a survivor of the Parkland shooting, marched in Dallas to show his support for gun legislation, according to the Observer. "My goal for these marches is that this never happens again," Irwin said.
As the song "Alexander Hamilton" played through speakers, protesters poured onto Young Street. Rally participants wielded signs with words demonstrating their stance on gun control. They held signs reading "Don't control my uterus, control your assault rifles."
Led by the student organizing committee, StudentsMarch.org, the protesters invaded Dallas' downtown streets.
"I shouldn't be afraid to go to school," Emmie Glancy, a senior at Grapevine High School, said. "I shouldn't be looking at people and wondering if I'm next. … So I just wanted to take action today."
Leah Renee, a Brookhaven College student, attended the march with her sons. She said she believes educating her children on gun violence is necessary, but dreads the possibility of her children living in fear and paranoia. Renee said she worries every morning when she drops her children off at school.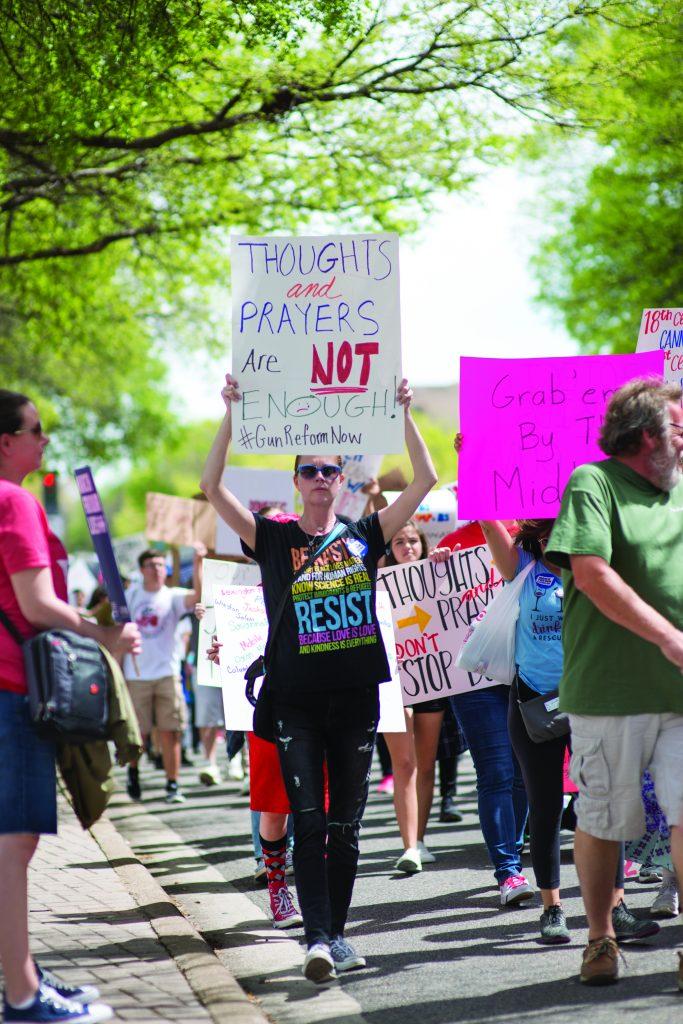 The march began north of Dallas City Hall on Young Street and headed toward the Kay Bailey Hutchison Convention Center, where the National Rifle Association is set to host its 147th NRA Annual Meetings and Exhibits May 3-6, according to nraam.org.
Marchers chanted slogans, such as "Here, here. Ho, ho. The NRA has got to go" and "This is what democracy looks like."
Shaunte Allen, a former Brookhaven student, community activist and teacher at Tyler Junior College, volunteered as a guardian during the event to advocate for her students' safety. Guardians were the parents, teachers and mentors of the students in the march.They wore red and lined the march route to provide support and encouragement to the students. "I can't be one of those teachers who believe it won't happen to her school," Allen said.
A small group of counterprotesters were also in attendance near the end of the march route. Using a speakerphone, David Grisham, a pastor, spoke religion-based, anti-abortion rhetoric to the crowd in hopes to sway protesters away from the firearm controversy.
Grisham said the public should promote pro-life advocacy and implement Christian ideology in public schools, as opposed to protesting assault rifles.
"We are out here for two reasons, to promote the gospel of Jesus Christ and to stand against abortion," Grisham said. "If America wants to save children's lives, they better start with the biggest source first which is abortion."
Pamela Collins said: "He keeps saying, 'If Jesus was in schools, none of this would be happening.' I'm a Christian, and I believe Jesus is in school every day when there is a kid praying on the floor of their classroom and someone is running down the hall with a gun."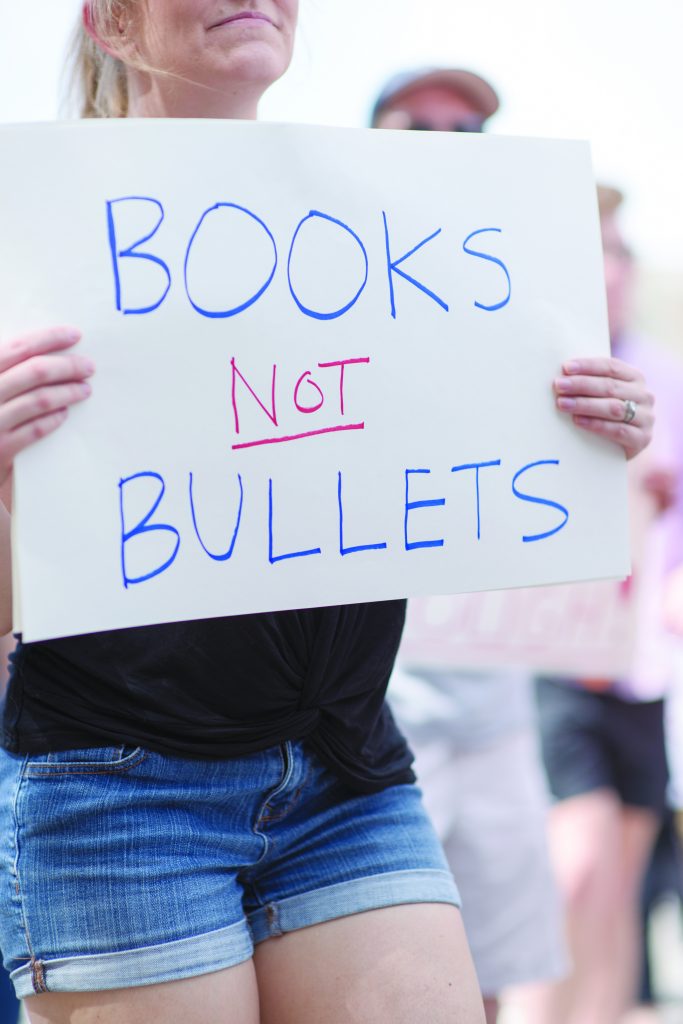 After the crowd gathered again at City Hall Plaza, speakers engaged the crowd, calling for Dallasites to take political action against assault rifles and funding for the NRA.
Volunteers walked and weaved through the crowd with voter registration forms, eager to take the fight from the streets to the polls in the upcoming November midterm elections.