Bears stamp out Blazers' fire, 11-7
By Victoria Valdez
Sports Editor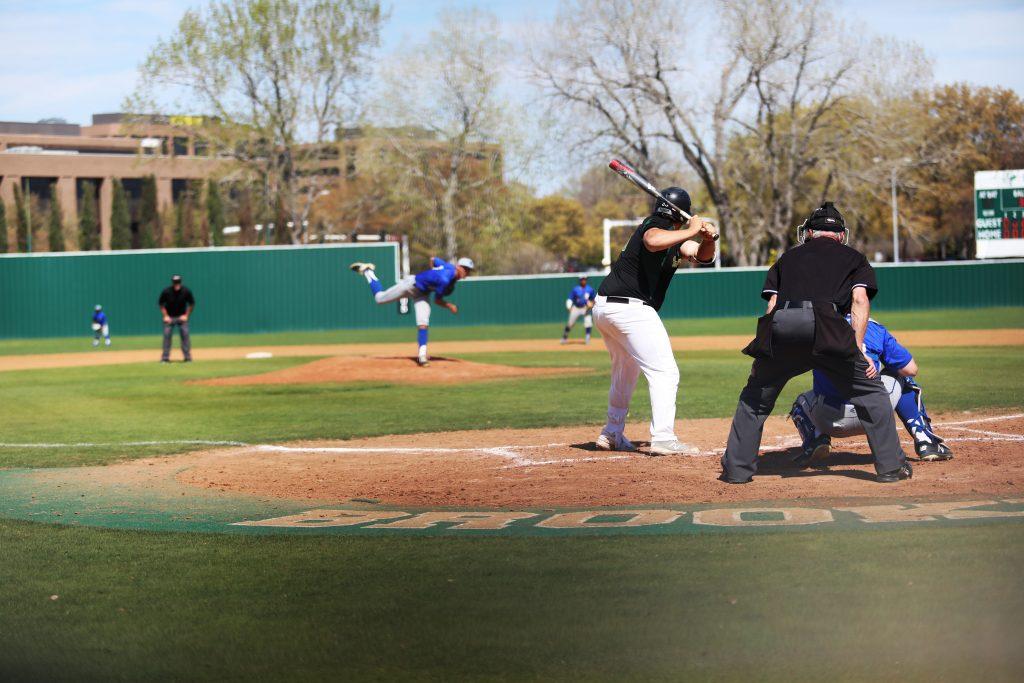 The Brookhaven College Bears baseball team won their 17th game, on a 15-game winning streak, after defeating the North Lake College Blazers 11-7 March 21.
"So far, we've been playing pretty well," Brandon Rains, Brookhaven head baseball coach, said. "We've been pitching well. We've been playing lights out defense and our hitters have a non-selfish approach."
Bears pitcher Michael Parmely said, "We've been undefeated in our conference games so far." North Lake has a good baseball program and team, he said.
"They put up a good fight, but at the end we came away with the win," Parmely said.
During the first two innings, the Bears had a slow start with no hits. Although the Blazers tallied a few hits, the Bears' strong defense prevented them from scoring any runs.
Bears C.J. Lovalvo and Sergio Esqueda caught the hits that led to the Blazers' outs. Parmely struck out Blazers Gavin Hunt to end the inning. The score was 0-0 after the second inning.
North Lake took the lead during the third inning when Blazers Dylan Faircloth hit a ball that allowed teammates Troy Strack and Kade Phillips to score. The Blazers chanted throughout the game to distract the Bears. North Lake led 2-0 after the third inning.
Parmely said the greatest challenge was the slow start. "It took a little bit for us to get our batters awake, but once they are up there, we put up some runs," he said. "It's a long game and you have to keep your head in the game the whole way through."
Brookhaven made a comeback in the fourth inning after scoring six runs, but their temporary success ended when the Blazers' outfielder caught the ball that ended the rally. The Bears led 6-2.
The Bears' defense fell short in the sixth inning when the Blazers scored four more runs. By the end of the inning, the Bears took the lead again with five more runs. The Bears led 11-6, retaking the lead.
The Blazers scored one more run in the seventh inning when Strack walked-in Blazers Dalton Warrick to home from third base. The inning ended shortly after Bears pitcher Will Norris forced three consecutive outs by dominating the strike zone. Kevin Hurst, Brookhaven athletic director, applauded Norris' pitching performance from the bench.
The last two innings remained consistent with strong defense from both teams.
Rains said he was proud of the team. "They are a great team and they work very hard," he said.
Esqueda said, "Today, we came out here for a win, and we worked hard by practicing." He said the team plans to continue their success. "We have been pretty consistent this season and we are on a 15-game win streak," he said.
As of press time, the Bears' current record is 18-6. Brookhaven's next home game is at 2 p.m. April 4  against Mountain View College.