Black women iconically shape society
By Ravyn Adams
Contributing Writer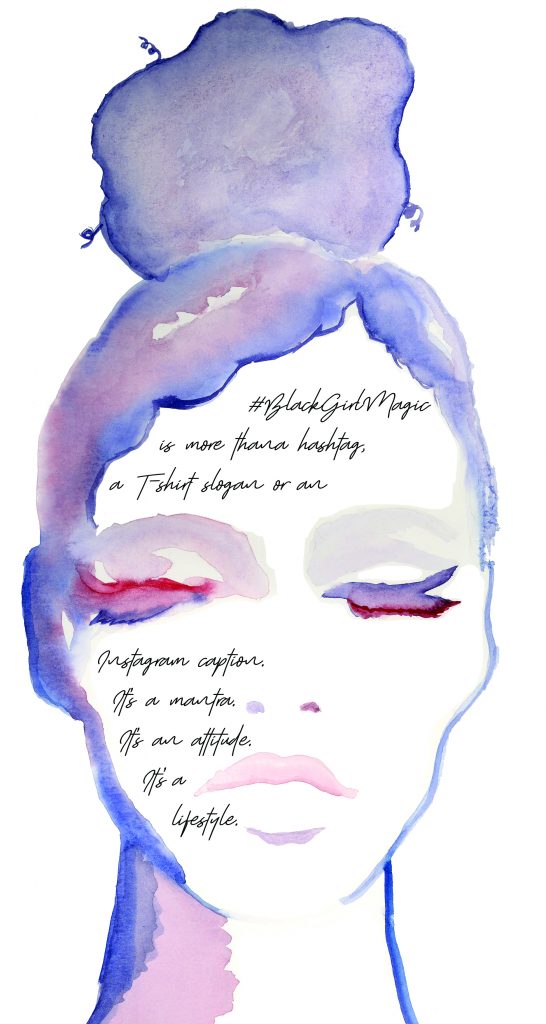 We owe black women a huge pat on the back, and more than a few thank yous for how they've shaped our society. Too many accomplishments and breakthroughs have gone underappreciated. They are often unacknowledged as  influencers and brand ambassadors. 
Black women are the ghostwriters of society. CaShawn Thompson, a caregiver from Washington,  D.C., rallied people around #BlackGirlMagic in 2013, according to BBC News. By 2016, the hashtag was used more than 150,000 times on Instagram and hundreds of thousands of times on Twitter. 
It began as a way for black women to celebrate their accomplishments and have a much needed support group. Thompson said she got the idea for the word "magic" because it's something people don't always understand, according to the Los Angeles Times. "Sometimes our accomplishments might seem to come out of thin air because a lot of times the only ones supporting us are other black women," she said.
#BlackGirlMagic swept the globe, becoming not only a popular hashtag on social media and printed on clothing and various accessories, but also appearing in major print media, such as Essence and Vogue. It speaks to the way black women are able to use everyday mediums as ways to voice their experiences, accomplishments and questions. 
According to history.com, James Marion Sims is regarded as the father of modern gynecology. However, while society is busy over-thanking and applauding this man, the enslaved black women he operated on get no credit.
In January 1951, a black woman, Henrietta Lacks, unknowingly changed the world of diseases and outbreaks forever, according to The New York Times. She experienced an unbearable pain described as a large knot, or lump, according to HuffPost. She rushed off to Johns Hopkins Hospital in Baltimore, the only hospital in her area seeing black patients. She was passed from doctor to doctor and tested negative for syphilis before a doctor examined her cervix, according to oprah.com. 
A doctor removed a small portion of what would later be identified as a tumor and sent the results to a pathology lab, according to The Washington Post. Lacks was instructed to begin treatment. During her radiation treatments, a cervix sample was removed from Lacks without her permission, according to cancertodaymag.org.
The cells removed were given to Dr. George Gey, who used them to discover the lifeline of cells, according to cancertodaymag.org. HeLa cells are now the oldest and most commonly used cells in the human line. Lacks died of cervical cancer in October, 1951.
We can credit HeLa cells for the human papillomavirus infection, or HPV, vaccine, according to HuffPost. The cells were also responsible for defeating the polio epidemic and the plentiful breakthroughs in human immunodeficiency virus, or HIV, measles, mumps, according to statnews.com. The ebola vaccine can also be attributed to Hela cells, according to National Center for Biotechnology Information. 
So, it is Lacks who we should thank. It is Lacks who should hold the title of the founder of modern gynecology. Not only did her cells change science forever, she unwillingly exerted the greatest commitment of all time for women everywhere.
#BlackGirlMagic is more than a hashtag, a T-shirt slogan or an Instagram caption. It's a mantra. It's an attitude. It's a lifestyle.
#BlackGirlMagic is persevering through the complex obstacles placed in front of us by those who don't want us to succeed.
#BlackGirlMagic is influencing those around us by simply being us. 
While it's been repeated many times, an unknown source once said, "They love everything about us, except us." The things black women naturally possess and are often ridiculed for can be later found in many fashion and beauty trends worldwide. Many are still made fun of today, while their nonblack counterparts pay money to obtain these same features, according to BBC News. 
According to the 2017 African-American Diverse Intelligence Report by Nielsen, 43 percent of black women report they use social media to express their everyday lifestyle including jewelry, skincare, clothes and beauty trends. It's no surprise that 73 percent of non-Hispanic whites and 67 percent of Hispanics believe African-Americans influence mainstream culture. 
Being a black woman screams diversity. Our natural hair, although often ridiculed by society, has no limits. From kinky curly to dreadlocks to silky straight to afro, our hair, like us, has no bounds.
Black women worldwide receive various types of backlash for showcasing their natural hair. According to HuffPost, Boston twin girls received detention, suspension from extracurricular activities and removal from the track team for wearing box braids. The school's interim director released a statement stating the dress code prohibits extensions in attempts to rid socioeconomic exclusion.
According to The Washington Post, black girls at Pretoria High School in Pretoria, South Africa were told by school officials to "fix their hair." Some were encouraged to chemically straighten their hair while others were reminded of the limitations set for width of cornrows, braids and dreadlocks.
In 2015, TV personality Giuliana Rancic said actress and model Zendaya, who wore dreadlocks to the Oscars, "Looks like she smells like … weed," on the TV show Fashion Police. In contrast, fashion designer Marc Jacobs debuted his 2017 spring looks by showcasing Caucasian models in dreadlocks and it was deemed "boho chic" by many critiques.
Dedicating yourself to the greater good when the world has written you off, deemed you incapable or enslaved you – that is #BlackGirlMagic. Innovative, life-changing creativity, grit that does good for all.
So thank you, black women, for everything you do.