By Morgan Hanson
Opinions Editor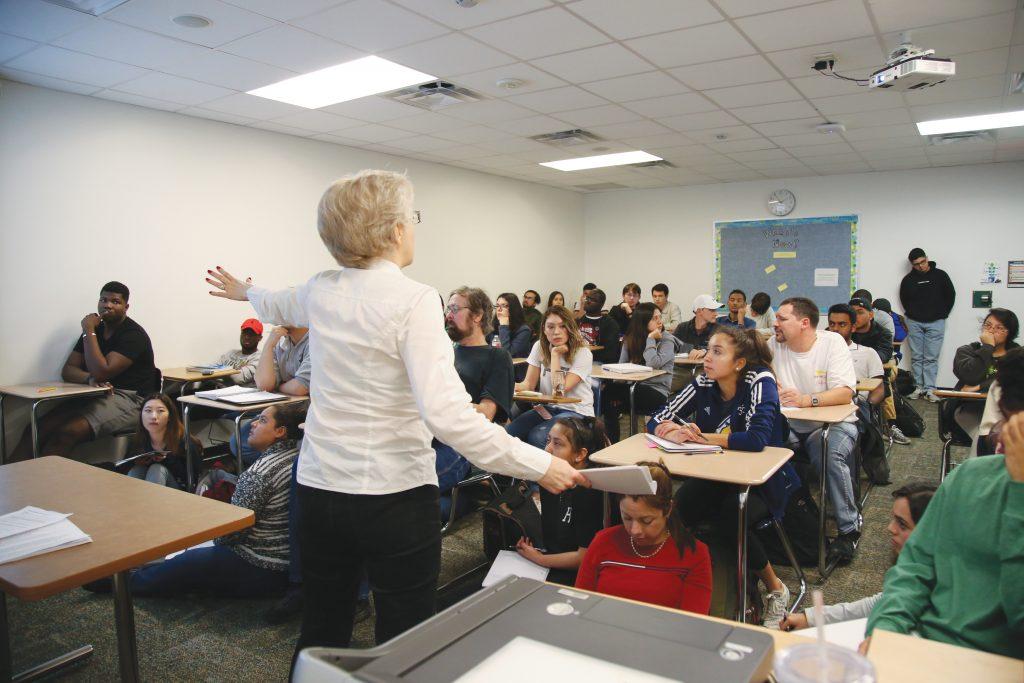 Even before she was a teacher, Betty Mehling, a Brookhaven College history adjunct faculty, was teaching. "I would study out loud, I would pretend like I was teaching, and I'd be talking to an empty room," Mehling said. "I was teaching it, and if I couldn't explain what I'd just studied, then I knew I didn't know it."
For the last four years, Mehling has managed the History Tutoring and Workshop Program, a tutoring program for history and government students. She is the coordinator, curriculum writer, data processor and one of the tutors of the program.
History adjuncts James Sandy, John Williams and Quin Neal work with Mehling as tutors in the program. "We are all adjunct history professors, so we can really help the students if they take advantage of the services we offer," Mehling said.
Services in the program include in-person and online tutoring by history professors, instructional workshops on topics such as study skills and essay writing and professor-made practice quizzes.
"I used to do group study sessions for my own students," Mehling said. "I was asked, 'Can you broaden that for the whole department?'" The request came from Sam Govea, executive dean of the Social Science Division.
"Professor Mehling has done a wonderful job to coordinate, plan and market the history tutoring program," Govea said in an email to The Courier.
The program now serves over 2,000 students per semester.
"I'm really passionate about what I do," Mehling said. "I can't even imagine a time when I'm not teaching."
Mehling said: "I really want people to know about history, the government of this country [and] what this Constitution really means. The awards and everything, that's really icing."
Govea said the history tutoring program won Brookhaven's Innovation of the Year for 2017-2018, which automatically nominated her for the award from the League of Innovation.
Mehling also received the District Adjunct Professor of the Year for 2017-2018.
She has won other awards throughout her teaching career including Brookhaven Social Science Adjunct Professor of the Year, NISOD Excellence in Teaching Award in 2017, John and Suanne Roueche Excellence in Teaching Award League for Innovation and Brookhaven Adjunct Professor of the Year for 2016-2017.
"Getting to develop this program has been satisfying and fulfilling, and getting to work with so many of our students is a reward in itself," Mehling said.
"We've seen excellent results in the quality of student research papers and have received great feedback from students about the program," Govea said.
Jack Williams, a student, said he has been to two workshops and thinks they are helpful. Williams said he has used the online tutoring function to polish his essays before submitting them to be graded.
He also practices using the practice quizzes regularly. "The professors supply the practice quizzes," he said. "They're liable to put actual quiz questions on the practice quizzes, so I think it's a really strong resource for the students."
Mehling said: "It does take a lot of management, which I do. Someone's gotta do all the publicity, all the data collection and train the tutors and run the workshops." She said she spends a significant amount of time coordinating the program – as much as she would at a full-time job. She said she spends approximately 30-40 hours each week managing the program. Time put toward the program is in addition to her regular duties teaching classes.
"It's one thing to say you're going to do this or you're going to do that," Mehling said. "It's another to make sure all the pieces move together."
Taylor Forker, a student assistant for the social science department, works with Mehling. She said through working with Mehling, she understands the tutoring program is a big project for Mehling, which takes a lot of effort.
After earning a master of behavioral studies from Southeastern Oklahoma State University, she launched her teaching career there as an adjunct instructor. She started teaching at SOSU in 1978. Mehling also taught at Coppell High School where she was chair of her department before coming to Brookhaven. She has now been teaching history for 40 years and has been at Brookhaven for about 18.
Mehling is a member of the National Institute for Staff Organizational Development, an organization devoted to professional development for the staff of community and technical colleges. In 2017, she was awarded an Excellence Award by the League for Innovation in the Community College, an international nonprofit that seeks to cultivate innovation in the community college environment, according to its website.