By John C. McClanahan
Copy Editor/Editorial Proofreader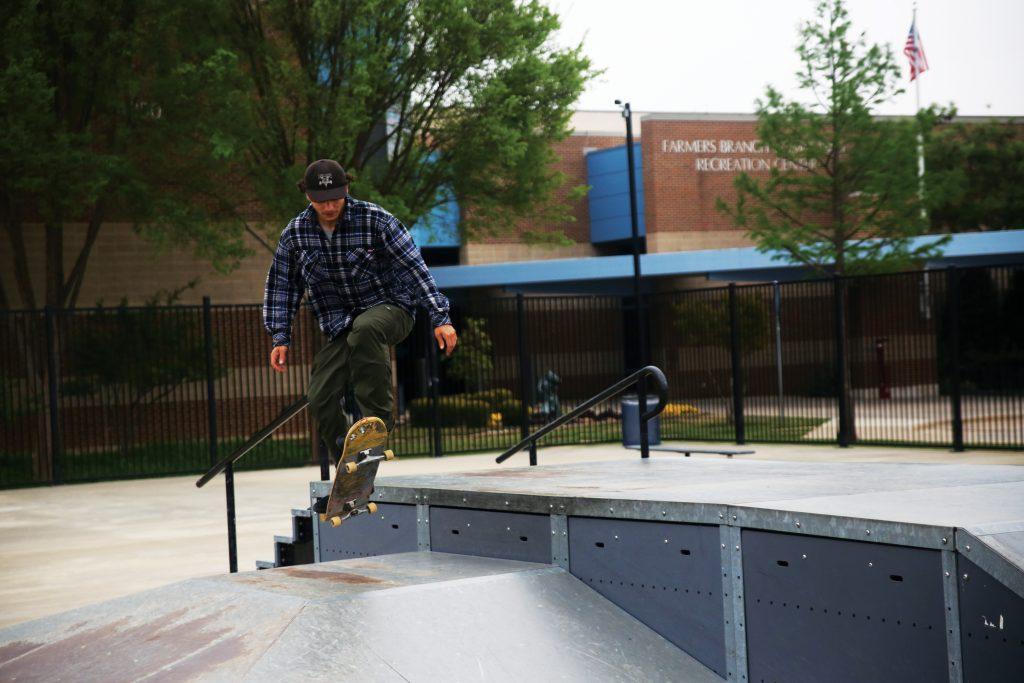 Pedestrians can usually see a skate-thrasher dishing out tricks on a street in downtown Dallas or strolling down a sidewalk near a college campus. Despite being the fourth largest metroplex in the U.S. by population, D-FW has few skateparks compared to areas like Los Angeles or Chicago.
Several local businesses and city-funded properties prohibit skateboarding, so a skateboarder might ask, "Where the heck can I skate?" Here is a list of eight spots around the Metroplex designated for skateboarding. 
1 East Dallas Skatepark
Formerly Lakeland Hills Skate Park, this public skatepark in East Dallas' Lakeland Hills Park is a go-to for street-style skateboarding and BMX bike riding.The skating area is comprised of a small street course, rigged with a few ramps and rails between two metal quarter pipes.
Designed by pro skater Dorian Tucker, the skatepark opened in 2007 and is the only one officially part of Dallas Parks & Recreation. 2600 St. Francis Ave. Dallas, TX 75228
2 4DWN SKATEPARK
4DWN Skate Park, or four wheels down, is Dallas' indoor skateboarding mecca. The brainchild of local pro skaters Mike Crum and Rob Cahill, 4DWN was built to serve the community as part of the 4DWN Project, a non-profit organization and free to the public.
The skatepark is located near Fair Park, and is accompanied with a full-sized indoor skating facility, a vertical ramp and a stage for live music. "Our vision for the place is basically a community center, with the heart of it being skateboarding, but we want to cater it to the arts," Crum said in a Dallas Observer article. 2633 Ferris St. Dallas, TX 75226
3 ALLIANCE Skate park
Formerly Action Park Grand Prairie, Alliance Skate Park is one of the largest skateboarding facilities in North Texas. Nestled next to Lone Star Park in Grand Prairie, the Alliance has a massive skating area and is geared toward all levels of skateboarding. A plywood paradise with several vert ramps, quarter pipes and a full-sized half pipe, the skatepark accommodates to all styles of skating.
Weekday admission costs $10 for a day pass and $12 on weekends. 1002 Lone Star Pkwy. Grand Prairie, TX 75050
4 scion Skate Park
Part of Toyota of Lewisville Railroad Park, Scion Skate Park is a city-funded skatepark that offers skateboarders 33,000 square feet of skating space, making it one of the largest skateboarding complexes in the Metroplex. A concrete jungle, Scion is a perfect spot for deep-bowl and plaza terrain skating. The park is decked out with multiple vertical and banked ramps, handrails and stairs. 1301 S. Railroad St. Lewisville, TX 75057
5 The Colony Skatepark
Built in 2003, The Colony Skatepark is the only one in The Colony. The park provides skaters with a concrete terrain to dish out their favorite street-style tricks. The skatepark consists of prefabricated ramps with multiple elevation changes, making it the perfect place for skaters to practice grinds and manuals. 5151 N. Colony Blvd. The Colony, TX 75056
6 Barney E. Wood Skatepark
Barney E. Wood Skatepark sits next to the Farmers Branch Community Recreation Center and is the closest to Brookhaven College. Although the park is small, it is still a great spot to skate in Farmers Branch, especially for beginners. The skatepark has a few metal ramps, including a small half-pipe and plenty of space for those just trying to learn how to ollie. 14050 Heartside Pl. Farmers Branch, TX 75234
7 Chisholm Trail Skate Park
Chisholm Trail Skate Park is one of Fort Worth's most popular skateboarding spots. Open since 2016, it is the city's first public skatepark. Chisholm's modern design makes it the skatepark for the new generation of skaters. Chisholm keeps a large pool for vert skaters and plenty of plaza terrain for those who love to shred on the streets. 4680 McPherson Blvd. Fort Worth, TX 76123
8 Lively Pointe Skate Park
Irving's skateboarding sanctuary, the park offers over 20,000 square feet of skating space and has lighting fixtures to illuminate the park at night. Several street skating elements such as pyramids, handrails, manual pads, grinding edges, quarter pipes and a unique over-vert pocket make Lively a dynamic skatepark. 909 N. O'Connor Road Irving, TX 75601